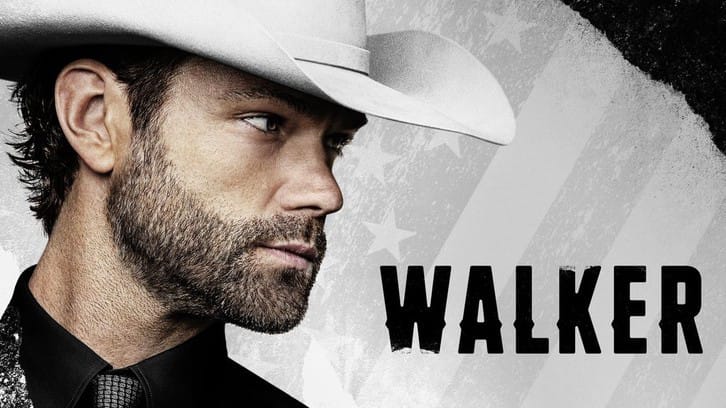 Fine. I'm all in. This was easily my favorite episode so far. It was a little bit of everything the show does well, relationships and the past. Not to mention Padalecki's easy chemistry with everyone. Also, I think I might have a wee little crush. It was all the baby dolls and girls and the twang. Ignore me.
Let's get started.
We start with a flashback. Four months earlier, Walker, as Duke Culpepper, is working at a rodeo. It's here that we meet Twyla Jean. I'm a fan. I mean, I know she's going to be no good, but there's just something about her. Also, Duke Culpepper is still a stupid name.
We pick up right where the previous episode ended, Walker staring at Twyla's text. The one she sent in response to Augie not being able to mind his own business. Walker takes the phone into the bathroom, fills the sink full of water, and dunks his face. I'm not sure what that's supposed to do. I'm sure we'll find out later. I hope.
Walker tells the kids he's headed to work because there's been a prison break, and he's headed out on a manhunt. You know there's no prison break. Stella is a little disappointed that he won't make her first soccer game, but he promises to make it. He better, but he won't.
I guess everyone realized Augie getting off with a hug from his dad and promotion to family photographer last week wasn't enough of a punishment for the crap he pulled, so he's grounded. Good.
We get a little bit of Trey and Micki before the episode picks up steam. Trey is getting ready for his first day as Director of Sports Medicine. Micki asks the question that was on my mind. How did he finagle his way into this job? With that out of the way, Trey brings up visiting his mom. He wants Micki to meet her, but Micki goes low. Happily, she recognizes her bad behavior. That's growth. Love to see it.
We get to watch Walker transforms in Duke. This was a nice moment. Nothing really significant to the plot, but I didn't mind. There was one crucial nugget—"Keep the circle small and the lies honest." Good advice for undercover work, I would imagine.
At headquarters, we meet Tessa Graves, FBI San Antonio office, who decides to take a swipe at Walker, which makes her not at all charming. Walker's last undercover job with the Rodeo Kings was called Operation: Watch the Throne. I need them to do a better job with undercover names and operations. On that last job, 300K disappeared, and Tessa Graves thinks Walker has it. Turns out, Captain James does not have Walker's back. Instead of defending him, he suggests that Walker wasn't in a place to take on such a big assignment. Would you all now like to join me in my Captain James hate? Micki stands up for Walker. When did Micki become my joy?
Tessa Graves is an indication that the writers, and not just the ones for Walker, struggle to write nuanced women. They pigeonhole female characters, and this one-note approach makes them incredibly difficult to like. You can be tough and jaded and not be a complete ass. It's possible. So we get Tessa Graves, tough and tougher. She's so tiresome. If she's going to be a recurring character, I need the writers to do the work. Hopefully, she won't be in too many scenes with her crap on Walker attitude.
Twyla missed Duke. The kissing, unbuttoning, and taking the shirt off gave it away. I get it. I might miss Duke when he's gone. Walker staves off Twyla's affections long enough for her to tell him that she thinks he has the missing $300K. Walker tells her he doesn't have the money. And tries to convince her that she should leave town.
August still has the damn box. What the actual hell, August?! Like he's relatively smart, right? These children know their father works undercover, don't they? Yes, he's afraid Walker isn't coming home. I get that, but this seems excessive, and it's clear that Walker's talk last week did nothing to assure Augie that his dad was here to stay. This family needs to rebuild some trust. I know we're on our way, but Augie has stumbled into something dangerous.
Walker and Twyla take a walk down memory lane. Look, I know she's a bad, bad girl, but I find them charming, and that's okay because this isn't going anywhere. Twyla lures Walker to the dance floor with a little come hither shimmy. And we get a flashback to his time with Twyla, along with an example of Walker keeping his lies honest. In the flashback, Walker tells Twyla that he lost someone, his bother.
Back in the present, Walker gets caught up in his dance with Twyla. They walk hand-in-hand across the bar, and Walker misses a gun-wielding Jaxon's approach, but Micki doesn't. I did not recognize Micki. I noticed a woman staring, but my mind didn't go to Micki, but she gets a much better undercover name, Adriana. Walker looks none too pleased to see her. Whatever, Walker, she saved you, and you needed her, so you should be thanking her, not glowering.
An irritated Walker turns on Twyla. Jaxon thinks Walker has the 300K and vows to remain in Austin until he gets it. Twyla isn't totally buying Micki as Adriana, so she tests, asking for the name of Walker's best friends. They didn't even give us time to miss Hoyt. He may be locked up in body, but he's with us in spirit. Hoyt was no wheelman, but lucky for us Adriana has the skills the Rodeo Kings need.
Back at headquarters, Liam is having a flashback of his own. One triggered by something Captain James said, "One foot." This time we get a Liam flashback. While undercover, Walker texts Liam and asks to meet in the back room of Annunziata's. When Liam enters, someone is butchering a song. When Walker and Liam met in the back room, we witness Walker's face plunge again. He says it helps. Helps him get in and out of character? Looks like Walker wanted to pull the plug before the last job, but Liam told him he needs to stay in for one more day because he needs the Rodeo Kings to step one foot in the bank, so he can nail them for murder. Good job, Liam. Shouldn't we pursue that single bullet in Walker's gun and Liam wondering whose name is on that bullet? It felt a little like a John Reese moment.
I love the Walker and Micki interaction this episode. Micki has to ride the bull to prove her worth. I've ridden a mechanical bull once in my life. It was a lot of fun. I never want to do it again. After Micki's triumph, Walker sees a car pull up and volunteers to check it out. Is Augie for real with this? Augie cannot be this stupid. He just can't be.
Stella with an attitude is back, but only for a moment because she's hurting because Walker missed the game. Also, I've never run sprints after a game. Emily was a star soccer player. I love the way the show layers in connections to the past. Trey brings up a beautiful point with Stella, is she playing soccer for herself or for her dad— "Who are you playing for?" Yes, Trey, yes.
Sorry, is Clint dead? Did I miss that earlier in the episode? How did I miss that? So, Walker put Crystal in a car with money and a stomach wound? He remembers something she said in a flashback, "We will always have one last dance." Not to be that person, but were those 20s being spilled on the floor? If so, there is no way that was $300,000 in that "hot history major in college" messenger bag.
Twyla turns on on the makeshift crew, hitting Jaxon in the back of the head. Then she holds Walker and Micki at gunpoint, but Walker has an idea. It's such a Fred from Scooby-Doo moment; I love it. I'm sure Walker and Micki contacted someone before leaving Jaxon there with a possible subdural hematoma. Pre-med for one year and late night returns of CSI: Las Vegas for the win.
Twyla makes it to the bar and the money, but Walker arrives just as she pulls the bag out of the jukebox. Walker invites her to have one last dance, and she obliges, but she puts a gun to his side. Twyla recognizes that it'll never be her. She can see it in his eyes. James and a few FBI agents show up, and Twyla makes a run for it. The fact that they always try to make a run for it shows the perseverance of the human spirit.
To keep his family safe and release him from the Rodeo Kings, Walker fakes his death. Liam comes running. He isn't really dead, Liam. Obviously, Liam feels guilty about making Walker stay in just one more day. Say what you will about the backstabbing, bank-robbing Twyla, but she loved Duke. She is genuinely broken when she thinks he's been killed. Now that Duke is dead, it's time to ground August for the rest of his life.
Liam confronts James about Emily. They both requested the drone footage related to Emily's murder. Walker was right all along; something is off. In the end, hiding this from Walker is going to prove disastrous but wholly entertaining.
We end with Micki and Trey. I like the way they are managing to expand their story. Micki has come around about Trey's mom. Mom's are a trigger for her because her own mother is a hypercritical monster.
We end with Walker, Stella, and Augie. Augie is sitting at the table doing his best to look like a stern dad, all anger, disappointment, and accusations. Shut up, August. Walker explains the dangerous situation he was in when Augie showed up, so how did he end up complimenting August. No. No. No. No. No. No.
I like how the show is using flashbacks, and I'm happy the last few episodes have expanded them beyond Emily. She's certainly important, but there are a lot of holes that need filling, and we can have Emily moments without flashbacks, like Stella bringing out her old jersey. Emily will always be with them. Another thing, it wasn't until the episode ended that I realized Bonham and Abby were missing. I hate to say this, but the episode might have been stronger for it, especially if we're going to drag out their out of nowhere marital problems.
Walker is hitting its stride. All right now.
What did you think? Is Walker hitting it's stride? Who murdered Emily?