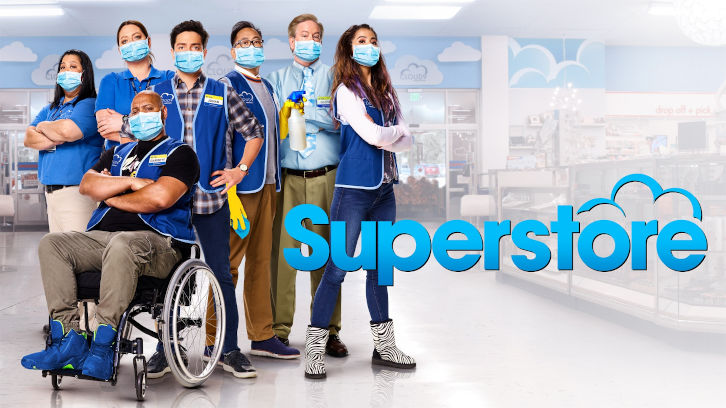 The way back into the dating game goes down some unexpected avenues for multiple Cloud 9 employees on this week's Superstore. Read on for my review of "Ground Rules":
Cloud 9 gets shaken up when Sandra's adopted son Tony starts working at the store - "We're a dynasty, like Billy Ray and Miley." Like a mother dropping her 3 year-old off at preschool, Sandra leaves Tony with Jonah for his first day of training.
When Cheyenne asks Mateo for advice on being Floor Supervisor, he first offers some real, useful advice, but when he begins to miss his old position, he starts nitpicking her style - from the unicorn stickers on her clipboard to her "unprofessional" outfit.
Cheyenne tells him that she just wants to do things her own way and they fight. At her next floor meeting, Cheyenne starts making fun of Mateo's professionalism by putting on glasses and doing a "prim and proper" British accent. Insulted, Mateo strikes back by dressing as Cheyenne and zooming into the breakroom on a scooter, but it's not quite as effective as Cheyenne's impression - the SuperCloud leggings he chose to wear are a bit too tight for television.
After their saucy moment in last week's episode, Dina and Garrett agree that they don't have romantic feelings for one another (but don't they?), and the moment came purely from their pandemic loneliness. Even so, Dina still calls Brian the Vet and tells him everything that happened, to Garrett's chagrin.
While Tony is learning to stock freezers, a friendly interaction between Jonah and Nia causes the young Kaluiokalani to tell his mentor that Nia is "totally" flirting with him. While Jonah initially reassures him that they're just friends, he soon begins to see the signs as well ("It's been a while since I've been single and these are new jeans"), and questions whether he should ask Nia out.
Garrett is shocked when Brian the Vet comes into the store, and he and Dina tell Garrett that they've talked it over and decided to have an open relationship specifically so that Garrett can be Dina's "Side piece." Since Brian is leaving the country for a while, Dina asked to have a fling with her ex, and Brian thought it would be fair. So, maybe that near-miss did actually mean something?
Jonah, meanwhile, becomes obsessed with the idea of asking Nia out. They had been friendly, mainly talking about politics together for a while, but now he's convinced that she's had a crush on him the whole time. And after last week's minor breakdown, he's so enthusiastic to be moving on from Amy that he can hardly think of anything else, including training Tony.
Tony, meanwhile, is not exactly gifted at retail work, and Jonah is so frustrated with him and so excited to ask Nia out at lunchtime that as he hurriedly tries to get the beer that Tony mistakenly stocked in the freezer ("Uh, ice cold beer? It's like a thing") back out, Jonah accidentally hits Tony in the head with a box.
Of course, this is just when Sandra walks up to check on Tony. Seeing the aftermath of what happened, she chews Jonah out, yelling at him for "hitting a kid" in front of everyone in the store - including Nia.
In the breakroom, Glenn, Sandra, Jonah and a few other employees have a mini-meeting/topical spiraling where Jonah tries to defend himself, explaining that it was an accident. Sandra and a few other employees are not quick to believe him, though; "I don't know, Jonah, you did hit Mateo for being undocumented."
With all of the very personal, oddly progressive rules Dina and Brian have for Dina and Garrett's relationship, things get too TMI and Garrett "nopes" out. However, when he realizes that it seems like turning down Dina's offer makes it seem like he has real feelings for her, Garrett goes back and agrees to the open relationship to prove to everyone (including himself) that he doesn't (but doesn't he?).
At the end of the day, Jonah comes up to Nia in an attempt to redeem himself, but she tells him she already believes him that the incident with Tony was an accident. He asks her out, but she immediately turns him down, telling him she's a lesbian. In a scene that could only be made funnier if it were overlaid with the Curb Your Enthusiasm theme, Jonah awkwardly apologizes for assuming her sexuality and being a "heteronormative bull in a lesbian china shop."
For me, this was definitely the funniest episode of the season to date. It might be a personal bias, as all the earnest yet absurdly poor people skills on Jonah's part took me right back to "Quinceanera," my personal favorite episode (I use the phrase "A-somebody's readyforthe red carpet" shockingly often in everyday life).
This episode, I think, is a perfect example of the solution to what I briefly brought up last week - that the show is lacking a central figure, and how Jonah can be a good protagonist if they do it right. He doesn't have to "replace" Amy - no one does. But the show needs a main character to guide the tone, and Jonah is really the only character even close to ready for the task. Centering on his absolute inability to be a normal functioning human isn't the exact Superstore tone and direction we're all used to, but I think it is definitely the best way to keep things fresh in a post-Amy world. What can I say? This episode just felt more grounded and confident in the direction it wants to go in.
I am also interested to see where the Garrett and Dina relationship goes. It's clear that they're, as of now, our "endgame" 'ship to watch (either replacing or throwing us off the scent of a Jonah/Amy reunion). But how much of a slow burn buildup can it really be when there are only about 6 episodes left? Garrett/Dina have always felt like a card sitting in the writers' back pocket, and it'll be interesting to see what they have planned once they finally play it.
Finally, just to touch on the Mateo/Cheyenne C-story: I absolutely love Nichole Sakura and Nico Santos, and this episode was a great showcase for them to play it up more than they usually would. I may be in the minority, but I adore Cheyenne and I really want her spinoff with Bo to come to fruition. I'm hoping it will be an opportunity to keep the soul of Superstore - a comedy that brings levity to the working class, while simultaneously scathing the lives they're often forced to live. Bo and Cheyenne could bring new angles to this premise Superstore could never dive deep into, like young parenthood and fighting for a place in the workforce as a member of Gen Z. This week's episode was a little fragment of Sakura's comedic range beyond the Cheyenne we know and love, and - admitted long-shot that this spinoff is - all I want now is more.
What did you think of "Ground Rules?" Where do you think Dina and Garrett's storyline is headed? And are you somehow more concerned for Jonah's mental state this week than last? Let me know in the comments!