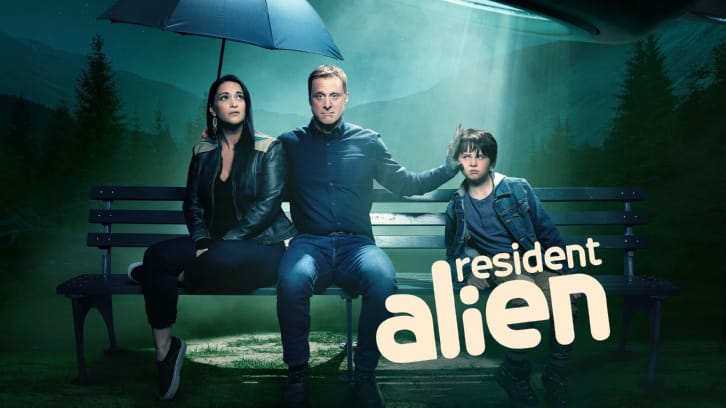 I suspect I'm not the only person who has been suffering from insomnia over the last year. Apparently, worry also keeps aliens awake. (Although it could be the coffee.)

Harry's to do list is pretty long. He has to find parts of his crashed ship, the device he was supposed to deliver, the real Harry's body, pick up some milk (possibly cereal)... oh and kill Max.

I am loving Harry's inner monologue and the way it's being used. I can't think of a single moment that the monologue didn't enhance what was happening on screen.

The episode title didn't tie into the content of the episode the way I expected. With a title like "Secrets" I was expecting to learn more about several of the characters in Patience, CO.


We didn't learn anything new or discover any deep dark information that would cause trouble if revealed. On the contrary, a couple of characters revealed their "secrets" to other characters.
We learned the gender of Asta's baby, but we knew the baby was out there. Deputy Baker revealed she was the reason her family broke up.
Neither of these revelations matched the weight of Harry's final speech about fear being a motivator for people to lock away their secrets. It left me struggling to see the connection between the episode and the title.
The only real secrets are Harry's, but I tend to consider his "secrets" more a part of the mission that has kept him from sleeping.
For a moment it looked like Harry was going to spend the bulk of the episode trying to extract the ship part from the snow without getting caught. But an avalanche control crew nips that in the bud.
Instead Harry has to worry about the discovery of...well of Harry's foot. The gags surrounding the Harry's body were actually pretty funny. Favorite moment: "I forgot to close the door."
As bonkers as it was to watch Harry compare feet in his office, the solutions to his problems were pretty pragmatic.
I'm still loving the way Max manages to reduce Harry to a little boy struggling to match wits with a 9 year old.
We finally got to see more of Max's life. It's difficult. Of course the kid who tries to spread the word about the alien in town has bullies.
I was mildly annoyed with his mother. She's a grade school teacher and is completely oblivious of the effect trying to kiss her kid, in the middle of the cafeteria, would have on his social life? Especially in the face of him begging her to go away.
While I could see what the writers were going for in that scene....sometimes it's not the best idea to sacrifice a truth for a joke. Although, it really didn't seem out of character for her to be that obtuse.
But, he made a friend. I'm not sure I believe she believes in aliens but she's willing to believe in the nicest guy in school. Now, can we please know her name?
Asta discovered that someone stolen one of Sam's prescription pads. (Is it wrong of me to suspect Jay?) My first thought was that this is our next clue into poisoned Sam. Do you guys think it's connected?
The Sheriff had what I thought was one of his best moments yet as he tries to "calm" the populace about the severed foot. The line of logic from murdered doctor, to severed foot, to serial killer was hilariously crooked.
I am beginning to enjoy the Sheriff's...I actually have no idea how to describe the sheriff. I fear that this means his character is never going to be fleshed into a more 3 dimensional character. It's the lack of nuance that makes him so much fun.
This episode felt things are finally settling in. The actors feel like they're getting comfortable with their characters. We no longer need to wonder if the government is aware of Harry's presence on the planet.
The foot soldiers are specifically tracking Harry. These guys are willing to kill witneses. That is not good. I'm guessing it won't be too long before they make their way to Patience, CO.
What did you guys think of the episode? Are you warming to the show?
Random
Is there a requirement that Foil Hats have an...um...(how should I phrase it) antenna on them?