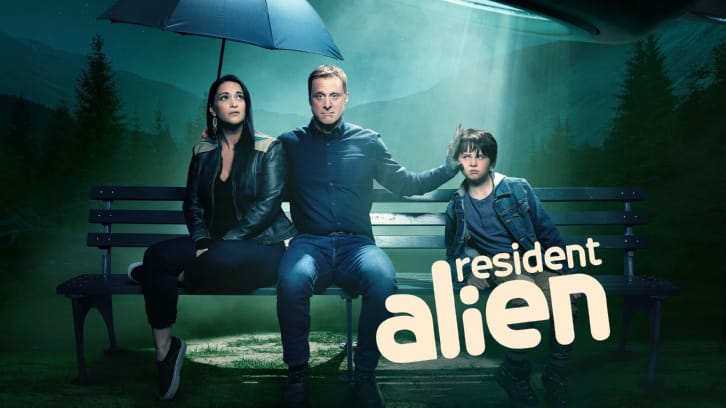 I like the way the show is settling into its voice. They're slowly beginning to expand the universe both in character development and hints at potential story lines.

Alien-Harry had a monumental week. Harry's wife arrived and he, Max and Sahar (a strategic genius in the making) declared a truce.

I am really enjoying watching a grown alien brought to his knees by two kids. Forcing his hand by holding their breath was one of the funniest things I've seen this week.

Was anyone else caught completely off guard when Harry actually spit in Max's face?

Oh, wait a minute....Harry's wife arrived in Patience! This lead to more evidence to support my theory that Music is Harry's Kryptonite™.

(There are sound effects to accompany that declaration, but since you're reading this, you can't hear them. Trust me, it sounds awesome.)

Isobelle (aka The Hot Ham) sang that song, and Alien-Harry was putty in her hands. I had expected Alien-Harry to lose his human virginity, but I didn't expect her to hang around for more than one episode.

I have never so glad about something as I was that Harry hid the body UNDER actual frozen food instead of cutting it up and wrapping it.


Having confessed the truth about Jay to her family, Asta spent the first half of the episode panicking about whether she did the right thing by surreptitiously bringing the young woman into her life.
(That never occurred to her before her family knew?).
I was expecting Jay to find out via that old soap opera trope: having a top secret discussion about information that could destroy lives behind an
open
door.
I was kind of surprised that she found out by reading the files Sam's widow left at the office.
One of the problems with a small town is, when you realize who your mother is, your guess as to the most likely bio-dad is....is dead on.
Harry proved to be a good friend. First messing with Jimmy when they met on the street, just because he could.
Then he was right there to protect Asta if Jimmy got out of hand. No slight to Asta's dad who was also right there the moment it looked like he might be needed.
I was worried I would be disappointed or bored with Sheriff Thompson when they started fleshing him out. I haven't been.
I kind of think having the breakfast scene take place between the Sheriff and his father was really smart.
I know I am careful of the language I use when I'm speaking to my mother vs. speaking with my friends.
So seeing a much softer Sheriff Thompson in a scene where he's taking care of his father, worked really well to explain the difference in the character's intensity.
I am really enjoying the way the show is growing. Characters like Sheriff Thompson and Mayor Hawthorne are beginning to develop into more rounded and interesting people.
I loved seeing Harry use his noggin to come up with a way to convince Max's parents to send him away for professional help.
I am now officially hooked.
What about you guys? Are you enjoying the show?
Miscellaneous
"Nature Boy" by Nat King Cole is one of the prettiest songs I have ever heard. If you listen to the lyrics it says a lot about what we can expect for this show.

Interesting (and awesome) that Max has no idea what Harry looks like because *all* he has ever seen is Alien-Harry.