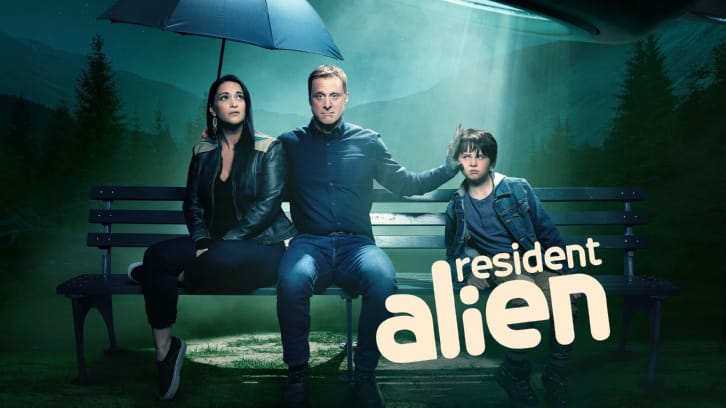 The biggest take away from this weeks episode was the growth of the universe. We got to know some of the Patience, CO residents a little better and met some new people I hope to see again.

This week opened with Harry's first dream. (When did he make time to watch Cheers?)

It was little difficult to tell whether Harry was more concerned about having a dream or the death of the people we recognize are becoming his community.

I'm not the only person who suspects Jay stole the prescription pad. D'arcy and Harry agreed with my initial theory, but in my TV viewing mind that means she's innocent.

Harry meets Asta's family and plays the most...unique version of basketball I have ever seen. It's too bad he wasn't able to search the 'net for the rules of basketball before he started playing.

I did smile as Harry watched everyone greet each other with hugs and take a moment to make him feel welcome. It does feel good. We're winning you over, Harry!


I liked the way they handled the fallout when Harry bluntly revealed to Asta's family that Jay was her daughter.
My first thought was that this scene is the type of scene I expected from the episode titled "Secrets".
One of the things I appreciate most about Dan is that when he and Asta disagree, he always makes sure she knows that nothing will make him turn his back on her.
It's nice that he recognizes her insecurity and takes care to make sure she knows she's loved unconditionally.
The Hawthornes attempted to smooth things over between Max and Harry, by inviting Harry to dinner. At least they were kind enough to give Max a heads up. Max would have preferred a divorce announcement.
Unfortunately, the dinner was uncomfortable for another reason. D'arcy's drunken antics. Her antics aren't really my style of comedy. But the episode did give us a chance to find out more about her and the pain behind this behavior.
But she did give us a little more insight on Ben and Kate's relationship.
It turns out the writers are able to flesh out Sheriff Thompson without losing his unique voice. He collects Hot Wheels. I don't know why that realization makes me smile, but it does.
The kids are my main reason for tuning in week to week. Max's reaction to the news that Harry was coming to dinner was priceless.
Sahar, who is the perfect match for Max, immediately came up with a plan to make the most of the unhappy situation.
If I were ever to bet on kids, who met in grade school and ended up married for 50 years, it's these two kids.
I laughed out loud when she revealed the foil hat beneath her hijab. (Feel free to correct me if that's the wrong term.)
In fact this episode revealed new information about several characters.
I wasn't expecting the reveal was that Alien-Harry ended up on this mission after losing his wife.
The terrific complication was the discovery that Harry
has
a wife. (Soon to be ex?)
When Asta noted that Harry's loss and desire to return home were sad, his response, "It is now". Was a nice subtle way to underline the fact that Harry is changing.
Right now the bulk of the non-Harry story has focused on Asta. This episode began laying the groundwork for future stories focused on other residents of Patience.
The evil alien hunters are close. I assumed they'd have to get to Colorado soon, but I'm not really sure how the rancher, who met Alien-Harry in New Mexico, led them to Colorado.
The episodes are steadily improving. I'm enjoying the expansion of the show's universe. I am curious when we're going to return the mystery of who poisoned Sam.
What did you guys think of the episode?