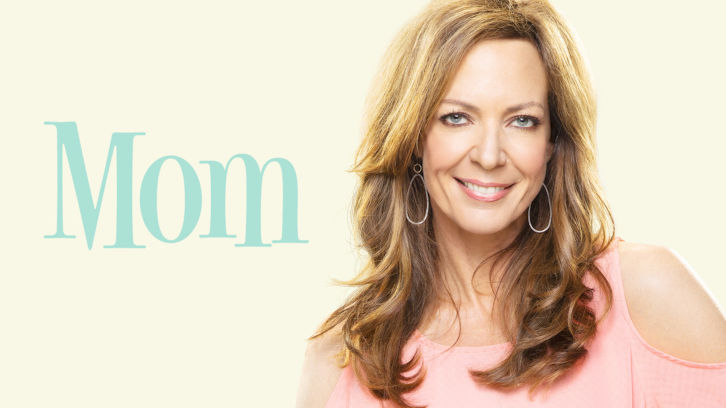 Both Chef Rudy and Andy are back on Mom! It seems like big changes may be on the horizon for both Tammy and Jill.
At the Bistro, Adam wheels up with Bonnie on his lap. (Seriously, get a room you two!) Bonnie brags about how totally in love she and Adam are and the two spill the beans on the double date they have planned with Andy and Jill. While Jill says she wants to be "sensitive" and not "rub it in [the] lonely faces" of the single girls, Tammy isn't too bothered to not be invited. Chef Rudy's got the opening night for his new food truck planned and he needs Tammy on deck to deal with any equipment issues. However, she insists nothing is going to happen between them. She's set ground rules. (Chef Rudy can't even think about her, though yeah...that's gonna be a hard one to enforce!)
At the food truck, Tammy gets ready to take off when Chef Rudy realizes he might need her assistance with more than just the equipment. You see, Chef Rudy hasn't exactly had a lot of experience with the "common man," as he puts it. And being that he's set up shop in the parking lot of a roller derby, the crowd he'll be dealing with isn't really the luxury restaurant going, ritzy snobs he's used to cooking for. These aren't the kind of people who are going to be cool with playing $24 for a chicken (which he refuses to just call chicken - apparently it has a fancy French name!) and $6 for a cola from Paris. So Chef Rudy recruits Tammy to stay because he needs a middleman, "someone who speaks Carney." Oh, Chef Rudy...
Unfortunately, even Tammy can't mediate between the angry crowd and Chef Rudy when it becomes obvious that he doesn't understand cooking in a food truck requires speed - not 30 minutes on each dish!
Bonnie and Adam arrive at Jill's for the double date and find out there's trouble in paradise. To say Jill and Andy are on icy terms is an understatement. They're criticizing each other for everything, and then Jill storms out yelling something about Andy not loving her. (And it sounds like she starts shooting!) Bonnie reluctantly goes inside to calm her down and finds her sobbing in the kitchen. Apparently, she and Andy are going to break up and it's all...Bonnie's fault?
Jill says that after seeing how in love Adam and Bonnie were, she's decided she wants that kind of love with Andy, and she's starting to wonder why she's still in the relationship without it. Bonnie decides to tell Jill about the "Bonnie-Adam Journey to Perfection" which starts off with communication and patience.
Outside, Adam and Andy are having a very similar talk, and everyone seems to agree that yeah - men and women generally have very different styles of communication, and that can cause problems. Thankfully, Adam is able to come up with a metaphor that compares relationships to grilling (Just go with it y'all!) that seems to clear things up for Andy. Basically, he needs to learn to pick his battles (and at least pretend to open up emotionally!)
When Bonnie comes back outside with Jill, she gets her to tell Andy how's she's feeling and what she needs from him. Adam coaches Andy through responding to her, and believe-it-or-not, the two make up. Jill agrees she can't always expect Andy to be able to open up emotionally right at that moment and Andy agrees he needs to be more receptive to Jill opening up.
Back at the roller derby, Tammy's not happy to find Chef Rudy rocking back and forth in a corner declaring his surrender. He's decided he can't handle the maddening crowds of hungry roller derby fans and wants to throw in the towel on his food truck. Tammy's not interested in hearing it though, and she tells Rudy they've just gotten to find a way to get the food out faster. When Chef Rudy's assistant Paul suggests using pita bread to serve the food, Tammy realizes she's got something to work with and is able to get Chef Rudy back on his feet.
Later that night, after the food truck's closed, Chef Rudy thanks Tammy for helping to save his opening night. The two discuss the fact that they were able to keep things professional despite their past. Obviously, this lasts about two seconds though. It seems Chef Rudy and Tammy can't keep away from each other, no matter how many rules they make!
As Bonnie and Adam drive home, Bonnie gloats about how good she is at fixing relationships. (Next up is a self-help book and a talk show!) Her phone dings with a text from Jill. And the news is definitely not what she was expecting - Andy's told Jill he wants a break from her.
Random Thoughts:
-I thought it was pretty funny that Marjorie has cats named Simon and Garfunkel.
-Poor Paul! He just put on his earbuds and powered through cleaning the truck with Rudy and Tammy in the midst of some "adult activities" right inside!
-Funniest line goes to Chef Rudy in the midst of his breakdown - "I'm already in a tiny metal coffin. Just close the lid on your way out."
Were you surprised by Andy wanting a break from Jill? Do you think Tammy and Chef Rudy being back together will last? Let me know below!