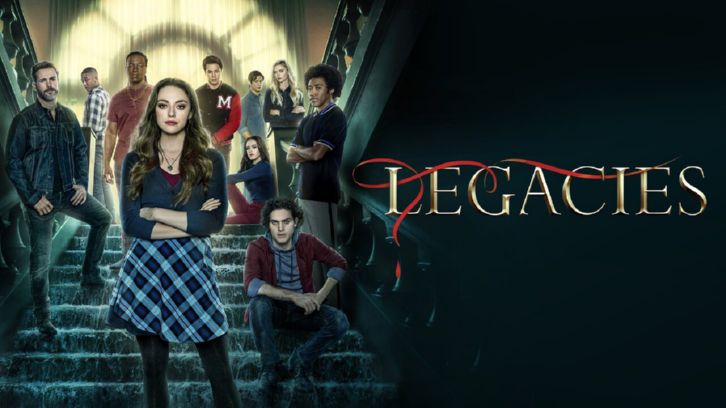 This week on Legacies, Ted and Alyssa unleash Malivore and the monsters but Alyssa quickly changes her mind. Ted gets trapped in a prison world with Malivore. Josie plans to change schools. Alyssa kisses MG right when Lizzie wants to tell him how she feels. Hope and Landon make out a lot, he dies, then comes back without any good explanation. Then they sleep together which results in Landon turning into a puddle of mud (I wish I was joking).
No excuse this time: A few months ago, I gave episode 2x16 some slack since it was never meant to be the season finale. This time, however, they don't get to use that excuse. This wasn't a great episode but it would've been a terrible finale. Two of its leads, Lizzie and Josie, were practically sidelined all throughout the episode. And Hope… you know what, we'll cover that mess later. Alaric seemed to take charge but it was really Kaleb and Jed that did all the heavy lifting. And even that, we barely got to see. There was no big battle, no high stakes (cause we all know Julie loves Landon too much). The prison world concept was once again used as an easy out. These writers will really do anything to avoid killing someone off, won't they? Are we sure this is the same team that produced The Vampire Diaries and The Originals?
#SaveHopeMikaelson: And I thought last week was bad… If Danielle Rose Russell decides she wants to leave, I won't blame her. I can't imagine that this is what she signed up for. Her entire character seems to have been reduced to "girlfriend of Landon". That's literally all she did this week. Chase after Landon, worry over Landon, make out in slow motion with Landon (how many slow-motion kisses does one episode need, honestly). She's a tribrid, a Mikaelson, an alpha, and she's supposed to be the lead of the show. Do better!
He better be right: That sphinx told Alaric he'd seen his death. Boy, you better have meant soon. And I vote for the Sherriff shooting him when she finds out how Alaric has been messing with her head.
Why bother: I guess we've come to the point where they won't even bother trying to give us an explanation for a character's resurrection. Plot holes be damned. Though, it's a bit early in the show to start doing this. I've been rewatching The Vampire Diaries and they didn't start doing this until at least halfway through the show (but I did just see Damon give the worst explanation in 8x14).
Invisible: Wouldn't it have been easier if they had just said that Maya had chosen to go away to boarding school? Acting like she's around without actually showing her was just weird. And it's clear at this point that we're not going to be seeing her again (which is a damn shame, because I thought she was great). They're going to have to come up with a better excuse now that Ethan is a regular. I assume they plan to set him up with Josie. I'd actually be more interested in seeing him with Lizzie, I think those two would be good together.
Please stay gone: It does seem like the writers have finally gotten rid of Ted and Malivore. I really hope it stays that way, though Landon turning into a puddle of mud doesn't bode well for that. Which reminds me, really? Hope didn't have enough trauma to deal with?
Best quotes: Alyssa: "My parents love me, okay? Me being a witch didn't matter to them. All they ever wanted was the best for me. But I still lost control. And how did that work out for them? They're dead."
Hope: "Alyssa Chang." Landon: "Seriously? Literally no one trusts Alyssa Chang." Hope: "Well, that girl never met a linking spell she didn't like."
That's it for this week. Check in again next week for an all-new review and let me know in the comments what you thought of this week's episode.
Please be respectful in the comments, any unnecessary rudeness isn't welcome.