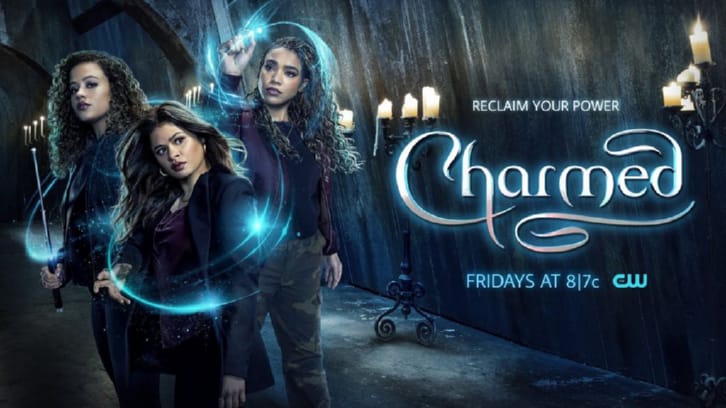 Episode two of Charmed's third season finally brought the season two storyline, regarding The Faction, to an explosive conclusion. Somebody's going to die was written by Carrie Williams and Jeffrey Lieber, directed by Menhaj Huda.
Credit @ CW
Let's start this episode by highlighting the best parts of last night's episode. First and foremost, Sarah Jeffery's performance. Maggie's path this episode was so delicately handled and Sarah's performance made it that much stronger. Maggie carries a lot of power within herself but that power is also a burden at the same time. While she continuously rises to the occasion and shows her inner strength to herself and the world, she is still human. She gets overwhelmed and succumbs to her panic attacks and all of that is fine. Sarah does so much work with her body transferring the stress Maggie feels to the screen creating a vivid experience. What is so amazing about Maggie's road is that despite all the roadblocks she is still there and continues to fight for what is right. She fights through the fear and pain, she fights the insecurities and digs herself out of the darkest holes, she sometimes even puts herself in. Another beautiful part of Maggie's journey this week were her scenes with Jordan. The support she gets from Jordan and the way they've created this intimate safe space between them just makes me have major googly eyes. Their connection is so honest and pure and full of support. Their talk ahead of the big battle was just what Maggie needed. It gave her the inner peace to fight for another day.
But Sarah was almost outshined this week, by no other than Aunt Vivian. Melinda McGraw brought a splendid performance as Viv's rise to power was as compelling as frightening. Melinda McGraw brought all the right ingredients to be an intimidating villain. Her desire for power wasn't the most stellar over the run of season two and could've been explored more, but this episode provided depth to her craziness and reach for power. She wanted to become the Apex Predator, so she turned into one. The seductive way she was playing with Gauntlet/Prism and the way she embodied all that power was just powerful.
Another fun side of the episode was Julian's part in this whole story. To bridge Eric Balfour's current unavailability cause of the Covid Pandemic the writers sought actress Peyton List to step up. Turning Julian into Nadia and playing the game this way was just a smart and entertaining choice. The face between "Juldia" and Viv was a strong one. An obscure moment during this episode was when Harry was about to save Julian and he just didn't. It did seem like he was too late as the light faded out of Julian's eyes but that moment did make me suspicious. Is Harry still there or did Jimmy pull a move to replace him? Cause the writers certainly wanted to say something with that scene? Or am I just too suspicious?
Credit @ dgspdr
Another major shootout is due and to no other than director Menhaj Huda for the brilliant work delivered during this episode. Every shot felt special and the transitions and effects were so on point. Visually this episode, just like the previous one, was a major serve. Still, the episode felt a bit choppy and rushed at times, I assume this was related to the pandemic and how some of the stories had to be compromised to fit in the direction of the episode. Some parts felt misplaced and messed with the dynamic of the episode. All of that can be overlooked, but my major issue with this episode was the resolution of it. Viv aka The Conqueror was "potentia-triumed" felt just meh. Yes, it was a visual pleasure but just plain and simple. I did like the idea of the Power of Three being too much for a single person but it just didn't pay off properly. If they were able to destroy the Conqueror with this one move, where does this bring any other demon? Why wouldn't the girl just bust every Demon hideout and potentia trium their asses? Another thing that annoyed me was that Viv didn't kill Macy after the mind-melt. Why would she leave her breathing after the pain she caused to her?
Before the episode closed with a big surprise, we got some resolution to the current romantic status of the Charmed ones. After we experienced a bit more of Hangst (Hacy angst), the two found common ground after Julian's death. Harry's black and white approach didn't match with Macy's belief in Julian. Still, the two showed up for each other and Harry was even willing to give Macy the proper space to mourn Julian. It was sweet, but Macy doesn't need space from Harry, she just needs him to be by her side. While I am a major fan of the Hacy ship, they certainly need to tone it down a bit. We don't need them to be all over each other each week. On other hand, there was no angst between Mel and Ruby. The two of them were so soft and adorable. The connection between the two ladies was just so palpable and endearing. I've honestly believed each word they spoke and I was so peeved when that kiss didn't go through.
Other Tidbits:
- I do hope Nadia will eventually come back for an episode. Revenge is a dish best served by Peyton List.
- Really curious about what Jordy acquired for Abby and how will that reunite her with her sister (or brother now, JJ Hawkins joins the crew in two episodes),
- Who will inherit all of Julian's money? I can share my IBAN if needed.
- It was great seeing the Guardian again. Kandyse McClure was magnificent again. The mysticism and dread she carries are just so compelling. Sadly this seems to be the last time we have seen her. But there is always time-travel.
The episode ended with the sisters realizing that Viv tainted the Black Amber and that all magical beings are in danger. The show set up the stage for a major showdown but how will the sisters fight the death of all magic, Or do they just need a Source of magic. Tune in on February 14th to find out, as the show is going on a two-week break cause of the Superbowl game. In the meantime, share your thoughts and speculations in the comment section below. Till next time. . .