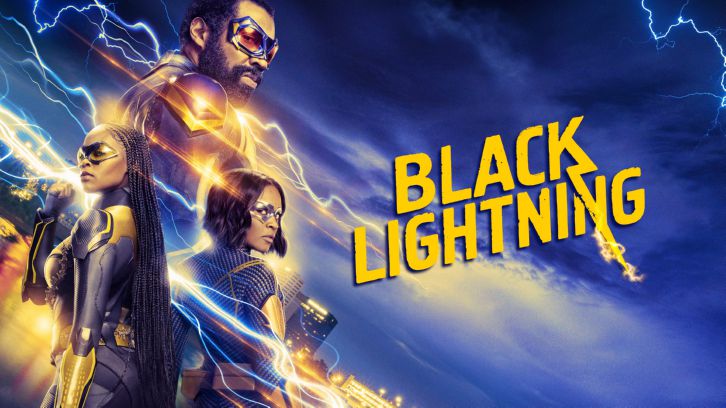 Chapter One: Collateral Damage
This season's premiere, for me, did a much better job of setting up the potential stories the season is going to cover. What's most exciting is that this setup promises that this season will be rooted in character driven stories.
In his pain, Jefferson has almost completely distanced himself from everything; his family, his job, his students and Freeland. His pain and anger are going to drive the stories, we can tell, into some bad places.
Jefferson's anger is making him reckless and that recklessness sets up situations that leave both Jefferson Pierce and Black Lightning open to blowback. The coming weeks are not going to be easy.
Jefferson attacks two racist cops looking for any excuse to "punish" a black man, but he leaves evidence that allows the police to link him to the scene, despite Gambi's attempts to protect him.
After Jen is attacked,
Jefferson
goes after the man wielding the gun.
The cops believe the hospitalized shooter was attacked by Black Lightning because of the man's injuries, but there were other people in that apartment. Witnesses are unpredictable and a more rational Jefferson might have considered that before going in there.
I can't wait to see it all go wrong.
One of the things that I've repeatedly praised the show for is the way the Lynn and Jefferso communicate with their children. Jefferson's always been given to issuing edicts to his daughters, but he's been willing to process their point of view (maybe not always in the initial confrontation).
Now he issues orders then walks away expecting them to be followed. This contradiction feels very real. Again this character element drives potential stories for Jennifer and Anissa throughout the season.
In his denial of just how much he's hurting, Jefferson tells himself that he is still taking care of his family; his children. But that element of communication that's always let them discuss situations and, sometimes, move to a positive solution is gone.
Consequently, his daughters are walking into situations they haven't thought out more completely. That's what ultimately leads to Jen getting shot and possibly in mortal danger.
Tobias popped up again. Personally, I am not as much a fan of the "endlessly returning villain" as many lovers of this genre are. I like for my villains actually to lose when they lose.
But, I did know he would be back when season 3 ended, so his appearance wasn't a surprise. But, given his plans for Lynne, the season promises to be fun (and maybe a little frustrating).
Lynne, Lynne, Lynne....experimenting on yourself never goes well.
Gambi turned down a promising job offer. Am I the only who thought the woman who delivered the offer will (a) be back again and (b) will turn out to be an ongoing villain?
I think the only scene that bounced me out of the episode was the therapy session. The therapist, interrupting Lynn and Jefferson to ask about her sobriety seemed more like the start of the session than an effort to direct their conversation in a more productive direction. It kicked me out of the episode and left me wondering if it was an editing issue.
This season premiere really worked really well for me. It was difficult to watch everyone hurting so much, which is as it should be. It set up numerous threads that I am looking forward to see play out.
What did you think about the episode?