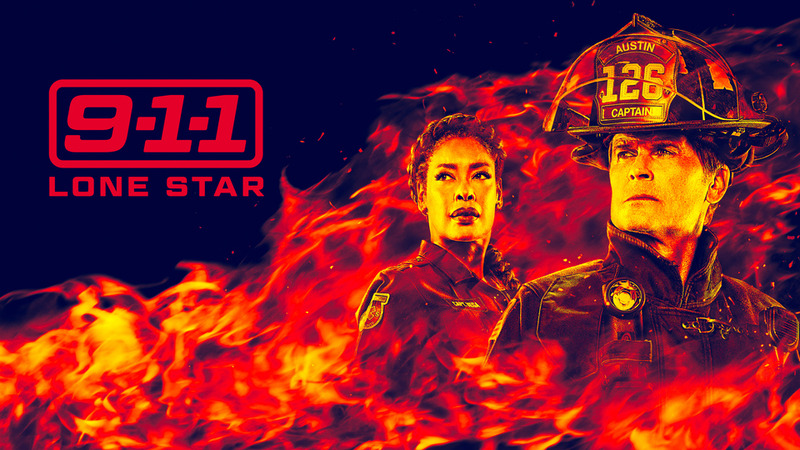 This week's episode of 911: Lone Star lets us in on how protective Marjan gets over her found family, Owen and Gwyneth making a big decision, and Grace finding out some life-shattering news. Read on to hear my thoughts about it.
First, let's talk about Mateo and his tattoo mishap. I had actually forgotten that Mateo has dyslexia – and then when I was reminded for all the horrible reasons, being that he went to a tattoo shop and got a tattoo that said "guardian angle" because his horrible artist didn't let him know it was spelled wrong.
Part of the episode revolves around trying to tell him that it's spelled wrong, with TK, Paul, and Marjan not really knowing how to. Eventually, Marjan does tell him, and they're able to go back to the studio where Marjan convinces the artist to do a cover-up free of charge. Because of course, she does. I thought this was a really good balance of lightheartedness against everything else that happened in the episode, which was rather heavy.
So onto that…when Judd is on a call for a man who's passed out on top of his girlfriend, he discovers that it's not just any man, it's Grace's father. I felt so bad for Judd during this because you know he has to tell Grace – they don't keep things from each other– but how do you tell her something that will break her heart?
Turns out, he doesn't have to. After a 9-1-1 call dealing with an abusive ex-spouse, Grace says to her coworker, "it's not about what they say, it's about what they don't say," and Grace thinks back to how quiet Judd was when the topic of her father came up – him making seemingly offhanded comments in his hospital room, or getting up from the table when he's brought up. This, to me, was a wonderful testament to their relationship and how well they communicate. Judd didn't even have to say anything and Grace knew something was wrong.
Because of this, though, Grace decides to listen to the call that came in about her father, and she finds out about his cheating. When Judd tries to tell her himself, later, she's clearly incredibly upset about it. I'm glad that she knows Judd didn't tell her at first because he was trying to protect her, but I wish she'd have talked about it. Hopefully, we can get into it in the upcoming episodes because that's not something you just forget about.
Elsewhere, Owen and Gwyneth are deciding whether or not to keep the baby, and while I'm thankful that they were given all the options to go through, we all knew Fox was never going to go through with an abortion storyline. Let's be real. So now we're dealing with a very high-risk pregnancy with a character who's just joined and most likely isn't staying. I wonder what will happen.
Seriously, though, if they decide to take the route of killing Gwyneth – and I'm very afraid they will – I'm going to be so disappointed. If they don't, though, I don't think they're going to get a baby. It sounds harsh, but remember when Owen said he was invincible, but the people around him weren't? Foreshadowing, much?
Do you guys remember my review from a few weeks back, when I said it was really cool (even though I didn't agree with the storyline) that they reversed the "kill the woman so it further's the man's storyline" trope with killing Tim? I may have spoken too soon. The fact that we barely know anything about Gwyneth, just that she's apparently very successful and she's TK's mom, doesn't sit right with me. I hope the Lone Star writers know better than to do something like this – bringing a woman in just to kill her – but I'm worried it's going to happen whether I want it to or not.
The reason I feel so strongly that they're going to disappoint me with this storyline is that they could've made anyone else pregnant, but they chose Gwyneth. Why her? Why not Grace, or Tommy, who's just come back to the job? I hope I'm just reading too far into it and it ends up being okay. Also, can we get some TK and Gwyneth scenes that aren't just about Owen? All we've seen her be so far is Owen's ex-wife turned pregnant girlfriend. Give me more of her! Or don't if you're going to kill her! Ugh.
Finally, because now I can't not see it: their lack of masks! Why on earth is the entire team going up to an out-of-state car with zero masks on?! Again, I get it if you just don't want to deal with wearing them while filming, but then don't make the show be set in the pandemic! Also, why is Mateo getting a tattoo in the middle of a pandemic?! It is so unbelievably frustrating.
Overall, the episode was okay, but I can only see this ending badly. My request for 911: Lone Star is that we get more of Carlos and Grace. I know that's hard to do because the show is about firefighters and neither of them are firefighters, but man I just want to see more of them.
What did you think about this episode? Do you agree with my theory about Gwyneth and the baby? How do you think Grace will react when she finally talks about her father with Judd? Let me know in the comments below!