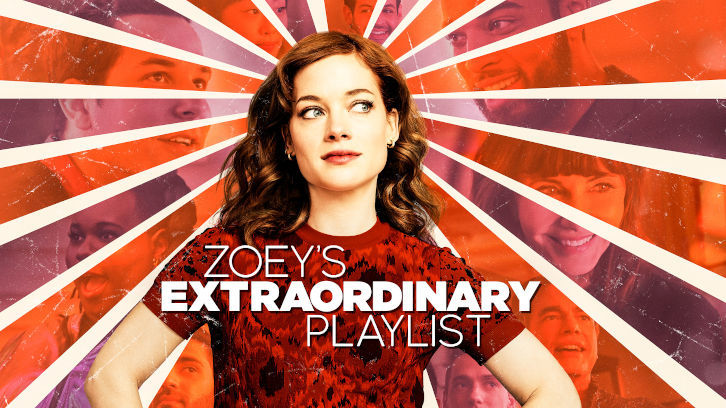 The characters of Zoey's Extraordinary Playlist got a little tipsy, a little existential, and a little happier this week as the Clarke family begin to settle into a new normal. Read on for my review of "Zoey's Extraordinary Employee":
At the beginning of the hour, Mo is making the Clarke family cocktails (with punny names any dad would be proud of, like "Mo-garita" and "Cos-Mo-Politan") that he's testing out for his and Max's restaurant. When Zoey tells him that she wants to figure out how to be consistently happy like he is, Mo convinces her it's a choice. "You just have to consciously allow happiness in."
Zoey tries to make that choice the next morning at SPRQ Point, but the challenge immediately gets much harder when Zoey finds out that she needs to fire 10% of her workforce. She reluctantly asks Leif to run an algorithm measuring raw worker productivity, to help her decide who deserves the axe. Happy days are here again?
The Clarkes all convene at the courthouse to support David as he begins what could become his 100th trial win as an attorney. He begins his opening statements well, but trails off. Zoey hears him sing Queen's "I Want to Break Free," and she realizes that he's distracted by Miles' presence in the room. When she asks him about it later, David tells Zoey his job doesn't make him happy anymore, and he's considering quitting to be a stay-at-home dad. Zoey encourages him to tell Emily, and although he's nervous about the idea, he agrees.
When he brings the idea to Emily, however, she's much less thrilled. Pretty much all of their future plans were reliant on a dual income, and she feels like the decision is a little rash. David tries to tell her that he isn't happy, but she brushes him off.
Zoey spends much of her workday firing various employees to various reactions. For the most part, the job was unpleasant but doable. That is, until Leif's algorithm comes back and tells Zoey that the clear next target of her pink slip is George - who, by the way, had just told Zoey that morning that it was a hard day for him: the birthday of his "guardian angel" and Abuela, who, in his words, ended up "slowly dying for two years."
Like dragging her teeth across a chalkboard, Zoey makes it through George's firing, even after he tells her that she's like a sister to him. He admits that coding has never come easily for him (which begs the question: why is he a coder?) and takes the ordeal with his tail between his legs.
The day does go well for one SPRQ Point employee, however, as Simon has his first interview as SPRQ Point Spokesperson - an interview that he nails, as indicated by him singing Lizzo's "Juice" to Zoey (A song that was quite possibly made for John Clarence Stewart's voice?). What's more, were those actual SPRQs - I mean, sparks - flying between him and the interviewer?
While Max is burying his post-breakup emotions in paperwork for the restaurant, Mo finds out that the building has changed hands several times in the past years, and determines that it's "cursed." In order to "cleanse" it, he throws a massive cleansing ceremony/karaoke party (ah, remember those?).
Mo invites Max (still doing paperwork) up for karaoke, and they sing "Opposites Attract" by Paula Abdul. However, afterward, Max gets frustrated with Mo because he feels like Mo isn't doing any of the work for the restaurant, too busy singing karaoke and complaining about curses.
I feel like this was a plotline that was slightly forced, and I really have not perceived Max as the "head down, work done" type of character at all up until now. However, the Max/Mo story, in general, has been on the backburner these past few episodes, so I can only assume they're just using this storyline to build up to something more interesting a few episodes down the line.
Zoey, meanwhile, is having no issues with the karaoke party whatsoever. In fact, she's three sheets to the wind, and after drunkenly propositioning herself to Max (he rebuffs), Mo takes her home and commands her to not drunk dial anyone.
Of course, as Zoey finds out the next morning, she's ever the rebel. But while many people's drunk dials might lean toward the realm of booty calls or pizza ordering, Zoey's inclination here is toward drunk re-hiring. Yes, in fact, George is back at SPRQ Point the next day, having received an emotional call from Zoey telling him to "forget the whole thing happened."
Zoey calls Emily to consult on how to double-fire someone, and Emily suggests she treat George's job loss as a brand new opportunity. When Zoey points out that leaving a job that doesn't work for you can really feel like "breaking free," Emily realizes the connection between Zoey's predicament and her fight with David.
Zoey fires George (again), this time framing it as a "cutting loose," and it (maybe?) works, as George leaves with an agressive rendition of Britney Spears' "Stronger" and a "Thank you for the opportunity."
Maggie, meanwhile, is the last member of the Clarke family finding a new possible route to happiness, which she does with help from Jenna. When Roger, the man who hired her for her new project, begins flirting with her (and she flirts back!) she admits to Emily's sister that she feels guilty for Mitch's sake about possibly moving on. Jenna reassures her that she's just finding new ways to be happy without him, and the unlikely pair play Never Have I Ever, bonding even further.
David returns from work having won his 100th case, but as his family congratulates him, it's clear he doesn't care about the milestone very much. Emily, moved by her earlier conversation with Zoey, sings "I'll Stand By You" by The Proclaimers (Sidenote: Alice Lee is my QUEEN) and tells David he should quit his job if it will make him happier, and that they can change their plans if they need to.
Mo also apologizes to Max for being too blasé about the restaurant by getting him an interview with the WIRED writer who had interviewed Simon the day before. The two reconcile their different processes and make up.
Finally, at the end of the episode, Zoey goes to visit her neighbor and old childhood friend, who is recently back from college. He's a musician now, but more importantly he is also hot now (is this ANOTHER love interest? Really?). He invites her in for a while and she agrees, kicking off what I'm sure will be an interesting journey next week.
Overall, I think this episode was really good (and big shoutout to Jane Levy's adorable "drunk acting!). I do have an issue with the ousting of George - not because I think it's a bad idea, so much as I'm confused as to what, exactly, his purpose was. Harvey Guillen is very funny, but I genuinely still don't know if I liked George or hated him, and he hasn't contributed much of anything to the story whatsoever. Will he return later as a moustache-twirling antagonist? Or an odd but wise voice of reason when Zoey's at her lowest? Or is he just gone? It's frustratingly unclear.
I think other week-to-week issues that the show had in the first season have mostly been ironed out, and I think the writers have hit a pretty good pace and rhythm for the various intertwining stories throughout the season. Nothing is predictable, but everything is fun to watch - the perfect dose of optimism, honesty and Kleenex to get me through the week.
What did you think of "Zoey's Extraordinary Employee?" Where do you think the George situation is headed (if anywhere at all)? Let me know in the comments!
Zoey's Extraordinary Quotes-List:
Mo: Okay. What about a Mo Tai? A Mo-tini! A Le-Mo-n Drop! Le-Mo...that's a lot.
Zoey: Is every cocktail going to be a pun on your name?
Mo: Sweetie, it's called brand awareness.
Zoey: You know, you could always work at my place if you wanted. It wouldn't be weird. Or, if it was weird, we could handle it because we're not weird people. And we're definitely not going to be weird moving forward, right?
Max: I mean, you're being weird right now.
Zoey: I mean, it's not like I murdered George. Or maybe I did. I don't know, has anyone ever died from like, words?
Max: I'm pretty close.
Zoey: Maybe choosing drinking wasn't the right way to go.
Mo: And why would you say that? Because you "Me-Too'd" Max and Simon or because you tipped the Uber driver $100?
Zoey: Well, he had some very cute little water bottles.
Zoey: Just for funsies, how do you recall the specifics of our conversation?
George: Oh, ok. You said "I just want everyone to be happy, so let's forget the whole thing happened." And I was like, "Are you sure?" And you were like, "Of course," and I was like, "Okay." Then you started breathing really heavily and I think you might've fallen asleep, but I stayed on the line, just to make sure, 'cause I wasn't about to let another strong woman die on my watch.