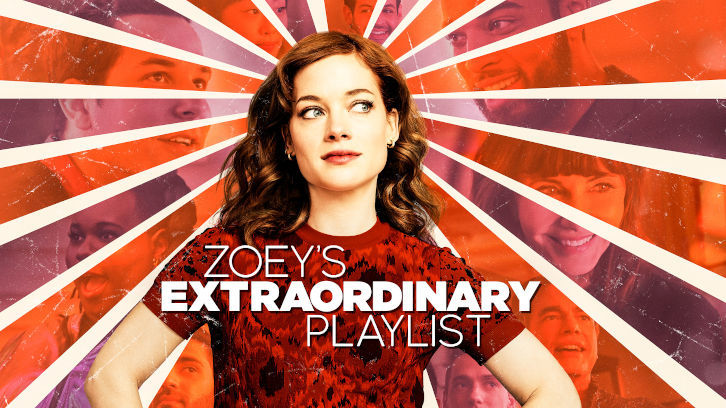 This week's episode of Zoey's Extraordinary Playlist resurfaced some old plotlines and introduced some juicy new one that will likely have a big impact on the rest of the season. Read on for my review of "Zoey's Extraordinary Dreams":
The episode starts with Zoey waking up in her room - her room, but empty - caught in a bout of Martha and The Vandellas' "Nowhere to Run." As she desperately tries to escape, she suddenly wakes up for real (with Max!) and explains that she's been having dreams resembling this for several weeks.
Max doesn't have much to provide by way of dream interpretation, but he assumes (and Zoey agrees) that her feeling trapped might have something to do with her still living in her old bedroom at home more than 2 months after her dad's death. As a result, Zoey makes up her mind to talk to Maggie about moving back into her own apartment.
Maggie, meanwhile, is preparing to settle back into work, doing her first big presentation without Mitch. Zoey is just about to bring up leaving the house when she hears Maggie singing "Someone You Loved" by Lewis Capaldi; maaaaybe it's a bad time? Zoey ultimately decides she can't move back into her apartment while her mom is still grieving, and Max understands.
At SPRQ Point, Zoey tells Simon about her dreams and he confesses that he had a similar experience after his dad's death. He suggests that the dreams might go away if she gets rid of some stress, which she does by farming out some of her less-important responsibilities to the other members of the office, including setting up a floor softball team. However, Tobin's ideas of a "Brogrammers" team with a rather suggestive, male-specific logo frustrates both Zoey and McKenzie ("I think I know what a prick looks like").
David and Emily are also having trouble getting sleep (see: new baby), and Jenna is interfering even more. From talking about the "light 9 hours" of rest she's getting a night to insisting on taking pictures of them for a gallery wall in Miles' room, the new parents are on their last nerve with Emily's worldly sister.
Maggie, meanwhile, played it safe at her meeting and feels badly about it after the fact. She tells Zoey that she feels like without Mitch, she doesn't have anyone to bounce ideas off of. Zoey is having a hard time figuring out how to help her mother - that is, until she hears Jenna sing Charlie Puth's "One Call Away" ("I'm only one call away, I'll be there to save the day"), and gets the idea to pair the two together. While Jenna's ideas are certainly new to Maggie, the collaboration works well, and Maggie's follow-up the next day is a success. The bad news for David and Emily? Jenna will be sticking around to work on the project full-time.
When Zoey, still having the dreams and massively sleep-deprived, breaks down, yelling at the Brogrammers to send back their sexist softball jerseys, they sing the most upsetting adaptation of "Hard Knock Life" I've ever seen. The scene is pretty inconsequential, and I wouldn't even bring it up were it not so uncomfortable to watch. Genuinely, I usually have only good things to say about the "Zoey" musical numbers, but I really don't know what happened with this one. It felt like a 2 minute fever dream, and not in a fun way!
With Maggie now engaged in her work, Zoey finally tells her that she wants to move back into her own apartment, and they have a sweet heart-to-heart where Maggie gives the idea her blessing. However, even after moving back, the next night Zoey still has the "Nowhere to Run" dream. This time, dream-Zoey almost makes it out of the room, but is met at the door by...herself.
The next morning, Zoey confesses her feelings to Simon and he points out that she's standing in her own way, hence dream-Zoey blocking her exit. At this point, I think we're supposed to be intrigued by Zoey's conversations with Simon because maybe there's still romantic interest there, but really, Zoey's just using Simon as a glorified therapist at this point, right? With all of the positive mental health care representation we get on this show, you'd think that maybe she should get an actual therapist?
Zoey also tells Simon about her budding relationship with Max in this episode, and her feelings that he might not understand what's going on with her at the moment. To her surprise, Simon says Max already told him that they were "together." That night, when she brings it up to Max (effectively also broaching the topic of her complex relationship with Simon), it turns to a fight after Max sings a "heart song" to her...except, we don't hear the song! Zoey frustrates Max when she refuses to tell him what he sang, but whatever it was, it seems to change Zoey's view of him significantly.
The one person Zoey still won't talk to about her feelings is Max (possibly because of that song we didn't see? Seriously what did he sing?). Zoey's avoidance is getting pretty obvious to him, and approaching the close of the hour Zoey hears him sing "Say Something" by A Great Big World (An aside: Skylar Astin's voice!!!!!!). In response, she finally opens up, explaining that her own grief-related issues made her feel like things weren't working out in her life. She confesses that she feels she can't be present for him and asks for more time. Max understands that it might have been selfish of him to push for a relationship so soon after Mitch's death, and the two agree to put their burgeoning romance on pause so that she can keep processing.
Overall, I feel that this episode lost a bit of the steam built up from last week. I'm not completely mad at Zoey and Max's quick break-up, since I, too, felt like it might've happened a little too quickly for common sense, although it is kind of weird to tease us with it and then immediately rip it away.
I also thought this week's use of songs were a bit lackluster: generally, the musical moments in the episode are highlights for me, introducing interesting themes and plot points and bringing some levity into the narrative, but this week, they all felt a bit forced and out of place. It made me wonder - what would an episode be like if it didn't have any "heart songs" at all? At this point, I'm actually comfortable saying that it honestly wouldn't make me any less interested, especially if that episode's story and character moments were strong.
What did you think of this episode? What do you think the song Max sang to Zoey was (and when do you think they'll reveal it)? Have you been liking some of the new team-ups this season (Max and Mo, Maggie and Jenna, Zoey and Leif)? Let me know in the comments!
Zoey's Extraordinary Quotes-list:
David: If you wake up my baby right now, I will literally kill you. And I mean that in the nicest way possible.
Zoey: How about this? This is pretty. Can you do this?
Maggie: That's Versailles.
Zoey: So...no?