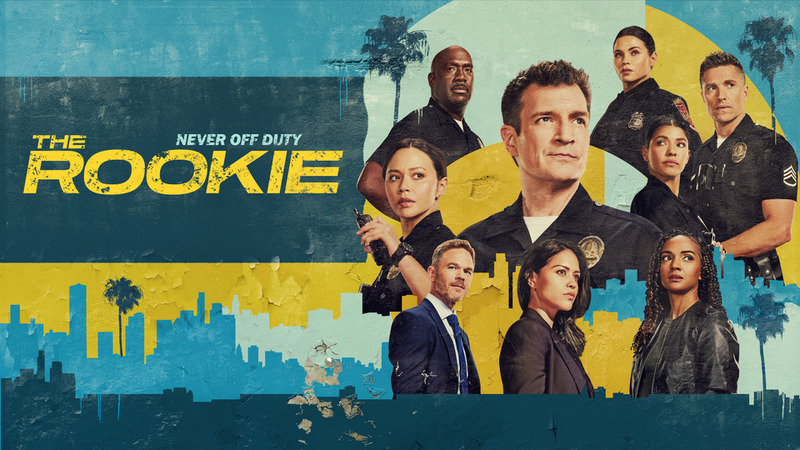 With a new episode on tonight, let's do a recap of the show's outing last week.


The episode opens with Nolan finding himself taken aback by his mother's unannounced visit, which is a plot that plagues him for the duration of the episode. She's emotionally overbearing, scheming and needy and seems to drive John crazy. On the flipside Frances Fisher is a delight in the role, and she seems to be sticking around for a bit so, yay!
The work day begins with everyone going in for their gun recertification. Whereas Nolan gets distracted by a guy in scuba gear and fails, Lucy nails it and comes in first, leaving Harper and Tim tying for second place. Any hopes Tim had coming first with Lopez out of the running get squandered. Of course his Boot gloats, but fret not, because Officer Bradford gets his revenge when Tamara The Puppy gets one over her: she's sold the car Lucy gave her in the last episode to buy stuff like clothes, and a computer. The kid makes a decent enough argument about wanting to feel normal and using the money to do so, which resonates enough with Chen. In the end, the two come yet to another understanding about how they need to work on earning trust and it's enough for Lucy to let Tamara off the hook, while she in return opens up to Lucy a bit more.
Harper finds herself advocating for a young Black pregnant woman in labour for the majority of the episode. The show manages to tackle yet another topical racial issue, of the dismissal black women face by being labelled hysterical when they are in pain. If I have one gripe about this storyline, is that it could have had more focus in a whole separate hour instead of being delegated as a D-plot in an overall busy episode. But it gave us some good backstory and moments for Nyla, along with some sweet Harper/Nolan scenes, so I'll let it slide.
Angela continues to assert herself in her new post. She lands what ends up being a pretty big case: what originally seems like a relatively "simple" gang shooting turns more complicated when the slugs found in the victim are rather peculiar. She calls in help from Grey who's got a CI in this specific gang. Meanwhile she also puts those detective skills to easily suss out Grey is actively in the process of retiring. Tying back into the scuba gear gimmick from earlier (in what is admittedly one of the more convoluted plot points the show has ever used to keep everyone and their stories somewhat connected) Harper and Nolan help her find out who killed the gang member. Hint: it's the guy in the scuba gear, who is a Guatemalan cop with a vendetta. Upon further investigation the true target is revealed to be Sandra De La Cruz, aka La Fiera a drug cartel Queenpin (played by Camille Guaty). She's scouting colleges with her son and that's where they're planning on hitting her. Our crew head over to protect La Fiera and her kid from being assassinated, and no surprise they succeed. In the time they get to spend together Sandra seems to warm up to Angela, seeing her as some kind of kindred spirit. Lopez makes it clear that the feelings are hardly mutual, but La Fiera doesn't seem deterred. In the end she even goes as far as to sent Angela a "gift" for her unborn baby.
Getting to bump into Angela early in her case gives Jackson enough time to reminisce and miss Lopez yet again. Stanton only manages to make things worse by the minute with everything he says and does. Jackson seems to have enough when his new T.O. detains a young Black man on completely prejudice grounds. Stanton's temper only escalates the situation and but Bradford and Chen show up in time to help defuse things before they really got out of hand. Stanton trying to blame Jackson, followed by more than a few more inappropriate comments during the hunt for La Fiera's assassins is what pushes West to take a stand. He goes to Grey and lays it all on the line. Sadly the Watch Commander is all too quick to dismiss the rookie without something tangible. Thankfully Bradford (and only after he too has been chewed out by Lucy for dismissing Stanton's problematic behaviour) steps up with an endorsement of Jackson's assessment. Tim's pedigree is the thing that pushes Wade into the only recourse he has, which is to put Stanton on desk duty. Jackson's objections that it's hardly enough get shut down as ungrateful insubordination. I understand Grey's argument that cops like him and Jackson's dad had it worse. And that's fair. But Jackson pointing out that things are barely better is just as astute. Tim for his part accepts Jackson berating him over his own complicity in letting this behaviour slide his whole career. Grey on the other hand is rightfully far more indignant with him, even though as he later shares with his wife, Jackson is probably not wrong.
Was the Stanton stuff slightly heavy handed? Maybe. Was it necessary for it to be so? If you're asking me: absolutely. Too often shows of this nature tend to gloss over or minimize such behaviour. Hell they even excuse it or defend it to a degree... or worse glamourize it. And to try and pretend in this day and age that cops like Stanton don't exist, is no longer possible. We can't claim behaviour like this it too OTT and unrealistic, when we live in a day an age where there is undisputed evidence like the Floyd video.
For years, rarely have cop shows offered scenes like the one in Grey's office and meant it. Fewer shows even have had scenes like the one between Jackson and Tim, with the explicit reference of "silence is complicity". It seems that The Rookie is willing to put in the work to address these issues head on, and so far so good. Let's see if they can keep it up and walk the talk in the long term.
Speaking of the long term I've seen speculation from fans that Grey's retirement will be something the show will follow through to the end, in order to have Bradford step up as watch commander, but personally I'm not entirely sure that's the way to go here. Not that I don't think Wade leaving the Sergeant's post and Tim stepping in won't be the way this plays out. That part I'm fairly sure will happen as well. No, what I'm referring to is Grey retiring. This has been a plot point that's been floating about since S1. And while he finally he does seem serious enough about it, with the show taking on systemic racial problems makes his departure from the show ill-timed. Especially if his substitute turns out to be a white guy... the fact that the guy is Tim doesn't matter. The "optics" are the same. I would think from a narrative standpoint, him using his feeling of "helplessness" to motivate him into staying in the fight would be a better option. He could be offered another higher position in the department... maybe he runs for office... I dunno... but something bigger, with him taking on a role more actively involved in the conversation I find would be a better route for the character than to have him just quit, especially after this past episode. On the other hand I might be bias here... I really don't want to Richard T. Jones to leave.
That's that for last week's episode. Tune in tonight for a brand new instalment of The Rookie!