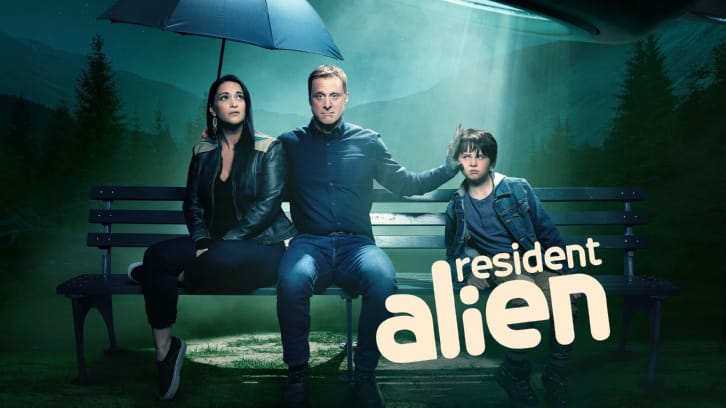 This is an odd little show, based on a comic book series, that had me curious. The pilot wasn't perfect but, the moment Harry let the music into his soul, I was committed to checking out the second episode. Which isn't to say I didn't have some issues.

I wasn't immediately enamored with the alien design. It was technically well done, but that extra set of arms just didn't work for me. That said, I think we're going to find out that these design decisions were thought out and are tied the standard reason most aliens end up on Earth; decades of crashes and close encounter reports.


At first glance,
Law and Order
seems like a really random show to pick for Harry to use to learn English, but there is, once again, reason behind the choice.
Law and Order
not only teaches Harry English, but some investigative skills, what a Y-incision is, and how to recognize a murder when he sees one.
These underpinnings hint to the stories we can expect during the season. It's not a surprise that Harry is hooked and will end up fighting to save humans from whatever his people have planned.
However, my biggest issue with the pilot is the balance of tone. The pilot was aiming for a balance of quirkiness and serious drama, but didn't quite get there. The pilot swung a little too far on the quirky side to keep the more serious moments from feeling out of place.
The town regulars were weighted more on the quirky side than the drama side. Sheriff Thompson, who, for some reason, wants to be called "Big Black". (NOTE: When someone assumes your intimidating nickname refers to your vehicle, you might want to rethink it.), Deputy Baker, who was such a "quirky" stereotype that I dismissed her, and Max, the poor little boy who is the one in a million humans who can see through Harry's disguise.
Ben Hawthorn (the Mayor) and Asta Twelvetrees were the straight drama characters as far as the pilot was concerned.
Hawthorn was pretty much throw away comic relief. His only function was to force Harry to remain involved in the the mysterious death.
Asta's struggles to get out of an abusive marriage was the focus of the serous drama subplot. But with so many quirky scenes, like Harry opening the casket in the middle of a funeral, her story was a little jarring for me.
It is possible for the two types of story to live side by side. I've seen it work. But the writing doesn't seem to have it under control yet. Hopefully, they will have had enough time to improve the writing between the filming of the pilot and the start of series production.
Most pilots aren't perfect. I tend to look to the characters when trying to decide if I'll give a new show time to find its feet. Unfortunately, there was so much focus on Harry that all the other characters got left behind.
The writing fell back on what I think of as the "Let's use stereotypes to introduce a character quickly" approach. Consequently, I didn't connect with any character other than Harry.
My interest in Harry was tied more to my desire to find out what the show was going to be about than the character itself...until he started dancing. Actually it was the
way
he started dancing that appealed to me. That was the moment I decided I would give the show a chance.
There are some series questions the writers want us to be curious about but most of them are so clichéd that we don't really need them answered.
This is why I would have preferred more time be spent on creating fully realized characters. If the story isn't innovative enough to pique viewers interest the characters have to.
There is one big story question that I think they made a mistake by answering too soon. We're told that Harry has remained in Colorado because he's looking for the device he deposited before he crashed.
By having Harry find the device in the pilot, I was left wondering why Harry didn't just walk away the moment he found it. If he had to continue searching for a few episodes, there would be a reason for him to stay in town while he develops the inevitable connection with these humans.
I am still planning to give the show time to find its feet. Will you?
What did you guys think about the episode?
Miscellaneous
It was a pleasant surprise to see Corey Reynolds playing a character so different from
The Closer
's Detective Gabriel.
That beat box version of "Amazing Grace" was the most unexpected moment in the episode.