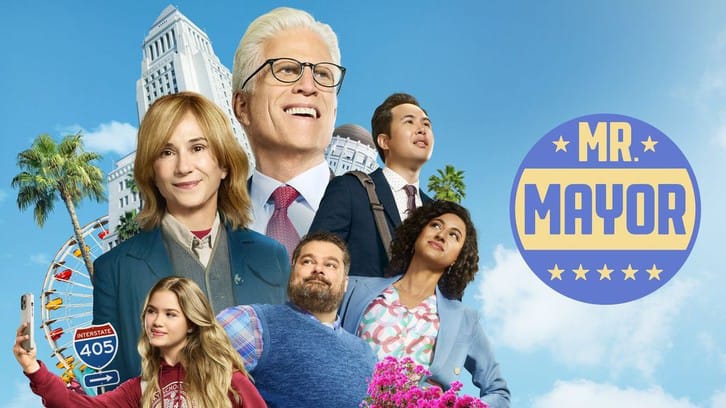 Created by Robert Carlock and Tina Fey, the duo behind Unbreakable Kimmy Schmidt, Mr. Mayor premieres on NBC this Thursday and tells the story of Neil Bremer, the newly elected yet widely unqualified mayor of a post Covid-19 Los Angeles. Let's preview the show's pilot and its second episode, titled "Mayor's Day Out."
In the first episode of this new comedy, Mayor Bremer (played by
Ted Danson
) introduces his first policy to Los Angeles: a city-wide straw ban. It mirrors a policy his daughter, Orly (
Kyla Kenedy
), who is running for class president at her private school, is using for her campaign. In fact it quickly turns out that this is essentially what this show is about: the story of a father and his daughter, and more specifically of a widowed father who used to make billboards and then ran for mayor to impress his daughter. A premise like that makes for good comedy, as one can expect that Bremer's term as mayor will be filled with comical adventures. There is clearly a
Parks and Recreation
vibe to this show, but with the
Carlock
and
Fey
stamp clearly marked on it. The humor, the dialogues, the characterization, everything is reminiscent of
Unbreakable Kimmy Schmidt
and
30 Rock
.
Danson
is great as usual, but not the only member of the cast to shine.
Holly Hunter
plays a councilwoman who opposes his straw ban in the pilot then reveals herself to have more that one trick up her sleeve in the following episode, and it's good to see
Hunter
on screen again.
Saturday Night Live
alumnus
Bobby Moynihan
also plays a strong part in these first episode as Jayden Kwapis, a member of the Mayor's staff. All in all, everyone is quite convincing and funny throughout these first episodes and all seem to be characters that the audience can easily get attached to.
The second episode's main storyline revolves around the Mayor as he goes from event to event and accidentally gets high. Now that the characters have been introduced and the dynamics between them established,
Mr. Mayor
finds its pace and reinforces its tone: goofy, absurd, fun. It's not particularly fresh since, as mentioned above, the show has the same vibe as previous comedies seen on NBC, but it still manages to be entertaining so, really, it fits the bill of what should be expected from a show like that.
With its strong cast and two prominent comedy writers at its helm, Mr. Mayor is set to find its audience in this beginning of the new year. It will please fans of Fey and Carlock, and fans of The Good Place will be happy to see Ted Danson back in a new comedy. The first two episodes of the show are solid and give us a good understanding of what kind of comedy we are getting into. In a nutshell, we're curious to see more.