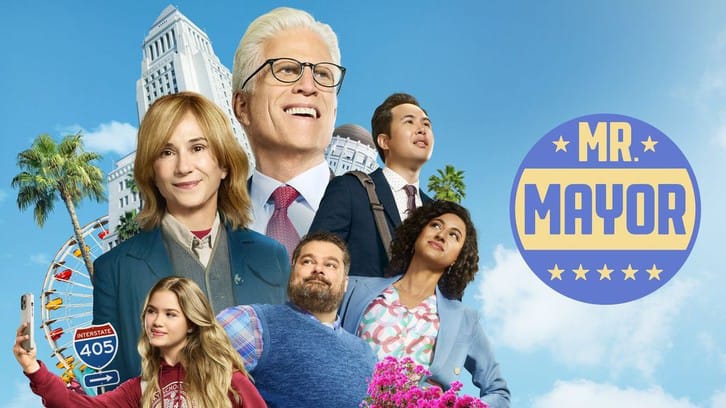 Well, Mr. Mayor served us its third episode this week and let's face it, it tasted a bit stale. Let's review.
Allow me to say this first: I want to like this show. It comes from great writers, it has a great cast, it's a workplace comedy. On paper, I should like this show. But the truth is, the last episode left me with a solid feeling of "meh." And I think it's mostly because it doesn't feel fresh. Like I mentioned in the preview for the first two episodes, Mr. Mayor is very reminiscent of other shows that came before and were highly successful, like 30 Rock or Parks and Recreation, but it doesn't bring anything new to the table. It's like eating reheated pizza: sure it's fine, it's pizza, but it is far from being as good as when it came straight out of the oven.
In "Brentwood Trash" we see Mayor Bremer (
Ted Danson
) off to a town hall meeting with Arpi (
Holly Hunter
), while Jayden (
Bobby Moynihan
) conducts interviews and Mikaela (
Vella Lovell
) bonds with Orly (
Kyla Kenedy
). And it's fine. There are some fun jokes, the pacing is solid, the show follows a proven recipe and it should work. But it's all
déjà vu
. Therefore, there's nothing here that really holds the attention of the viewer and I come to wonder, if
Ted Danson
and
Holly Hunter
weren't helming this, would we pay as much attention? Would the poster make you go, "Oh, what's this show?"
And yet who knows, maybe in a few episodes
Mr. Mayor
will really find its footing and blow everybody's mind.
The Office
had a slow start, same with
Parks and Rec
. Maybe
Mr. Mayor
is in the same boat. But the reality is that there are other things to watch, other comedies to dive into. If what
Mr. Mayor
has to offer is a town hall in a fancy L.A. neighborhood where
David Spade
and
Andie McDowell
show off, while back in the office staffers fail at trying to convince Orly that real life isn't like high school, then this show is lacking a layer of uniqueness that will not keep an audience in need of something new engaged.
So, that's it for me as far as reviewing Mr. Mayor goes. The first couple of episodes were a fun little glimpse into that world, but I don't see myself keeping up with the activities of Mayor Bremer and his staff. Good luck to them, I am sure there are viewers entertained by their adventures but... Been there, done that.