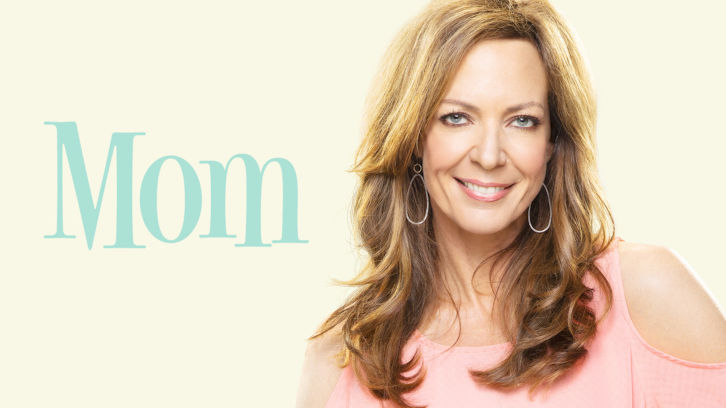 Is Bonnie reuniting with her washed-up rockstar ex as messy as you'd imagine it would be? Absolutely.
At the apartment, Tammy comes by to pick Bonnie up for a morning meeting and finds Adam struggling to reach things around the kitchen. She suggests they remodel the kitchen to be more accessible like they did the bar. Bonnie's all for it since it'll mean the kitchen is torn up for several weeks and she'll have an excuse not to cook! At the meeting, a middle-aged British guy complete with one earring recounts his dramatic story of sex, drugs, and rock'n'roll. Jill, Marjorie, and Tammy agree that he obviously thinks he's famous enough that the audience knows who he is. (They do not!) There is one person who recognizes him though, and that's Bonnie.
Apparently, this has-been ex-rocker is Rod of the band Sashay, and he was in love with Bonnie "for a serious chunk of 1987!" He's definitely come a long way since he and Bonnie were "Lady and the Tramping a big-bad line of blow!" At the bistro, Bonnie shows the girls old Sashay videos and the girls convince her to go say hello to Rod. The only problem - it's obvious to everyone (except Bonnie) that he has no clue who she is. (Which is understandable, being that that "large chunk" of 1987 was only three or four nights!)
Later that night Bonnie listens to more old Sashay music and is shocked to find out that, like the girls, Adam has never heard of them. Bonnie tries to boast that she slept with a "rockstar," but Adam's not too impressed. After all, he spent 28 years romancing the actresses in the movies he worked on.
The next morning, Adam comes into the kitchen to find Tammy sliding around in a rolling chair. She's decided that she wants to see the kitchen "from Adam's perspective," thus the new wheels!
Bonnie, meanwhile, is busy trying to get Rod to remember her, 80s band tee-shirt and all. When she references their "activities" involving the Radisson Hotel ice machine, it finally begins to click for him. According to Rod, the 80s were "washed away on a sea of Quaaludes and Cognac!" Bonnie's not happy that things are still fuzzy for him. She was "more than a groupie." No, Rod tells Bonnie. She was totally a groupie. He used the same lines on her that he used on every other fling he had on tour (and it sounds like there were a lot of flings mixed in with the general booze-induced debauchery!) ("I might not remember the 80s. But I'm still apologizing for them!")
To say Bonnie's not happy would be an understatement - so much so that the threats she hurls at him send him running in fear down the block and far away from the meeting! When Bonnie tells the girls what happened, they're not the least bit surprised Rod doesn't remember her. Marjorie, however, is concerned that Bonnie's little show might have driven Rod permanently away from further AA meetings (which, wasn't
exactly
Bonnie's goal - she just wanted to permanently drive him away from their
specific
meeting!) When Jill suggests Bonnie owes Rod an amends, Bonnie vehemently denies it.
Sure enough, Bonnie and Jill end up on Rod's doorstep a little while later so Bonnie can apologize! And who opens the door but Rod's mother (Who has the most adorable British accent!) Apparently, all the time Rod's been spinning tales to the AA group about jet-setting around the world and vacationing in exotic locales, he's really been living at home with his mom.
Bonnie admits she's there because she owes Rod an amends for scaring him away from the meeting. And after it's cleared up that she's not there to break the news to him that they have an illegitimate child, he actually accepts. When Bonnie questions why Rod has been lying about his luxurious lifestyle to the AA group, he admits he knows he shouldn't be lying about his life. It's just easier to spin a tale.
Bonnie tells him that "sharing at a meeting is not a performance," but a chance to help people stay sober by telling the real story of your own sober life. Rod says he doesn't want to admit that he's lost all his money and has been getting by living with his mom. Bonnie tells him that sharing the hard parts of the story lets others know they aren't alone, and then encourages him to go back to performing if that's what he wants. When Rod says the band wants to do a reunion tour, Bonnie's thrilled. Rod, on the other hand, is terrified. Apparently, he's never performed sober.
Bonnie tells him he'll be able to handle it, but Rod claims it was the drugs that got him through the performances and is still having doubts. When Bonnie asks him if there's anyone he can talk to about his reservations, Rod says there isn't. (Apparently his old confidant Rod Stewart has "gone a bit squishy since he did that Christmas album.") When Bonnie suggests his sponsor, Rod says he doesn't have one. Bonnie says that might be the problem - not having someone to help him develop that sobriety mindset. And then Rod asks Bonnie something she wasn't expecting - if she would be his sponsor. And although Bonnie's a little bit hesitant - she agrees. I mean he did open for Wham!
Back at the apartment, a devastated Tammy tells Adam that she can't do the renovations on the kitchen because the landlord won't approve it. And although Adam's bummed, it's Tammy who's flat out beside herself - feeling that Adam is constantly being dealt blows by a world that wasn't made for him. When Adam tells Tammy he's just learned to "roll" (Yeah, good pun there Adam.) with the disappointments over the years, she admits the reason she's so bothered is that she's remembering her own struggles of growing up outside the norm - due to how tall she's been since childhood. From being picked on in school for being taller than all the boys to getting stuck in a children's playset that she was too big for at her own birthday party, it still bothers her that she was different than all the other girls.
Later, a newly hopeful Tammy brings Adam into the kitchen. She realized there was something she could do without getting the permission of the landlord or a permit - installing shelf inserts in the cabinets that rotate down so Adam can reach the contents. Adam is thrilled and gives Tammy a present of her own - a Cinderella princess crown just like the one she missed getting after getting stuck in the playset at her ninth birthday party. They agree that they will always have each other's backs.
Random thoughts:
-I was laughing so much at Jill's story about high school archery after mixing Tang and vodka!
-Bonnie realizing that it might have been another member of the band Sashay who she slept with instead of Rod was pretty hilarious. Maybe he does have a good reason not to remember her!
-The best line goes to Rod when Bonnie shows up at his house - "Do we have a daughter who needs money for college?"
How do you think Bonnie will be as a sponsor to Rod? Do you think we'll be seeing more of Rod? Let me know below!