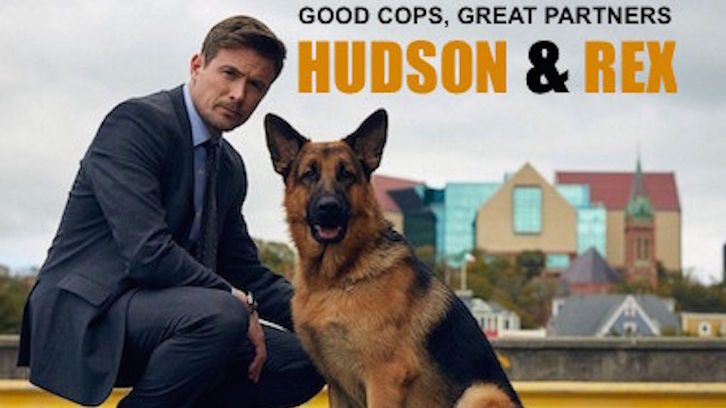 Episode four, titled Under Pressure, might have some of the best Sarah lines all season, one of the more heroic Rex moments, and the most flirting I think we've seen yet between Charlie and Sarah. Seriously. So. Much. Flirting.
Something is happening beneath the surface, off the coast of St John's. Something shady from the looks of the metal trunk a diver has opened. He snaps a few photos with his underwater camera, but is attacked from behind. Now that his air hose has been severed by another mysterious diver, and his body has washed up, the SJPD is on the case.
He responds to her flirting, her words, her tone, in kind. Sarah has always brought a smile to Charlie's face, but this episode made it feel more playful and flirty than usual.
Rex comes back with a tennis ball, which Sarah bags as possible evidence, while they both just continue flirting. It's disgusting (I love it).
Jesse beams in remotely. ♪ It's beginning to look a lot like covid… ♪
He's in San Diego for a police tech conference. He helps out as much as he can virtually, and is able to give Charlie and Joe the victim's starting point in the ocean, but from here on the team is going to have to figure out his gadgets – the digital board – without him.
Lucia allows Charlie to take Devon's hoodie for tracking, and Rex carries it to the car in an evidence bag.
"Why won't you do that with groceries?" Charlie asks as Rex jumps right into the car with the bag still in his mouth
Using Devon's scent from the hoodie, Rex finds a duffel bag on the shore with Devon's belongings in it. From there, they quickly find his car. Charlie spots a man tampering with the car. The man runs but Rex takes him down. On the ground, the man reveals he has a detonator and presses it, and the car – and any evidence – explodes.
In the holding cells, Charlie questions the man – Barry – about why he blew up the car. But Barry isn't talking. Charlie wants a name. Barry takes the pen and paper from Charlie but instead of revealing a name he simply writes 'Lawyer'.
The evidence is suggesting that both Barry and Devon are ecoterrorists. Without Jesse, it's up to Charlie to figure out how to use the digital board. It takes him a while to pull information up. He's no Jesse. Something Sarah agrees with as she smiles flirtatiously.
I know there's a pandemic, but that won't stop this shipper from yelling JUST KISS ALREADY at Sarah and Charlie. Or maybe hug just once? Or get trapped in a freezer at an ice rink and snuggle again? Or get stuck in a mine again and be more honest about your feelings? How about something new like the motel THERE'S ONLY ONE BED trope? That's fun.
Stupid pandemic. Instead, it's going to be a season of longing gazes and blatant flirting, and minimal touching, isn't it?
Captain Jack (Swift) previously had his boat vandalized, and it's possible it was Devon. But Swift withdrew his complaint, and Charlie is of course interested in why.
The ecoterrorist group that Devon is suspected of being a part of is Deep-Water Defenders. They're from Vancouver and were responsible for the Canada pipeline bombing. Something that resulted in a twelve month delay of the project.
"Thank God," Sarah murmurs. "Ah, that we're finally going after these hoodlums," she adds hastily. Seems our favourite coroner is a bit of a fan. Perhaps not of their methods, but she approves of some of the work they've done to help the planet.
We catch up with Jesse, who's been monitoring a chatroom on the dark web. As much as he would love to help more, he has to join his friends for a very important craft beer tasting. No one at the precinct is quite sure what to make of that.
Lucia claims to not recognize Barry, and she doesn't believe Devon would have been part of an ecoterrorism group. There's something about her body language that seems off though.
This week's Rex Is The Smartest Member Of The SJPD happens when Joe, Charlie and Rex are all staring at the digital board. Rex reacts like he notices something, resting on his back legs and standing upright a little.
Charlie finally spots what Rex sees. The handwriting on a note of names that Lucia gave him and the graffiti on Swift's boat are a match.
It seems it is Lucia who is the member of Deep-Water Defenders, and not Devon.
In an interrogation room, Lucia claims she didn't kill Devon. And admits that yes, she is a member of Deep-Water Defenders, but Devon wasn't. At least, not yet. That's all she will say though. She won't rat out her allies, one of whom is Barry.
In between flirting, and with some insight from Joe, they realise that Swift's bank accounts are fatter than they should be considering most shrimp boats are down 40%. Swift's revenue has quadrupled. Charlie heads back to Swift's boat. Swift still claims he has nothing to hide, which likely means he's hiding something. Rex has a sniff around and catches the scent of something in the back of Swift's truck. Charlie surreptitiously collects the small piece of rubber that caught Rex's attention and takes it to Sarah. Isn't Charlie lucky he has all these excuses to see the woman he has a big fat crush on. Sarah tests it and finds gunpowder residue on it. She thinks it could be from a tennis ball, like the one Rex found earlier, which are often used as silencers on weapons.
This isn't about drugs. It's about guns. Swift has been smuggling guns.
"Find the camera, find the killer."
Sarah is impressed by the camera specs.
"But seriously if I ever go full ecoterrorist I'm so working for Barry."
Charlie is clearly lost for words for a moment, unsure how to respond to Sarah. He's learning some new things about his friend this episode.

Swift admits to collecting guns from the ocean floor, and it's looking like his handler, Zane, is the one who killed Devon. To catch Zane, Swift works with Charlie and the SJPD. Jesse, working remotely still from San Diego, can't trace the call. The only thing left to do is retrieve the camera from the ocean floor. It's a job for Dive Master Hudson.
Joe accompanies Charlie and Rex on the boat trip. I think Joe's had just about enough of Charlie's close calls and is probably tired of the incident reports. Oh, the paperwork Charlie must create for poor Joe.
We get our first look at Zane, who is revealed to be the restaurant worker Charlie first interviewed and received the receipts from.
Charlie dives down for the camera while Joe and Rex stay on the boat with Swift. Just as Charlie retrieves the camera, another diver comes up behind him and attacks him.
On the boat, Rex is agitated. He senses something is wrong and barks at the water, concerned. Joe, seeing this, thinks Charlie might be in trouble.
Beneath the surface, Charlie's air hose is severed by the killer. He uses emergency air, but it isn't enough and he runs out.
Rex can't stay on the boat any longer and jumps into the water to where Charlie has surfaced, face down, out of air. Rex takes hold of his partner and swims him back to the boat.
Good boy.
Joe performs CPR. It's a tense few moments, but Charlie finally takes a breath. Rex gives his best friend relieved sloppy doggy kisses. It's ridiculously adorable.
Knowing who Zane is, Charlie is able to arrest the man and justice is served.
Also, she has figured out why Jesse was so desperate to go to San Diego. A photo of Jesse in a superhero outfit says it all. Comic Con.
Sarah and Charlie realise they can influence the community service that Barry, Swift, and Lucia must do for their ecoterrorism charges. While discussing this, they flirt some more, because when your future boyfriend almost dies the only thing to do is to FLIRT LIKE THERE'S NO TOMORROW.
In the final scenes, we see Charlie has joined them on their community service, using his own dive skills to help them remove nets from the ocean, and leaving the viewers with uplifted spirits, and hope for a better future. Thank you for the warm fuzzies – both the emotional ones and Rex himself.