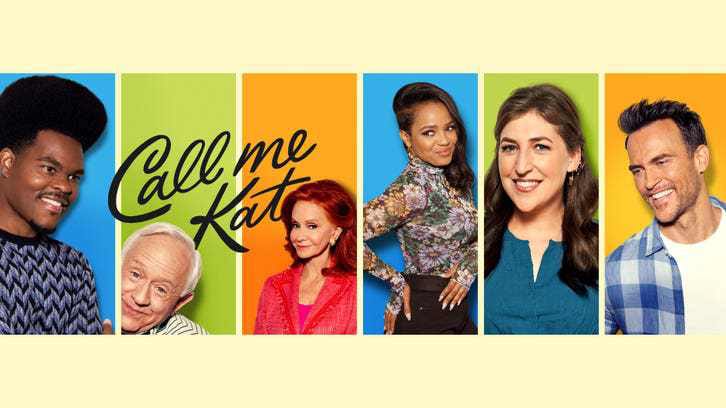 I have marvelous news. If you live in the US (and possibly also in other places), you can watch all episodes of
Miranda
on IMDBTV for free or Hulu for not free. What is
Miranda
? It's the sitcom I just flew through five episodes of, laughing with such vigor my ribs ache. (Stars Miranda Hart and Tom Ellis!). Quite often comedies don't produce that physical reaction. They might give you a warm feeling of amusement or entertainment, but are they so wonderfully sharp with their craft that you physically hurt watching them? What happened to comedy? Why is most of it flat or just raunchy with no other personality traits? Do you remember the last time you laughed as heartily as the laugh track? GO WATCH
MIRANDA
. You deserve this.
Call Me Kat is an adaptation of Miranda, and that's just bizarre to me. It's just wrong really. Miranda was derived from a semi-autobiographical radio comedy developed by Miranda Hart herself, akin to how Fleabag grew from a one-woman play Phoebe Waller-Bridge wrote. Both works owed their glorious personalities to the minds of their leading ladies. Any adaptation is thus immediately putting at a disadvantage an actress who has to inhabit a character role that was developed in the first place to suit another person's singular style, movements, and comedic timing. I watched Call Me Kat's first two episodes before I watched Miranda, and watching the former did feel like I was watching people pretending to be other people for most of the runtime.
Does Call Me Kat try to not be Miranda? Yes. The main character Kat (Mayim Bialik) runs a cat cafe, while Miranda was the owner of a joke shop. Right away, by making the character's name that close to what she does for work is a sign of trying too hard. That's the primary difference in terms of structure. Kat has a sassy friend (Kyla Pratt as Randi) who works in her cafe. A handsome college friend of Kat's is back in town and played by Julie and the Phantoms's Cheyenne Jackson. (Kat tells us he's HOT MAX, in one of many, many cases where the show or Kat inform us of things we can deduce without assistance). Her mother Sheila (Swoosie Kurtz) is worried that she'll be alone for life now that she's 39 and still single. Why, Kat might even become…..wait for it….a cat lady.
Setting aside the boring cultural archetype that is the idea of the cat lady or the equally dull notion that one cannot live a fulfilling life without a long term romantic relationship, Call Me Kat doesn't really do much of anything with its cat cafe concept. In the first episodes at least, there's minimal cat interaction other than "lady part" lines the show's writers must have patted themselves on the back for. I'm told they also put in multiple references to Louisville, Kentucky, showrunner Darlene Hunt's hometown. Did you know more than one in five children in Louisville live in poverty? Or that Kentucky has one of the worst poverty rates overall in the United States? Well, congratulations, you know now. And, no, Call Me Kat won't tell you any of these facts either. The show is filmed on LA sound stages, and the only time we see a character outdoors is when Kat sings and dances happily on her balcony, tossing birdseed into the air. It's a fun little scene. Kat's pretty lucky to own a thriving small business and be able to live on her own in a cute apartment above her shop. There is escapism here too, and that's not a bad thing.
Call Me Kat also features the talents of Leslie Jordan as one of Kat's employee friends Phil. He's just as delightful as he always is, with many an excellent line delivery. (The rich pathos of Phil recounting "He met that young buck at Big Lots who sold him THAT broom and swept him off his feet...it's my own fault. I asked him to buy a broom."). Leading lady Bialik gets the job done, but the show often lingers too long after she delivers a fourth-wall breaking statement, leaving an uncomfortable pause that is cut off by the flattest laugh track I have ever heard. The whole success shows like Miranda and Fleabag and movies like Enola Holmes have with using the "break the fourth wall" approach is in how the cutaways are timed and delivered; when successfully used, we get a variety of moods and lengths. Call Me Kat's cutaways all feel the same in terms of emotional and narrative importance. A few did make me laugh, such as in episode one when Bialik rapidly breaks out of a British accent bit Kat was doing to express apologetic bewilderment for slipping into the accent. There is still enjoyable time to be spent here, perhaps, but my gosh does watching those Miranda episodes make me happy to be alive!