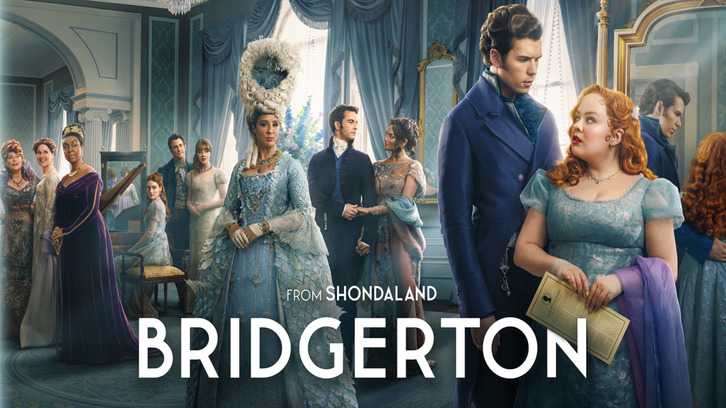 Talking and watching, , , a lot. Netflix's newest hit is still going strong, even two weeks after being available online the first Shondaland Netflix outing is dominating the Top 10 in most countries around the world. Coming out of the Shondaland production house, Bridgerton was created and developed by Chris van Dusen who in the first season adapted The Duke and I, the first entry in Julia Quinn's Bridgerton book series. Is Bridgerton perfect? Not at all. Should it change? Not a single bit. Bridgerton is seductive, glamorous, charming, and poignant without really trying to be. A show about opposites, contrasting families, characters, faiths and so much more. Bridgerton very cleverly uses its 1800s setting to tell contemporary stories of struggle and strength young women and men even in this age and day encounter on a daily basis.
Personally, I think the great success of Bridgerton, besides it's witty and quite Shondalandish writing, lies in the chemistry between its two leads. Phoebe Dynevor and Rege-Jean Page gave all of them to create two strong and profound characters that stand out in the crowd by simply being themselves. While I am completely in love with Dynevor's Daphne, Page's exquisite performance as Simon Bassett just blew me away. His versatility and the amount of character and emotion he imported into his performance just left me gasping for more. No matter if he was playing the dominant male, the tender lover, or the emotional mess, he was just there capturing all the attention and standing out even when he was not the center of attention. But a bit later more on that. Back to the plot of the season, Daphne and Simon had a rocky start but sparks started flying from the get-go. The notion that the two had an arrangement and were not in the need to fake it for the sake of the public, allowed them to be their true self in front of each other opening the door for true love to happen. The essence of their love was their unapologetic friendship and it allowed them to embrace each other's flaws and strengths creating a phenomenal base which the writing just as the performance of the two leads supported. The road to their marriage was something that left a bit of a poor taste in my mouth. I did enjoy that Daphne didn't let the duel decide her future and that she made the decisions she wanted for herself even though pressured by the looming death of the one she loves.
One of my favorite scenes of the season was definitely Simon's speech to the Queen. It just proved how much he loves her and the believability that Page brought to the spoken words was staggering. The second half of the season, after the wedding, was filled with passion and anger and both Dynevor and Page lived up to the scripts that unfolded. I've rarely seen a show delve so deep into a sex scene and treat them with so much detail and passion. Also, I've rarely seen a male lead's butt as much as I've seen Page's, good butt tough. While I needed for the show to deep a bit deeper into Simon's struggles as a kid and the way his father treated him, just in the sense of having a deeper sense of why his mind is set the way it is, Page succeeded to give life to Simon's pain and emotional torture. I believed that Simon was so terrified and in pain that he couldn't bear the thought of having a child just cause he was afraid he would scare him just the way he was scared. One fairly questionable scene happened towards the end of the 6th episode when Daphne's hunch led to her violating her husband and forcing him to cum into her. A despicable act for sure, but the act of a woman defeated and scorned. And while there is no real excuse for Daphne's actions and I won't search for one, I understood where she was coming from and no other action could reassure her of her husband's betrayal. A dirty oily stain on their quite solid love story. The conclusion of their story was rather beautiful though. In the pouring Daphne reassures Simon that she loves all of him, even the things he thinks are unloveable, with her whole heart and that regardless she'll always be by his side.
Lady Whistledown
The harsh voice that echoed through 1800s London, kept the members of the Ton on their feet the whole season. And while very entertaining in her tone, Lady Whistledown was a Bitch with a capital B. In the vein of Gossip Girl, Whistledown spilled the truth everyone was afraid of and her judgment was more important than the words of the Queen herself. Seeing how the words of Whistledown were putting pressure on the people of London was a great pandan to the current social situations. Someone whistles the tone and everyone is dancing accordingly to it. The fear of not being accepted and becoming a social piranha was probably even more important during that period than it is now. Considering that today a new scandal arises every day, hour, minute your bad deeds may even be forgotten, but back in the 1800s, the voice carried for a much longer time. One bad review and you could barely recover from it. As I am not familiar with the books, I don't know if Whistledown was revealed in the books but the reveal of it being Penelope in the show fitted perfectly. The writers even laid great clues throughout the season which in hindsight all made sense. I hope Penelope gets a more prominent role in a potential second season, she was deeply underused as Penelope. As Whistledown she whooped ass.
Favorite Characters
In the first place, by far, The Duke of Hastings, Simon Bassett. As already mentioned, Page brought life to the role. His stature, his voice, his facial expressions and his all-around performance which was so well supported by the writing created a character you simply "have" to fall in love with. I think people sometimes underestimate how tough it is to do period shows, even supernatural shows. To transcend to this time period embrace it and create these characters with believability and heart is a tough task. And better than any other actor, Page stood majorly out between his colleagues. Page made Simon loveable, endearing, hot and besides that, a "real" man, in the sense that his words were supported by his actions and that he was led by his morals and devotion. Yes, he did lie to his wife but we have to take in count that he is a majorly traumatized person. The scars his childhood and upbringing left on him were still under an armor he couldn't allow being shown. When your father is your biggest vulture, you see them all around. Page had a blast portraying this character, he explored all the sides of the character, the player, the badass, the lover, the Duke, the asshole and so much more. Another impressive character and closely connected to The Duke, Lady Danbury. Adjoa Andoh's bright-minded powerhouse was a delight to watch. Beyond the laws and rules of the society, this fierce Lady left every scene with her to be remembered. Always entertained by her interactions, Danbury never let a scene be forgotten. Her openness and sincerity were refreshing as the rest of the Ton were scared shitless of doing or saying anything not approved by the same Ton. Andoh dosed her performance perfectly, calm, and playful when needed, harsh when no one was expecting it. A big shocker happened during episode 7 when the party she threw for the Ladies of London was just as "filthy" as the ones the men do. Kudos to the one and only Danbury.
Last but certainly not least on, Eloise Bridgerton. The smart but fairly innocent Eloise was another highlight of the season. Even though in the shadows of other B-stories, Eloise found a way of shining through and taking the spotlight. Claudia Jesse just brought pure energy to the character, letting its honesty and inner strength shine through the oppressive society she was living in. The complete opposite of her sister, Daphne, Eloise was a challenging character at odds with her sister. Seeing the world in a different light than Daphne, Eloise tried to stand out but also keep herself in the shadows so that the spotlight wouldn't fall on her. I am certainly intrigued by her potential development in a future season, as you can't fight the moonlight but she'll certainly try too.
Stories I wished got more focused
First and foremost, Portia Featherington. Season 1 just glanced over her character and there is so much potential there. Just her final scene with Marina gave so much more dimension to her character. The Featherington's were quite opposites to the seemingly perfect Bridgertons and that was just the triggering part for me. I wished they would've shown more of Portia and her now late husband. How would they become one? What was Portia's family like? The final set up some potential storylines for the Featheringtons and I hope they will be properly explored in a potential season two.
Another underused jewel of season one was Benedict Bridgerton and his sexuality. Luke Thompson was a great Bridgerton, the slightly odd one out but still in the lane. Exploring his potential bisexuality would certainly spice up things in the world of 1800s London.
The sad story of Marina Thompson hit some very good points in my book but was tainted with the spat between Marina and Penelope. The pressure Portia put on Marina to find a husband and cover her "shame" was painful and playful. Ruby Barker was delivering an emotional performance, delivering new layers to the heartbroken girl with each step she was forced to take. The failed entrapment of Colin Bridgerton is a sore spot in my book, but it was part of the natural progression, I'd just rather have it be another character she wanted to fool. Putting both Marina and Penelope in this position was unflattering for both of them. Marina's cutthroat behavior and Penelope's dishonesty really brought out the darkest shades of both characters.
That's a wrap on my side. A lengthy read for sure, but hopefully worth your time. I hoped I captured the essence of the first season, not leaving out major plot points. What are your thoughts on Bridgerton? What characters captured your interest? What did you love? What did you hate? Share your thoughts in the comment section below. And till next season hopefully.