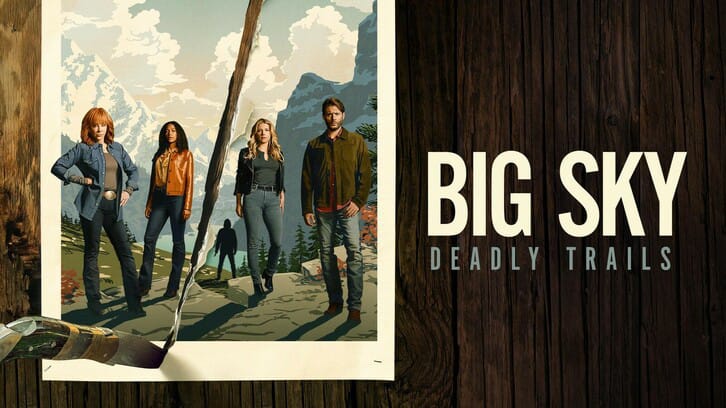 Well, Big Sky is back from break and it decided to be as cliché as ever. Let's review.

It should have been obvious to me that Big Sky taking us on a wild ride to unexpected places was just a stunt and not made to last. Something that happened just to make sure we, the audience, would be back after the break. Perhaps it was too easy for Cassie (Kylie Bunbury) to shoot Rick Legarski (John Carroll Lynch) in the head, and I should have seen coming the fact that, of course, that did not kill him.
I wanted this show to really surprise me after the twist in its first episode, I wanted it to be a solid drama, and I honestly expected better from
David E. Kelley
. Unfortunately, after six episodes, this still feels like pulling teeth. It should be better than it is, plain in simple. But the plot keeps getting more and more convoluted and my "jump the shark" moment is Legarski being shot in the head and yet opening his eyes at the end of this episode. Sure, it happens, but
come on
. Add to that the fact that, as a villain, Ronald is turning out to be less and less convincing, and the fact that there're just so many directions the show can go from here, and the whole thing is simply getting to a point where it feels...
meh
.
Let's be real, there's plenty other shows on television that are more deserving of your time. At this point, if someone asks me what shows are worth watching this season,
Big Sky
is far from the top of my list. And it's a disappointment. It seemed so much cooler on paper. But the more we get into its story, the more episodes we get, the further we can call it "captivating."
What happens in this episode? Well, the girls are saved from their captor and now that the police has Legarski identified as one of their kidnappers, they turn their focus on finding out the trucker who is also involved in this case. So now Ronald (
Brian Geragthy
) is in the hot seat and starts to feel the pressure go up a notch around him since the girls can identify him. Meanwhile Cassie and Jenny (
Katheryn Winnick
) finally get closure on Cody's fate and get to say goodbye during a memorial. But neither of them can really let go of what happened so they decide to officially team up to track down Ronald. There are also things going on with Jerrie (
Jesse James Keitel
), who wants to help Jenny but obviously isn't safe from Ronald, and Marilee (
Brooke Smith
) who cannot wrap her head around the fact that her husband turned out to have a human trafficking side hustle. The teenage girls will be sticking around more as Grace (
Jade Pettyjohn
) wants to be of assistance in the investigation and her sister is dating Jenny's son, but all in all it's just for the sake of keeping these characters around. And you know, it's all fun and games until someone else gets kidnapped or shot, but oh well.
Now is time for me to move on to another show.
Big Sky
was enjoyable at first, but it quickly relied on tropes that I find overused and turned into a very generic drama. There is no doubt the show has its audience and that some folks really like it, otherwise it wouldn't have gained additional episodes for this first season, but that's it for me.
What about you, what did you think of "The wolves are always out for blood"? Let us know in the comments.