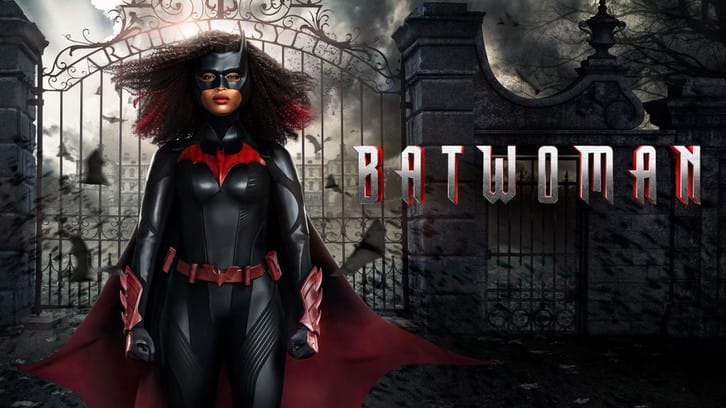 Batwoman smashes the reset button by dropping a plane out of the sky, nearly on top of its newest protagonist, Ryan Wilder (Javicia Leslie), whom it turns out might just be the spark this show has been looking for all along. In a superb, tense opening sequence, Ryan fights through traumatic flashbacks to perform CPR on a passerby struck by the plane's wreckage; simultaneously, Luke (Camrus Johnson) and Mary (Nicole Kang) unravel in the Batcave as they realize it was Kate's plane that crashed. An awestruck Ryan finds the Batsuit, and she's already gone when the Crows arrive to investigate the crash, as Alice (Rachel Skarsten) watches from a distance, shaking with fury. Everything changes for Gotham and Kate's circle in an instant.
Whatever Happened to Kate Kane? has a twofold purpose to accomplish, providing emotional closure to Kate's time as Batwoman for the audiences and characters and introducing Ryan as not only a successor for the role but as an individual. No one in Kate's circle wants to acknowledge the possibility that she's dead. Any doubts that Skarsten could exceed her performances last season are quickly put to rest when a grieving, drunk Alice explains her theatrical plan for Kate's death to Tommy Elliott (Warren Christie). Her maniacal anguish at being denied an admittedly dramatic finale (Jacob Kane shooting Batwoman then realizing she was his daughter) is completely intertwined with the reality she might have lost her only tether to any kind of guiding purpose. Unsettled and caught up in his fantasies of becoming Batman, Tommy reveals Alice's location to Jacob Kane (Dougray Scott), inadvertently granting her the chance to rework her "Kate was Batwoman" material and drop the shock on a distraught Jacob herself. (Later, Sophie says she doubts Jacob has any sympathy left for Alice, but with Kate's presumed death, it's unlikely Jacob will be hunting her twin again anytime soon).
The other people Kate left behind struggle in their own ways. Luke is perhaps most in denial, making it believable that he ignores the multiple red flags Tommy raises while impersonating Bruce (he calls Luke "Mini Fox"). Luke's reactions to Bruce's appearance indicate he wasn't quite that close with the original Batman, and the accumulated losses of his father, Bruce, and Kate may be pushing him to a breaking point. Julia Pennyworth (Christina Wolfe) does identify Bruce as an impostor, although that's secondary to her choice to honor Kate's pre-established last wishes and turn over a letter to Sophie (Meagan Tandy) in which Kate confesses to being Batwoman. The letter effectively blows up Julia and Sophie's romance, but it's up for debate whether Sophie is actually lashing out because she went out of her way to deny Kate was Batwoman and would rather blame someone else for her missed chances at reconciliation. The second episode, Prior Criminal History, hints that Sophie will be a primary antagonist for the Bat Team this season. Nicole Kang's Mary was a constant scene stealer in the first season, and season two acknowledges she's the show's heart through an incredible trifecta of scenes she respectively shares with Jacob, Ryan, and Alice.
With its first two episodes, the second season establishes there will be two Big Bads, the system that hurts the everyday poor and working people of Gotham and Safiyah, she of the Special Multipurpose Desert Flower Poison. Safiyah reveals herself to be behind the plane crash, giving Alice someone brand new to target her anger towards. Though she's not about to admit it, Alice doesn't know what to do with herself now that she's alone, now that the people she was the most connected to are dead. She attempts to team up with Julia to take down Safiyah; when Julia very pointedly declines, Alice stabs her and strolls away, perhaps confident the universe will line up another option. (That the option ends up being Sophie is yet another fun twist in a duo of episodes that thrive on breaking apart the show's claustrophobic dynamics and remixing character pairings).
In a triumphant duo of episodes, there's no bigger victory than the perfect casting of Javicia Leslie The way the Batsuit fits Ryan like a glove how Leslie fits this role. Though Ryan first dons the suit to get some long awaited justice/revenge (the line is blurry) for her adoptive mother (brutally murdered by members of Alice's Wonderland Gang), she decides to give it back after learning about how Kate Kane was trying to improve life for the people of Gotham. She is briefly targeted by Faux Batman/Tommy Elliott and receives a Kryponite bullet wound that seems to disappear, although it's likely slowly poisoning her. Later, when Alice unleashes a flood of plague bats to attract Safiyah's attention, Ryan persuades Mary and Luke to let her don the suit again, to help get Batwoman supporters rallying to protest her disappearance to safety. An exciting rooftop fight with Alice is the cherry on top of the intense sequence events, which ends with Ryan's brilliant idea to blow up the bats after trapping them in a prison bus. In a way, the new season of Batwoman is a dark Cinderella story, if the wicked stepmother was a world built on deliberate, cruel inequality, and the monstrous stepsisters were corrupt law enforcement and inadequate mental health services (Arkham definitely isn't helping anybody's sanity). Ryan is Cinderella, doggedly fighting to not let herself be crushed by the desperate city's chaos until the day a particularly fierce outfit unlocks her true potential and permits her to take on a position through which she can actually change the world around her.
There's a moment in Prior Criminal History that really stands out. As she goes to blow up the bus, Ryan sees a homeless young woman's shelter set up nearby; she quickly rushes to protect her from the ensuing explosion. "Batwoman?" "No, I'm not really Batwoman," Ryan responds, to which the girl replies "You are to me." In Batwoman's first season, viewers often saw these tent shelters lining the streets, as Kate Kane passed by them on her motorcycle. With Ryan's actions, the people in those tents, her people, become part of the story instead of the background, and, subsequently the stakes for the entire show are raised.
From its thrilling Batmobile sequences to the heartfelt exploration of bonds among its characters, Batwoman could pull off a rise from the ashes TV audiences rarely get treated to these days. Every single returning member of the cast stepped up their game, and the writing for these first episodes crackled with enthusiasm. The future of Gotham is in good hands.