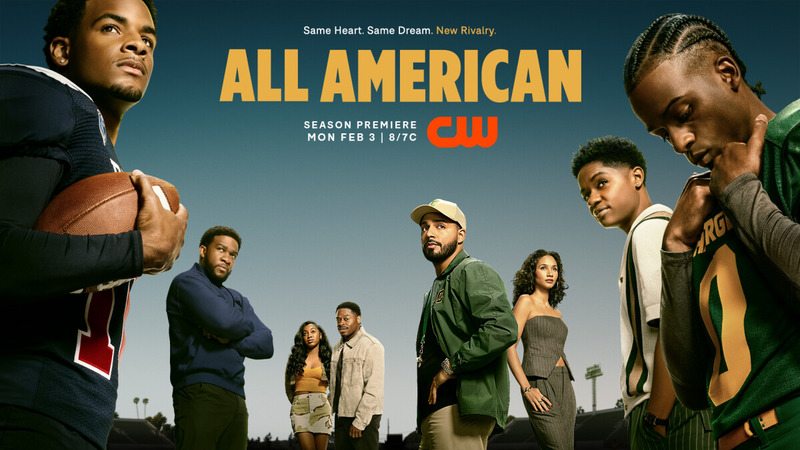 All American

is finally back for another season. It seems like forever since we've seen our favorite characters. "Seasons Pass" was an interesting episode, and I definitely have some thoughts and questions.

At the end of last season, Layla and Coop went on on tour, Asher left to go on a cruise with his mom, Jordan and Simone were officially a couple, Olivia lost her sobriety, and Spencer had more issues with his arm.




Let's start with the biggest mystery: Olivia and Spencer. What exactly happened this summer between them? I know most people probably think they slept together, and maybe they did, but I also think there's something else. Sleeping together seems too obvious. But something definitely happened. And while I'm team Olivia/Asher, that hug between Spencer and Olivia at end tells me there are feelings between the two of them.




What doesn't make sense to me is, if Spencer wants to be with Olivia, why did he seem so happy to be back with Layla? When she said what happened in Vegas wasn't a big deal, he said it was a big deal to him. And Olivia seemed pretty happy to have Asher back in her life, too. I do think it was cute that she ran into his arms when he came home.



I also think Olivia is still drinking. She was carrying around that water bottle all episode long, and she lied to Layla about having to stay in L.A. to help a sober sister. Maybe Spencer knows she's been drinking, and that's part of the reason they're acting weird.
Unfortunately, it looks like this mystery is going to be dragged out for a while. And I have to say, I don't understand why the CW is so obsessed with love triangles, or in this case, a love rectangle. If Spencer and Olivia want to be together, they need to at least be honest with Layla and Asher.
Okay, moving on. The other question is, what happened to Patience? My theory is that JP hurt her. Maybe he raped her. I really hope I'm wrong because this would absolutely destroy Layla. But Chelsea is pregnant so maybe the writers wanted to write in her pregnancy. Like I said, I hope I'm wrong.
I want to give props to Dillon for being more mature than both Jordan and Spencer. I can't believe that they got into a fight. I understand why they're upset: Spencer feels like Jordan doesn't understand why he had to go back home, and Jordan feels like Spencer abandoned him. But they need to be mature and talk this out instead of punching each other.
Other Thoughts:
- I'm still rooting for Billy and Laura to get back together. At least they seem like they're in a good place, and Laura has forgiven Billy.
- I have mixed feelings about Jordan and Simone. I know Jordan likes her, but I don't know if I'm feeling their relationship. We'll see how I feel after a few episodes.
- I do not trust Tyrone's sister at all! I hope Coop doesn't, either.
- I'm hoping we actually have some football scenes next week. I know people probably like the drama, but this show is about football. We need a good balance between relationship issues and football.
What did you think about "Seasons Pass"? Are you excited for the third season of All American? Discuss below in the comments section!