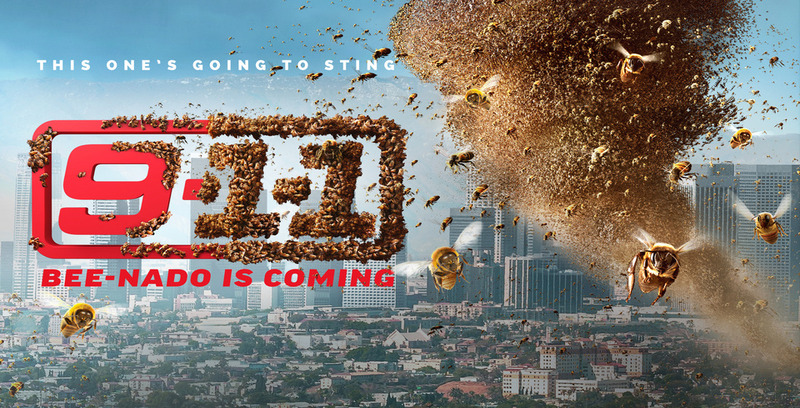 Picking up a few months after where season 2 left us, season 3 sought to explore relationships between characters that we hadn't really had the chance to see before, at least not to such an extent.
In the early episodes of the season, Buck finds himself center-stage, and in quite a bit of trouble too. Not only is his career threatened by complications from the injuries he suffered at the end of season 2, but his (and Christopher's) attempt at a fun day out put them directly in the path of tsunami - yes, you heard it right -
9-1-1
went even bigger and crazier this year, and decided to wipe out the whole Santa Monica pier.
Some crazy Halloween shenanigans, meteor showers, and crashed helicopters aside, Athena also got her fair share of stories to tell. And what stories... The writers took a traumatic trafic stop by a white police officer as an excuse to put light on the systematic racist behavior of many police departments in the US, and the inability for anyone - not even police members - to bring these actions to justice.
Of course, this is an important message to tell, and for once the subject was handled with great taste and respect, and with little to no over-dramatization. (I would like to note that this episode aired in October of 2019 and was shot the previous summer, long before the events of the spring of 2020.)
What was even better about this episode is that it launched a series of episodes - spread throughout the season - that gave the viewers further insight in how Athena, as a person, thinks and works as well as how she came to be like she is.
Sadly, the season didn't end so well for her, as her determination pushed her to run after a serial rapist by herself and get severely injured as a result - and with Bobby (with whom she is now married, in case you forgot) - witnessing it all through a phone call, something that will certainly cause the dynamics to shift a little between these two in the early episodes of season 4.
Speaking of season finale, this year was a big one, as it brought back a beloved character from the past: Abby Clark, the woman who - somehow - managed to make Buck bearable during season 1, but broke his heart when she left for Ireland after her mother's passing. However bittersweet (and somewhat anti-climactic) that reunion was, not rekindling anything between Buck and Abby was the right move, they've both grown, moved on and now put a proper end to things, there is no need to stay in the past when there's so much more stories to tell.
My top 5 episodes of the season
5. Episode 14 "The Taking of Dispatch 9-1-1" - Just because I have a thing for hostage situation stories!
4. Episode 18 "What's Next?" - Giving an end to a story that helped launch the show is never easy, but at least it's done! This episode made it onto the list because of the surprise pregnancy announcement from Maddie, I cannot wait to see Chimney try to handle this!
3. Episode 2 "Sink or Swim" - This episode felt like a real movie, and the chemistry between Oliver Stark (Buck) and Gavin McHugh (Christopher) was just unbelievable. A great start for an even better season.
2. Episode 15 "Eddie Begins" - A long awaited episode that, for once, didn't disappoint. Strong acting performances, strong writing... what more to ask?
1. Episode 5 "Rage" - For reasons mentioned above, I really appreciated the risk that the creative team took by making Athena a victim of police brutality. This episode had many other strong moments, and I appreciated where Eddie's anger management issues took him, showing his darker side made him more real and human.
What were your favorite episodes of the season? What are you most looking forward to in season 4? Let us know in the comments bellow!