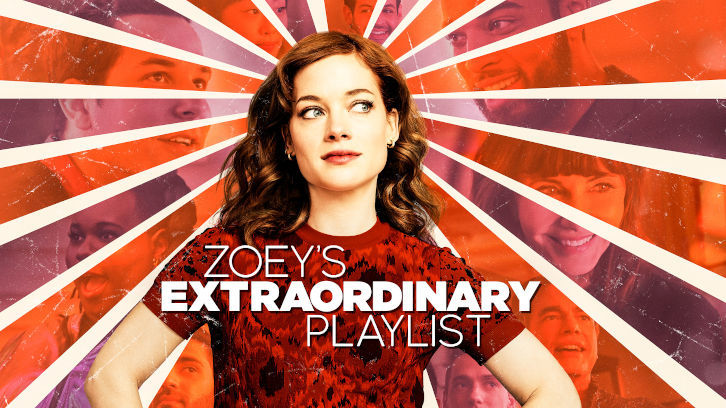 "I'm not sure I'm ready for any of it."
Zoey's Extraordinary Playlist is coming back in less than a week and it's just as amazing as ever! I got to watch the first three episodes and, as always, every single one leaves you wanting more right away. We pick up six weeks after the heartbreaking events of the first season finale and some things are just the same but some have really changed.
This show always finds a way to keep moving forward no matter what and only stopping now and then to make us cry for a while. Which makes sense, because the world usually keeps moving, no matter much pain people are in. And this is certainly one of the key themes this season. It's been shown in the trailers how Mo gives Zoey a bit of tough love, and though I absolutely get it, just because there are other kinds of pain in the world, it doesn't mean you should be denied your own feelings.
And boy do we get to see and feel every single thing that goes through Zoey's mind, Jane Levy continues to do an amazing job (no surprise there), she's having all these emotions, and trying not to have other ones, and all while trying to appear normal at the same time. All of which can be seen clearly in her face and her body language, you just feel like you're right there with her and you want to give her a big hug (which a couple of people do).
As always, the show continues to walk a tightrope by showing us stories we've seen told, while still managing to do everything in such a fresh way. Things might look simplistic for a second, but thankfully we know we're in good hands, and every time it seems they're headed for a cliché, they find a whole new take on it while keeping the pace constantly moving. There's a beautiful moment of being in lockstep which could've been cheesy in any other show, but is absolutely perfect here.
This also gets us to some exciting growth involving Zoey and her powers, and there's some much-needed diversification of the cast that is handled wonderfully. We also get to see a blueprint for something that could work in the future really well, but perhaps this might not be the time for it. And, in any case, life does not follow a linear pattern, especially not when it comes to grief, personal growth, and relationships.
As for the cast, we knew we might not get much more from Peter Gallagher (given how the last season ended), nor of Lauren Graham (for scheduling reasons), which was not made easier by Covid, but when they do show up in any way, they make things better. I also loved seeing Harvey Guillén (What We Do In The Shadows) as George, a new programmer.
I'm looking forward to seeing what they do with him, mainly because I know what Guillén is capable of, and I hope they can explore his talents further. That man can SING! Jee Young Han (Superstore) is also great as Emily's sister, Jenna, but I hadn't seen her in anything before so it might take a bit more time for her to steal my heart.
That's all for now but I leave you with some extra tidbits:
- There are some cringy "synonyms" for sex.
- There is a ring involved. We get to see the red dress again and it's like a punch in the gut.
- Zoey makes some big choices.
- Someone sings Sam Smith's "Too Good At Goodbyes" (say that a few times in a row).
Don't miss the season premiere of Zoey's Extraordinary Playlist today! Tuesday, January 5th, at 8/7c on NBC, and let me know what you think in the comments.