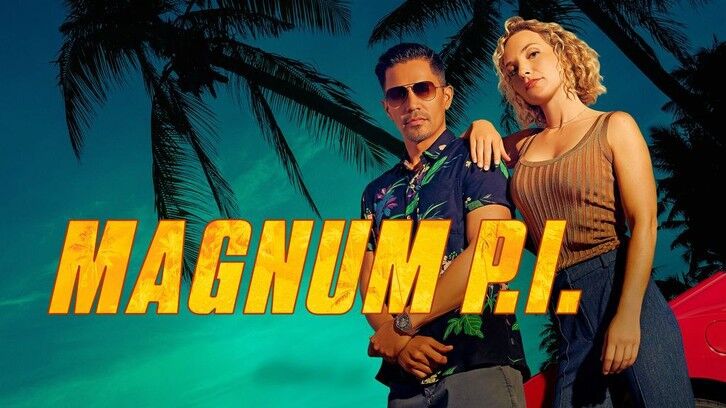 This Friday we'll have Magnum P.I. back on our screens, so this is the perfect moment to make a review of what happened in season 2 to be ready to continue this story, that revolves around action, friendship, family and fun.
Last season was full of changes. First, and after a lot of thinking, Juliet Higgins (Perdita Weeks) became Thomas Magnum's (Jay Hernandez) business partner, rejecting a proposition to return to London and the MI6, because now she feels more at home in Hawaii with her new "family". And this is exactly one of the things that I like the most about this show, the strong bonds that bring the characters together, and season 2 was full of those moments, showing us how they trust and help each other to overcome different situations, finding solutions for their problems, no matter what. The gang also got a place where they can hang out and share a beer and more than one laugh and a few serious talks, after Rick (Zachary Knighton) bought the bar La Mariana.
Season 2 was also an opportunity to get to know the characters more deeply, since we got storylines for each of them through the episodes. We could get more insight on Katsumoto's (Tim Kang) life, meet TC's (Stephen Hill) ex girlfriend, see more about Rick's relationship with Icepick (Corbin Bernsen), his father figure, and we also learnt something about Kumu's (Amy Hill) past when it was revealed that her late husband had a daughter with another woman, in one of the best episodes of the season in my opinion, where she also formed a bond with a man that initially kidnapped her to try to prove his innocence on his wife's murder. I have to say too that a great addition this season was the character of Jin (Bobby Lee), that has brought more fun to the show.
Last year (well, technically it was already 2020), we also got to see a formal crossover between Magnum P.I. and Hawaii Five-0, before the later ended his 10-season run, with a 2 hour story that gave us the chance to see interact Magnum and McGarrett (Alex O'Loughlin) and most of the characters of both shows. Another highlight of the season was the introduction of Ivan (Peter Facinelli), a new villain that definitely has still more to show.
As for Higgins and Magnum's relationship, it has developed a lot since the beginning of the show, though they still keep their classic bickering and banter, but now they trust each other more, and even though they've had some trouble adjusting to their work as partners, they really make a good team, something that Thomas is very well aware of. And that's why he was willing to go to extremes to help her stay in Hawaii when she faced a problem with her visa, that was about to send her back to the UK, in the final episodes of the season. Though, we could see that Juliet is important for him, not just as his business partner, but as his friend, so he even "fake-proposed" to her to help her get a green card, and he was clearly a bit too much excited about this fake wedding and later a bit too much disappointed when Higgins replaced him with TC, just to end up calling it all off. This situation caused that, literally in the last minute of the season, Robin Masters appeared (off screen, of course) to save the day to help Juliet to stay in the island by giving her full property of Robin's Nest with all of its employees, Magnum included. And even when at the end he got what he wanted, Thomas may not know how to feel about these new circumstances.
In season 3, I think we'll get to see how this new situation will work out for them, now that she'll be technically both his boss and his partner, which I guess will bring some tense but also funny moments. I also want to see more backstories on each character, the return of Ivan with a new arc, and if it's not much to ask, a crossover with MacGyver, though I'm well aware that given the filming conditions every production is undergoing during these difficult times, this may not be possible to happen, at least not on a near future.
So now is your turn to share your thoughts about what you're expecting for season 3. I'll read you in the comments section.