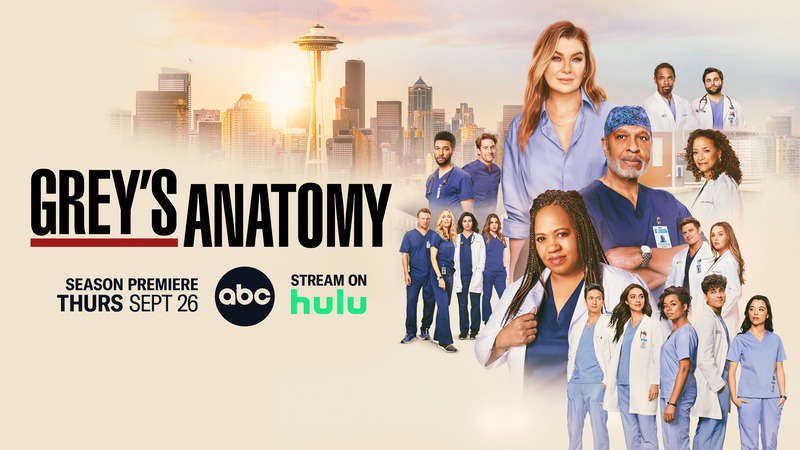 Who knew that all Greys need to get back on track was a pandemic? Season 17 of Grey's Anatomy is hitting all the right notes and creating a vivid compassionate experience, Episode 4 delivered the return of my favorite Bond Agent and was all about finding the one person. "You'll never walk alone" was written by Allison Liddi-Brown and directed by Julie Wong.
Despite my wishes for this week's returning character to be Lexie Grey, I was very pleased with the return of George O'Malley. George was my favorite OG Intern, he always carried a special kind of light, a special kind of courage, a special kind of love. He always gave his all to this Hospital family and even in beautiful beach Purgatory he gave his whole to Meredith. Giving her his honesty, his strength to make her see his light.
I found it great how they've addressed him not aging, her being mad at him for choosing someone else over himself, the chuckles at the funeral, the passing of her pain. But the true beauty of it all was how it all made sense, how seamlessly the scenes flowed and all of that cause of how pure their connection is/was, That is part of what Grey's is missing these days, yes, Mer has a beautiful connection to her "new" sisters but it does lack the intimacy the writers build within the original cast members, the familiarity and honesty that made all these scenes so heartwarming and perfect.
Colliding Richard's thought process and the peaceful moment between Mer and George was perfectly executed. Mer dwindling between life and the afterlife as her future was on the stake as Richard's authorial voice echoed through her purgatory. All the right feels. And while Mer caught up with George, Richard was fighting a major internal struggle. Being responsible for all medical decisions regarding Mer's life was a tougher job than he could ever anticipate. Mer wasn't getting any better and his emotional connection was becoming a bigger burden than he could've ever anticipated. The pressure from all the sides didn't help. The follow-up scene with Miranda after he made the decision to put Mer on that medical trial was so essential to all his struggle through this episode.
In the other parts of the episode, it was all about that one person. We saw Jo and Jackson finding each other, Schmidt embraces his needs, and Teddy reaching out to Tom. Greg as Tom is really a delight. He always brings this tremendous complexity to his characters and Tom is no exception. You can love or hate him, but his character won't make you feel indifferent, that's for sure. Helm seeing how deep into his dark world he is and asking Teddy to reach out was a great moment. Helm is truly an underrated character on this show. She is mostly there for the occasional comedic relief but she is also there to bring it straight. Also, her crush on Mer is something we all can relate to. Schmidt on the other hand cuddled himself up into his delusions and that the sex is all about what he needs from Nico. I want more for Schmidt, he is a great character, but he and Nico are hot so you see my obvious struggle. Still, the way they emphasized on how the Covid pandemic is emotionally affecting the characters and how they need someone to emotionally encore them to reality as everything around them made life feel unbearable. That was the writer's excuse for the latest hook-up, Jo and Jackson. While I find their sexual energy highly appealing the couple itself feels like one of the more random ones in the show's more recent history. We all know the current Friends with benefits deal will evolve, but I do appreciate that they took a hot second and reflected where they are emotionally at the moment. Neither of them is ready for true love atm, but they need the intimacy, that sense of belonging somewhere in this world which doesn't feel like the world we know. Generally, I am fine with it as long as they avoid messy relationship drama.
And while Mer was struggling to keep on to life itself, her wicked sisters faced new relationship drama and found neither of them truly appealing. The squeamish between Amelia and Linc just felt out there. Like I understand both of their angles, and how both of them expressed themselves but somehow it felt like they've talked past each other and just screamed/talked into the void. I do have to say, Catherine was once again outstanding. The way she taps into that darkness and expresses it always leaves me breathless. But at the same moment, I wanted to scream at her to get it together. She always creates that abyss, considering her backstory it is understandable, but she recently experienced so much positivity and if she would just hold on to it, it all may change.
Maggie meanwhile, was introduced to a different side of Winston. The perfect prince Charming was anything but that it seems. He had issues and not the emotional maturity to handle it. Daddy issues are a popular thing on Grey's but I was truly disappointed in how Winston handled it all. Just leaving Maggie in a video chat with his Grandma and his father felt so random and petty, to be honest. We shall see how Prince Charming will develop now that he crosses the big pound.
Other tidbits:
- George mentioning Mer's kids and how he watches over them, major GASP.
- I won't even go to the Owen story during this week's episode, just a major NO.
- The closing scene with George, Richard, Miranda and Mer just made me tear up.
That's a wrap on my side guys. Hope you enjoyed the return of Double O7 as much as I did. Share your thoughts on the episode and the season so far in the comment section down below. Till next week. . .