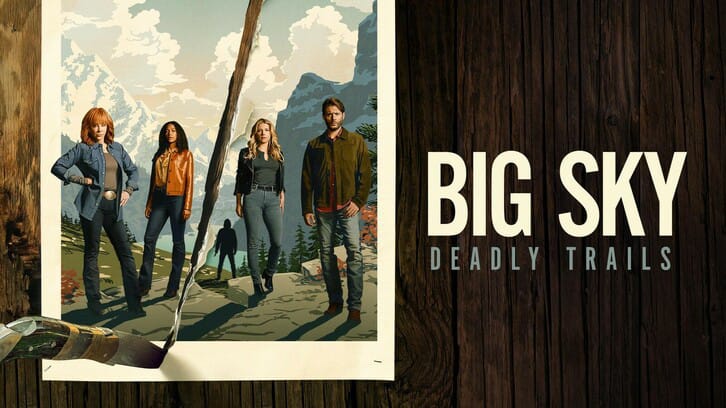 Before we discover a new episode of Big Sky this week, it's time to go back on what happened last week and see if this show can really keep us interested in the long run. Let's review.
Once upon a time there was a mother and her son. The mother knew her son had something off about him, so when she heard on the news that a couple of teenagers had gone missing, she immediately concluded that her son could have something to do with it. Because that's what mother's do: immediately throw their child under the bus. Not sure about this story? Well, it is the case for Ronald (
Brian Geraghty
) and his mother Helen (
Valerie Mahaffey
). Sure, their relationship is odd but that Helen straight up thinks her son is a kidnapper is just one more convenient thing to add on
Big Sky
's plate. The show keep relying on convenient plot devices, and it is making the whole of it feel very stale.
At least this episode we learnt a little bit more about Cassie (
Kylie Bunbury
) and her past.
It's not much, but shining some light on her previous marriage and the loss of her husband, in parallel with her feelings for Cody (
Ryan Phillippe
), helps the viewers get a better grasp of who she is. It would be nice to get as bit more of that for Jenny (
Katheryn Winnick
) who still only comes across as the angry and worried wife. The good thing in this episode is that Jenny and Cassie seem to finally be more focused on the task at hand and not so much on the animosity between them. They really work together and have each other's back, especially when Jenny decides to go undercover as a prostitute in hopes to finds DNA samples of truck drivers.
Meanwhile, Rick Legarski (
John Carroll Lynch
) is still the big bad guy of this show. To be honest,
John Carroll Lynch
's performance might be the strongest reason to watch this show. He is pissed at Ronald for having raised his mother's suspicions, so feeling threatened, Ronald starts to hang around Rick's wife. And when Rick finds out his wife went out dancing without him he... gets ready to kill her? It's unclear, but since
Big Sky
seems to be determined to come up with one convoluted scenario after another, why not.
Lastly we have the girls locked in the trailer. As usual, Grace (
Jade Pettyjohn
) is an expert on everything and that includes how to use maggots to clean a wound. Anyway, they keep trying to find ways to get out of there and it once again comes close when Cassie and Jenny show up at the farm where they are detained, except that the two PIs don't hear their screams for help. Oh well, keep hanging in there girls!
Big Sky
was granted additionals episodes by ABC and while that's good news for the show, I'm still not sure I will stick around for that long unless things start to really move along and the story stops taking the most expected turns.
What about you, what did you think of this latest episode of
Big Sky
?