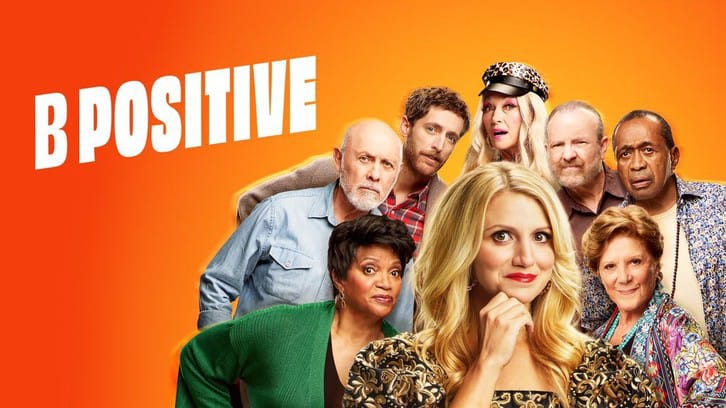 This week there wasn't a new episode of B Positive so let's make a recap of last week's. I have to say that I found this episode a bit less funny than the previous one, though it still managed to make me laugh a few times.
In the opening scene, we have Drew sharing with his dialysis friends that he's having a divorce mediation with his ex, Julia, though he isn't very eager to go, though he doesn't want to get into mean games, as one of his friends suggests him, and he's going to let her get everything she wants, so they can move on. Before going there, we get to see that Gina has settled very well at Drew's home, since we discover that she's running a variety of businesses from there, including an artisanal beer brewery, a waxing service and a pot farm.
Samantha: "Who's your mediator?" Drew: "I think his name's O'Connell." Samantha: "Malcolm O'Connell. That's good for you. He hates women." Drew: "How do you know?" Samantha: "We're dating."
Later, in the mediation meeting, as he said before, Drew doesn't show any interest in the stuff they're dividing and tells Julia to keep whatever she wants, which leads to an argument between them, that brings up some of the things that triggered their divorce, cause apparently she felt like Drew was always playing the victim making her look like the villain of their story, though he tells her that he just wants her to be happy.
Julia: "So he is having a major health issue… you know, down there." Drew: "Oh, oh, hang on. She means my kidney, not my penis." Julia: "Why would he think I meant your penis?" Drew: "Because "down there" means penis. But my penis is fine. It's a tip-top penis. I'm gonna stop saying "penis" now, but you need to know, it's a great penis." O'Connell: "Duly noted."
Gina, on the other hand, apparently has some captive customers of her businesses at the retirement home, cause she's making deliveries of beer and weed to Norma, one of the residents, and while there Gina tells her that she's worried about Drew situation, considering he's not only having health issues but he's also going through a difficult divorce.
When they're both back home, after a brief hesitation, Drew ends up smoking some of Gina's weed and letting her wax his legs in an attempt she's doing to make him feel better after the mediation session that made him realize that his marriage is done. He then confesses how much he liked being married and how they were always a good team and as an example tells her about the time they broke the law by stealing a ceramic owl, which apparently he cherishes more than the other stuff Julia wants to take, because it represents the good times they had as a couple, so he gets mad when he discovers that the owl is gone.
Drew: "Anyway, we pushed it, like, a mile and a half to this gas station that also sells these little souvenirs. And the mechanic totally ripped us off. But we got our revenge." Gina: "Oh, my God, what did you do?" Drew: "We stole… a ceramic owl." Gina: "Oh. Is that the big finish?" Drew: "Pretty twisted, right? I still have it. It's, uh… It's gone. Who... who…" Gina: "Are you trying to call it? Hoo. Hoo, hoo, hoo."
Drew wants to retrieve the owl from Julia's home so when he sees that she's not there, he enters using a spare key and ends up on the floor after falling from a shelf while trying to reach the ceramic owl. Here I thought we had lost the owl forever, but luckily it was safe, though not Drew, because at that moment Julia returns home. Apparently, this situation with the owl makes him want to start making decisions about the things he wants to keep, though it seems this is more because he's mad at Julia.
Drew's new attitude makes him look attractive to Julia so they end up in bed, though the happiness doesn't last very much, cause he starts feeling a pain in the back and they have to rush to the hospital with the help of Gina, who had drived Drew to Julia's home. While they're waiting for him to be checked by the doctor, Gina asks Julia if she thinks they could go back together, she says she's not sure, though when later Drew hints the same, his ex tells him that it wouldn't be a good idea, though this doesn't prevent them for having sex again at the end of the episode.
Gina keeps proving to be the best character of the show so far, as we can see that she genuinely worries and is empathetic with the people around her, and is always willing to listen and help them when they need it. As for Drew and Julia's relationship we can see that it's not 100% over, so let's see where it goes from here. I think there's still room for this series to improve, but I believe they're on the right way.

Now it's time for you to hit the comments below with your thoughts about this episode.