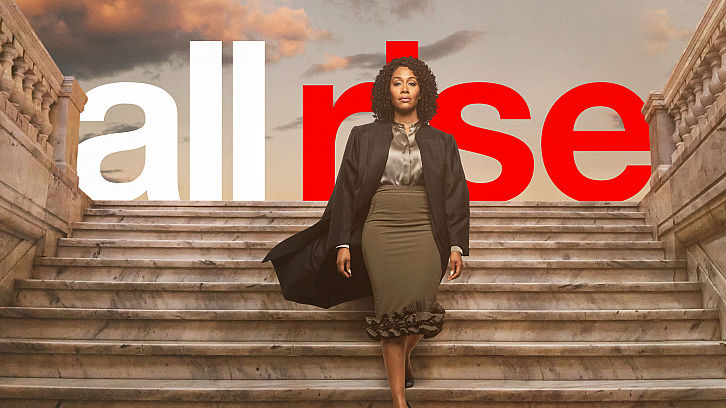 Concluding its fall run with a devastating plot turn, All Rise completed its recovery from a misstep early in the season and majorly raised the stakes. The closing moments of the midseason finale, "The Perils of the Plea," wouldn't have been such an effective gut punch if the preceding episodes hadn't been as strong as they were. In its debut season, the show was comfort food with its assortment of charismatic, sharp characters fighting the good fight for love, friendship, justice, and all that. All Rise still brings plenty of comfort to the table, but it's also serving up a strong sense of empathy. Perhaps the behind-the-scenes trouble the show had earlier this year produced this new willingness to tap into the real world heartbreaks it's so deftly navigating this season.
To begin with the elephant in the room, I consider the show's handling of the Mark (Wilson Bethel) and Lola (Simone Missick) incident in its premiere, "A Change Is Gonna Come," to be something of a mess. The show's intentions were clear: say something about how even well-meaning white people can be guilty of implicit racial bias. However, I had a very hard time believing that Mark's would have manifested in that way against his best friend under that set of circumstances. For one thing, he was in the car when she hopped out in the middle of a protest in the dead of night, and we're supposed to accept that he just sat in the car for an undetermined amount of time, not going looking for Lola until later, so much later that she was already in zip ties. We've all gotten lost in a game of Candy Crush on occasion, but I don't buy him being that clueless or that he would have immediately asked Lola if she did something wrong. Did Simone Missick absolutely act up a whole thunderstorm and hurricane as Lola dealt with the emotional and professional aftermath? Yes she did. And that's the truth, the whole truth, and nothing but the truth. The scene on the roof where Lola tells Mark that she feels robbed of the joy of bringing a baby into the world because of the increased danger her child will face for being black….it's a quiet, almost whispered confession of pain but impossible to watch without feeling queasy and hopefully angry.
The difficulties faced by Emily Lopez (Jessica Camacho) and the other public defenders trying to navigate a daunting backlog of cases are a successfully gripping story this season. Public defenders do not get resources, pay, or personnel on par with what prosecutors do, lending a special importance to this ongoing battle. Whether she's crowdfunding the funeral for a client who died awaiting trial or knocking a stack of case files to the ground in a fit of despair, Emily never gives up, even in the face of multiple setbacks stacked on top of even more setbacks. We also learn quickly that she and Luke (J. Alex Brinson) took a break that turned into them seeing other people. Specifically, he is now dating Samantha (Audrey Corsa, whose chemistry with Brinson makes it unlikely this love triangle won't break our hearts). I thought at first that with limitations caused by THE THING the show might intend to distance most of its couples for safety reasons. So far, that hasn't really been the case, although Sherri (Ruthie Ann Miles) is in an offscreen love triangle. (Delightful!).
Amy (Lindsey Gort) took two big leaps near the end of the first season: moving in with Mark (into the same house Wilson Bethel's character lived in for Hart of Dixie) and teaming up with Rachel Audobon (Ryan Michelle Bathe) at the latter's new law firm. All is not coming up roses for Amy and Mark, as multiple pressure points are set up in these early episodes that could affect their relationship. She isn't completely comfortable fitting into his life. They disagree on significant decisions, and he keeps from her that he and Rachel (his best friend next to Lola) dated back in the day. The midseason finale introduces via a fallen Christmas tree a piece of Amy's backstory. Her childhood and family life were not happy, to the point she's not ready to talk specifics with Mark yet. With this new information and the subtle tension between them, this couple still has baggage to work through, which makes their relationship all the more engaging to watch unfold.
All Rise provides a wealth of materials for its characters that bodes well for this season. Lola's intervention on behalf of the mystery girl during the protest casts a shadow over her courtroom, one that she and others worry may creep into her decision making, despite her best efforts. (Lola is also pregnant, which is handled by the show in a lovely matter-of-fact way, and lends itself to many lighthearted, heartfelt moments among Lola, her family, and friends). Todd Williams is a welcome recurring presence as Lola's husband Robin, as the show clearly walked back the estrangement storyline it was setting up at the end of season one. When Sara (Lindsay Mendez) isn't worrying over helping her grandparents rebuild their store (it was damaged in the summer riots), she's helping Judge Benner (Marg Helgenberger) navigate dating apps and joining the judges for poker games (at which she hustles them to acquire a little extra money for her grandparents, for which Benner reprimands her later before learning her reason).
Two storylines will be scorching the earth when the show returns in January. An anonymous source provides Mark with evidence that a case he prosecuted back in the day wasn't as straightforward as he thought. In fact, the Sheriff's department covered up an officer-involved shooting, saying the victim (who has no memory of the event and ended up paralyzed from the waist down) had a gun he threatened the officer with. As Mark decides what to do with the evidence, he teams up with Tony Carver (Steven Williams) and Samantha to build a case, ultimately getting permission from Choi (Reggie Lee) and District Attorney Louis Bravo (HELLO, Ian Anthony Dale) to proceed. Mark doesn't loop in Luke, which makes it more than a little awkward that there's a chance Luke's former mentor and friend Sheriff Wayne McCarthy (Louis Herthum!!!) may be involved. (Considering Herthum played a shady Sheriff covering up big time on Apple TV+'s excellent Home Before Dark this year, I'm hoping we'll find out McCarthy was the anonymous source and he's on the right side of this).
It's Lola's new law clerk Ness Johnson who makes the cliffhanger discovery in the second storyline. Portrayed by Samantha Marie Ware, Ness doesn't so much steal scenes as completely own them. She's confident and assertive and arrogant in all the best ways, earning more than one constructive conversation from Lola and Sherri. Through her eyes, we get yet another perspective on the thoroughly complex shortcomings of a justice system that can often seem beyond repair. In the midseason finale, concerning questions from a juror prompt Lola to urge a defendant to plead guilty to a lesser charge. She tells Leon Parson (Isaiah Johnson stellar in this guest role) that she's worried the jury isn't considering the evidence as they should (which sent me into a frantic rabbit hole of internet research to figure out if judges could do this) and that it's his best bet to accept the prosecution's plea deal to avoid prison time. Everyone looks ill when the weeping father says he's guilty, even stern deputy prosecutor Palmer (Suzanne Cryer, always a wonderful sparring partner). The scene plays out like something from a horror film, with Lola barely able to read out the terms of the agreement marking Leon a felon. It's the latest in a series of losses for Emily and her clients. Thus, it's a quadruple gasp moment when Ness learns the jury was going to vote not guilty. What will she do with this information? Was Lola overreacting to a juror who had shown himself in orientation to be overly inquisitive? It's impossible to imagine a scenario where someone doesn't have to fall on their sword professionally to make this right. Either way, All Rise's sophomore season is a roller coaster of emotions, or, as Sherri would coin it, a Lolacoaster.
Side note: While I don't completely buy the arrangements for the very small office holiday party, everyone got to wear fancy clothes, and I will never be unhappy about a little glamour!