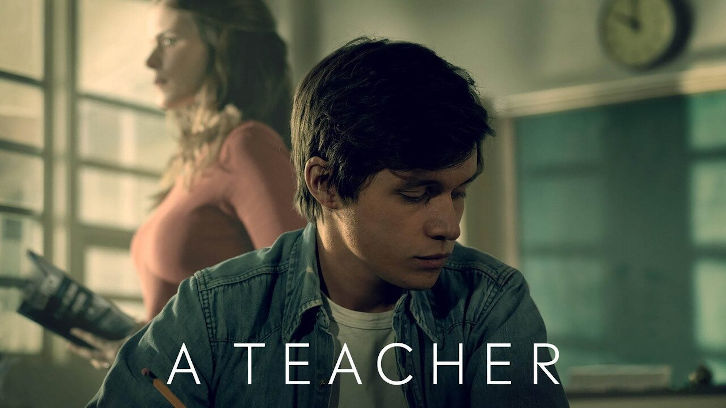 I remain baffled about the length of these episodes. The people behind A Teacher have managed to make 25-minutes feel twice as long. Even within the episodes time doesn't exist. I'm often not sure of how many days or weeks pass in a single episode because they don't seem to change clothes. Do they?
The episode opens with Claire whispering to Matt's back that she's having an affair with one of her students. She isn't though. Calling what's happening with Eric and affair is absolutely delusional but certainly on brand for Claire. I can't begin to imagine what Matt must be thinking. He has to grapple with the fact that his shoplifting wife abused her power and groomed one of her students because she needed a thrill. He should send her packing.
Over at Eric's the doorbell rings. It's the police. Kathryn did the right thing. They question him about Claire, and Eric tries to lie, but he fails. The police want the truth. He eventually comes clean with the police, but you still get the sense that he doesn't quite believe or understand that what happened to him was wrong. In his mind, his relationship with Claire is a great love story.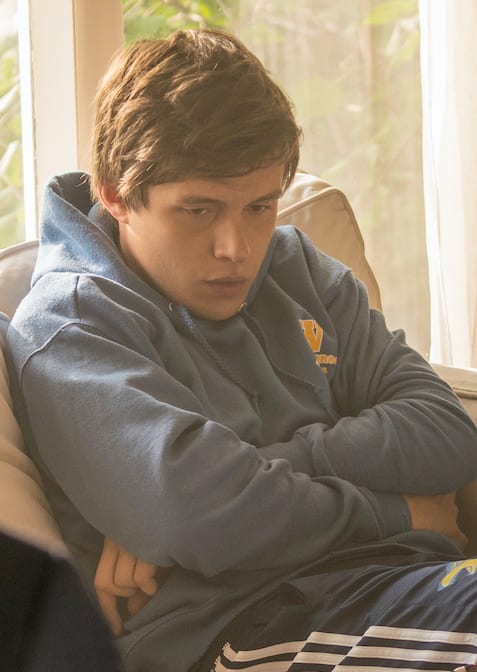 Instead of kicking Claire out, Matt tells Nate. Nate starts to share about a rough patch he went through with his wife, but Matt stops him in his tracks by letting him know it was a student. Nate has to know it was the same student he released to Claire and didn't cite for underage drinking. That was a red flag that he ignored, but he seems accomplished in the art of missing the big picture because even with the whole truth revealed, Nate seems more brother than police officer. Guess that's what they mean by protect and serve.
Once the police leave, Eric calls Claire. He's in a panic and wants to see her. Through her usual tears, Claire says they can't meet. Why does Eric still have his phone?
Sometime after the call with Eric, Claire is curled up in bed. Her constant pity parties are tedious. Could someone, anyone, tell Claire that she is not the victim? That she deserves to lose? Clearly, Matt's no hero. He loves Claire and suggests therapy and a good lawyer. I have another suggestion. How about remorse and consequences?
Claire and Matt are causally eating dinner when she declares she needs to take a walk. Why would he trust anything that comes out of her mouth? We all know where this is going. Claire walks.The walk turns into a drive to Eric's house. He runs out to meet her. They drive to their empty parking lot where Eric apologizes and Claire doesn't. Eric suggests they run away because they are good together. They kiss as Claire considers it. She is no doubt happy that it was Eric's suggestion because it allows her to continue to pretend she lacks any and all culpability.
Guess what? They ran away to a roadside motel. Nate calls and lets her know that she is incredibly stupid. I guess they crossed state lines because Nate mentions kidnapping. All Claire can say is sorry, but does anyone actually believe she's sorry? In what is probably the most disturbing sequence of the entire series, Claire wants to know if she was a good teacher and tells Eric that she ruined her entire life for him before they have sex where she insists on constant and direct eye contact. Robinson does a good job of showing Eric's discomfort. It's difficult to watch. Where is your mother, Eric?
While Claire sleeps, Eric goes to the bathroom and sees missed calls from his mom and texts from his friends. This is something the show gets right. The mom calls and texts asking him to call while the friends' text. It's a small thing but generationally appropriate. The call and texts do their job. When we next see Eric, he's in tears while his mother comforts him. That Eric's road back is going to be long and messy goes without saying. I was hoping the show would keep the focus on Eric's hurt, but even as I thought it, I knew it would never happen.
When Claire wakes to find Eric gone, she goes to the school while pitiful music plays in the background. Claire cries again, but I still don't care. Why should we? If you had any doubt that the show's creator and writers were blurring the line between victim and victimizer, any doubt that they want you to draw a straight line between Claire's criminal behavior and the hardships and tragedies of her past, the final scene of the episode makes it clear. The episode ends with the focus on the victimizer, Claire, and not the victim, Eric.
A friend of mine perfectly captured my feelings about
A Teacher
, "Nothing like being bored and indignant."
www.a-teacher-resources.com
What did you think?