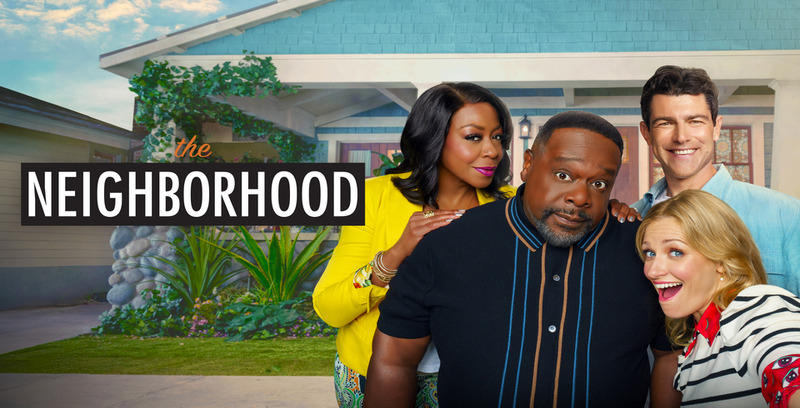 Welcome back to another season of The Neighborhood! This week is a double review, and both episodes touched on important topics that were relevant in the US these past months: Black Lives Matter movement and Election Day.
The first episode delves a lot into the real life situations of police brutality that inspired the Black Lives Matter movement.
We begin the episode with Malcolm coming back from hanging out with a friend, Trey, at a park but he was visibly upset. Turns out while he was at the park, some cops started harassing him and Trey. When his friend spoke up to tell the cops they weren't doing anything wrong, the cops threw him on the ground and started beating him up, arresting him with brute force.
As the episode continues, it continues to show how deep-rooted the problem of injustice and racism in the police system is and how easily white people tend to make wrongful assumptions, as well as the privilege white people have in situations involving the law. Calvin and Dave go to the police station to try and bail Trey out, and once there Dave asks Calvin what did Trey do to get himself arrested. Calvin tells him it's because Trey "was being Black in America", while Dave still thinks he did something since "he's not exactly a Boy Scout". When it's their turn to ask for Trey's bail, the cop mocks them and shows an entitled unhelpful attitude.
Dave's white privilege shows this episode in the way that something like this had never happened to him, and as he watches Calvin go through the process of bailing Trey out, there's a contrast between Dave's loud outrage at how Calvin was treated versus how Calvin was angry but he had clearly been through it before so he didn't do a loud display because there was no point to it since nothing ever changes in the system. This speaks volumes of the current situation black people experience on the daily in the US when it comes to police brutality and disrespect by the police.
Dave and Gemma's disappointment at seeing this new side of the police further shows their white privilege and the way they had been living on a bubble, which is a recurrent theme on the show. They saw the police only as 'helpful' because of their past experience with them and didn't think to consider anything further beyond that. It's also shown in the way that Gemma had trouble 'explaining' the topic of police brutality to Grover, which concluded in her telling Grover that the police would never hurt him simply because he was white, not because he's a kid.
Meanwhile, after Trey got more charges added to him now that he was arrested, Malcolm says he's had enough and is going to organize a protest outside of the police station. The peaceful protest ended being broken up by the police in riot gear for no reason, pushing them with shields and using tear gas. This narration of events is something that was seen too many times during the Black Lives Matter protests that happened all over the country this summer. The Butlers managed to get home safe even though Tina was hurt, but once home they all realize Malcolm is missing.
One of the most important scenes in the episode follows next, when Calvin and Dave go out to look for Malcolm. While on the way, Dave tries to tell Calvin that not all cops are bad, but Calvin answers him by explaining how they're all part of the system that was created before slavery was over, and how that same system is still against black people. This conversation was more than important and I think it stands out as one of the most impactful scenes in the entire show, because it takes an issue that should be talked about and puts it in simple terms but doesn't shy away from the truth, even if this is a sitcom and scenes like this don't originally fit the formula.
Another really emotional scene was when Tina sat down and explained to Gemma the fear she feels every time one of her sons leaves the house and might not come back, as well as how they had to explain to them when they were kids that racism exists and there are people who might hurt them just because of the color of their skin. By bringing in scenarios like this into the show it makes it more real to the viewers at home to get the point this episode is trying to make, because it's something that is happening in society and just because it's television and a sitcom it doesn't mean that topics as important as this one can't be explored just because it's not something that you would normally see in a comedy show.
Calvin finds Malcolm safe and tells him it's time to come home, but Malcolm frustrated by the way the protest went and how they didn't manage to accomplish anything says he won't, and that he's going back to the police station but this time it's not going to be peaceful. Calvin explains to him that violence is not the answer, and that if they want to get something done they have to organize. He explains that he is angry every time an act of racism happens, but that the police expects them to react with violence, so they have to think smart to not end up dead or in jail, which sadly is the current reality in the country. At its core, this is the main message the writers are trying to get across with this episode, to explain to the audience that watches the show the reason behind the Black Lives Matter movement, using scenarios that actually happen in real life.
The episode ending with actual footage from some of the Black Lives Matter protest was a powerful ending, and even if the storyline concluded in a nice way all things considered, by Trey being out of jail and the cops who beat him up getting investigated, there is still the reminder that not everyone is so lucky. This episode, while still having some comedic elements, focused overall on getting across this message, without fear of breaking away from the comedy genre, and in my opinion it is good when shows take advantage of their platform and speak up on important issues like this one to teach something to its audiences.
The next episode "Welcome to the Election", we're back with one of the plot points from last season, with Dave running for City Council. Dave is hosting a rally on his front yard for his campaign, when his opponent, Isaiah Evans (guest star Wayne Brady) walks in to challenge him to a debate that same day. Unprepared, Dave asks for advice and Calvin tells him that while his ideas are good, if he wants to win voters he has to give them a show.
When the debate comes around, Dave (with the help of Calvin) talks to Isaiah and tells him he's not scared, and he even tells him some of the key points he's going to speak about in the debate. To no one's surprise, Isaiah ends up stealing those key points for his speech, leaving Dave with nothing else to say.
Calvin helps out Dave by asking Isaiah how does he plan to execute his 'ideas', and when Isaiah doesn't answer, Dave does. With help of Calvin's interactions with the crowd, Isaiah's lack of plans and Dave's ideas they manage to make a somewhat successful debate appearance.
Meanwhile, Marty and Malcolm are trying to encourage young voters to vote for Dave, and they come up with the idea of doing a dangerous stunt to attract viewers and then telling them to vote. They settle for doing a pepper challenge, in which they will eat some tombstone ghost peppers. Malcolm doesn't do it at first but Marty tastes one of the peppers, and his suffering manages to get them a lot of viewers and comments. After everyone starts calling Malcolm a coward, he decides to do the challenge, and his reaction makes them go viral.
Despite it being a close contest, Dave lost to Isaiah. He's visibly upset because he wanted to make a difference, and even with people seeing Isaiah didn't have actual plans to help the people, they voted for him. Calvin tells him that while he didn't win, he made a difference by making people aware of what they deserved so that they could keep Isaiah in check if he doesn't accomplish his promises. In the end that's basically the definition of politics, and it served for a reality check for Dave that sometimes good intentions aren't enough, but it also closed this storyline in a fulfilling way instead of leaving it unsolved from last season.
And that's it for these two weeks! What did you think of the episodes? Leave a comment below!