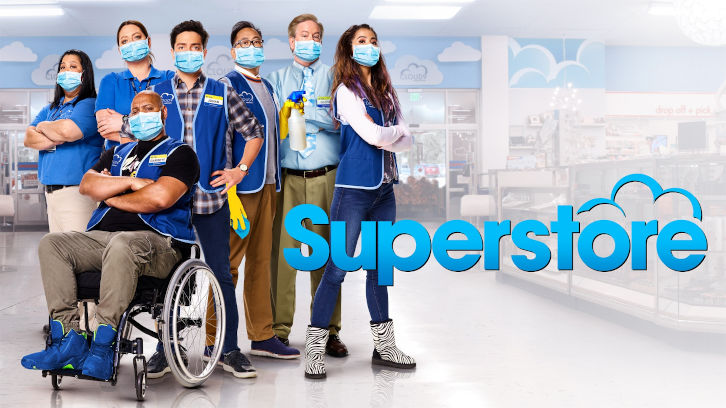 This week on Superstore, Cloud 9's big "In Store-Vaganza" (emphasis on the hard "g") accidentally morphed into a 1984-esque dystopia.
To drum up more business after the initial panic buying died down, Cloud 9 corporate has set up an "In Store-Vaganza" event, complete with a prize wheel full of questionable rewards like undefined "fun" and an MC Cool Cloud "bobbling figure" (which can't legally be called a bobblehead, as MC Cool Cloud is apparently not technically a head). To the Zephra higher-ups, it seems, the pandemic is as good as over; as Garrett says: "You gotta look at it from corporate's perspective. They love money and they don't care if we die."
Glenn is by far the most excited for the event - he even brings donuts for everyone. He reasons that this will be a bit of fun in the midst of a barrage of bad news. You see, he explains, one of his church choir members was just diagnosed with COVID - although "She seemed fine at choir practice last night, I mean, she coughed a couple of times, but I thought that was from the high note."
In the interest of avoiding a superspreader event, everyone insists Glenn go quarantine at home until he can get tested, and Dina assures him that she can manage the store while he does. Dina as manager in itself is a scary idea, but on top of that she also has something to prove; after years of berating Glenn for doing what she percieves as a bad job, she's finally in the position to prove that she can do it better.
From the get-go, however, it's not exactly smooth sailing. As part of Dina's no-nonsense, authoritarian approach, she forces Sayid and Justine to work together even though they can't stand each other, she doesn't allow Marcus time off to visit his new "fat baby nephew," and she forces Garrett, Cheyenne and Jonah to investigate the source of a mysterious smell which Cheyenne identifies as "two moldy sponges (that) puked on each other."
Jonah, however, has other things in mind than smell hunting. His dad got him an interview for a job at a clean energy company, and while he at first acts like he's not interested in leaving Cloud 9, the more research he does the more excited he gets at the opportunity. Cheyenne lets him leave work in the middle of the day to prepare for the interview, much to Garrett's chagrin. He doesn't like the idea of Jonah getting to just ditch work for an interview he had previously said he didn't even want, but Cheyenne says she's mostly letting him go because she's worried for him after his break-up with Amy. "I caught him listening to this music in his car. It didn't even have a beat, it was just, like, a guitar and a man. Like, what?"
Meanwhile, Glenn isn't exactly quarantining at home, per se; while Jerusha sets up their garage for him to self-isolate in, he's sitting in his car in the Cloud 9 parking lot, with a stack of 72 donuts beside him (71 ½ now, he admits). In the interest of not missing out on the In Store-Vaganza, and to keep him from eating even more, he calls Sandra and asks her to keep him on the line and watch the Prize Wheel, telling him what it lands on every time.
After Sayid and Justine still can't resolve their issues (Sayid hates that Justine keeps calling the female customers "mama"), Dina tells Mateo that she's feeling the pressure to live up to her constant criticisms of Glenn, which is why she's refusing to deal with anyone's "emotional nonsense." To help with that, she decrees that personal talk is no longer allowed on the salesfloor. She even puts up posters reminiscent of dystopian sci-fi novels, with phrases like "Zip it" and "Your problems are your problems," all to hammer home her growing dictatorship.
Under Dina's iron fist, the rest of the floor gets desperate; fights break out, Marcus tries to get a customer to FaceTime his nephew, the smell still won't go away, and Mateo is secretly trying to gossip while pretending to write people up for breaking the "no personal talk" rule. Glenn ends up calling Dina from his car, and she tries to argue that her "North Korean" approach to management is working well. However, it isn't long before she has to call a meeting in the break room, where it becomes clear that "just shut up and do your jobs" is not going to cut it anymore.
Trying to take a page out of Glenn's book, Dina does a 180 and encourages the employees to express all their feelings, but in true Store 1217 fashion, that entails a lot more than what's helpful. After everyone agrees they all hate Corey's new hat (but that his new haircut is worse), that Sarah definitely got a nose job, that Janet may or may not have eaten a curly fry off the ground, and that Corey thinks that (gasp!) Jerry should've ended up with Carol, Dina realizes that they're getting nowhere and ends the meeting.
Jonah might have missed out on much of the craziness in the store, but that doesn't mean he had any better of a day. His job interview seems to be going pretty well - until he finds out that it isn't a job interview at all. As the company manager explains, he was just meeting with Jonah as a favor to his dad. While their company was hiring, since Jonah dropped out of school and spent the last 5 years working in retail, he wasn't exactly qualified for the position (Ouch. This one hit close to home, guys).
Disappointed and embarrassed, Jonah comes back to Cheyenne and Garrett to apologize for ditching out on the smell hunt (which had finally come to a close after the two found something they could only identify as an "inside-out otter"). Jonah admits that he was just "excited to be excited about something," and the trio make amends.
At the end of the day, Dina muses at how Glenn can even do his job. After a single day, no one was even listening to her anymore. She's never been the "talk about your feelings" type - she's always been the kind of person who just wants to break something when she's frustrated. When Mateo asks if she wants to break something now, she gets one last idea to unify the store.
In an oddly satisfying vignette, all the store employees taking turns destroying the prize wheel with baseball bats, with Jonah, frustrated about the job interview (or lack thereof), going especially ham. As Glenn begins to drive home to self-quarantine, he sees the pandemonium, and the episode ends with his horrified cry of distress to see a good prize wheel destroyed.
I do want to say that I'm impressed with how well Superstore has been handling the 1-2 punch of the pandemic and the departure of its main star. The COVID storylines, so far, have been sensitive to the topic while still hilarious, and I would daresay that this is one of the few shows in which incorporating the pandemic into the story hasn't felt forced or gimmicky. And while America Ferrera's presence on the show is certainly missed, especially in lower-energy episodes like this one, it doesn't feel aimless without her like I thought it would. The writers took the smart move of not trying to replace Amy (à la The Office) or pretend everything's the same, instead using her absence to bring other characters to light in new, fun ways, as evidenced by Cheyenne's storyline in last week's episode, and Dina's in this one.
In all, I thought this episode was pretty fun. Sure, it was pretty paint-by-numbers, and it possibly could've used a bit more fleshing-out story-wise, but all said and done, I had a good time watching it! And isn't that all one can ask, in times like these?
So, what did you think of Dina as manager? What are you looking forward to seeing develop in the coming episodes, when the show returns in January? Let me know in the comments!