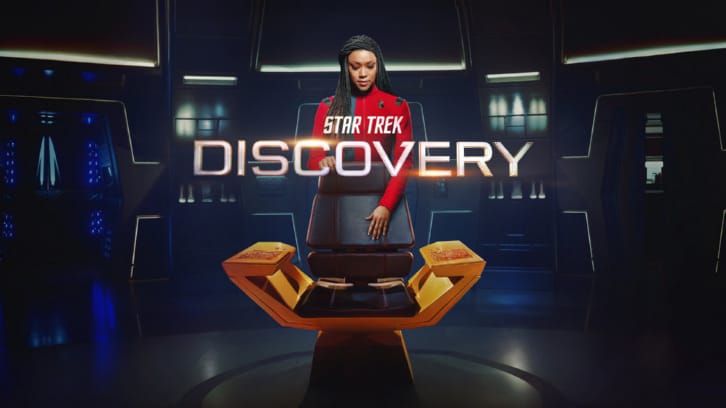 Star Trek: Discovery 3.05 "Die Trying"


First up: I love the subtle (and not so-subtle) fanservice that
Discovery
is sneaking in this season. Seeing the future of the Voyager-class having a legacy was pure vindication for Voyager fans (as of which I am one, currently working my way through its fifth season) and a delight in its own right. You could sense the crew's joy in learning just how many advancements the Discovery had made from their present first hand. Don't forget, this is new to us as well – they're not joining a future covered in Picard or Deep Space Nine. This is a clean slate, a chance to start anew. Each episode has given the chance for the writers to get the Starfleet ideals across to the audience in a stellar manner, more than fitting the mission statement of this season. Because Pike and Spock wiped Discovery from the records of the Federation their existence is questionable already, which means no easy way out for the ship and its crew. Their solution is to find a cure for the Kili using the spore drive, and in order to do so that involves every crewmember acting under supervision. I could have just happily sat there for the Reno-Stamets-Tilly hour, with Reno quickly becoming one of my favourite crewmembers thanks to the brilliance of Tig Notaro's comic timing. Turns out casting an actual comedian for comedy pays off dividends. I loved watching their recaps to the bemused Starfleet interrogation AI: "All this is after I got my hair blown out and became Terran captain/dominatrix" has to be some kind of quote of the year.
Michael gets a perfect chance to show the Federation who and what Discovery is as a crew when they jump to the USS Tikhov on a rescue mission. Every crew member gets something to do here, no matter how little, from Detmer to Nhan, who jumps at the chance to return to her homeworld for the first time in 930 years with Michael and Dr. Culber. However, Nhan's joy is short-lived – the ship's protectors, a Barzan family, is plagued by a curse that has rendered them unable to help and their AI protector has been driven mad trying to save them. It's a classic Star Trek plot, right down to the scenery of the planet looking like an old school Trek planet – and although the crew are able to succeed in their endeavour and impress Starfleet officers, Nhan volunteers to remain behind to build her homeworld from the ground up again. Each planet, it seems, Discovery visits in this future it is able to leave an optimistic impression on and rebuild, encouraging the survival of the Federation that will only pay off in the long run.
Discovery
, despite moving at a breakneck pace, is slowing down this season. Its single-focused storyline keeps it intact rather than lurching all over the place, there's no Klingons (yet), no Ash Tyler plot for them to be distracted by. It's all steam ahead for the ship and its crew, and Season 3 is shaping up already to be the strongest yet.
Star Trek: Discovery 3.06 "Scavengers"
Michael Burnham is not the same Michael Burnham that went into the future a year ahead of Discovery. She's now more a Han Solo than a Luke Skywalker, more a Kirk than a Spock. Quite happy and willing to defy Saru's orders again and sneak away on a mission of her own to rescue Book once she learns from Grudge that he's been captured looking for a Black Box that Michael needs to find out what the cause of the Burn was, she disobeys Saru's orders – and that of the Federation's, and pairs up with Georgiou on a rogue mission using Saru to pick up the pieces with Admiral Vance.
Trek
, with Burnham and Georgiou getting to revel in the buddy-cop adventure saga that captures the Abrams' movie vibe right down to the effects that
Discovery
revels in replicating. There's also a lot of The Next Generation movies in its DNA, and it's a pretty good set-up for an episode that will have far reaching consequences. Michelle Yeoh gets to play the bad-guy role again as Georgiou to an Orion slaver perfectly, and the caper elements of
Discovery
really play to its strength.
It seems that
Discovery
does love its Macguffin spread out across the universe and the romance at stake between Michael and Book makes the most out of Sonequa Martin-Green and David Ajala's palpable tension that they share. The core focus of this script is Star Trek at its most fun and enjoyable, but there's even more good stuff back at Starfleet HQ that the show tackles with whilst Discovery is on standby.
Discovery
is not the show to stall on storylines this time out.
The dynamic between Adira and Stamets that this show is going for here is wonderful. Both characters have been in a position where they've lost someone who's then come back to them, and have to process that grief and reconciliation together. I love everything that the show is doing with these characters, and Dr. Culber brings up their connection even in a way that's not especially subtle, it's still heartfelt and meaningful. Gray acknowledging that he liked Stamets gives them some common ground to work on: I wouldn't be surprised if Gray made the jump from just being in Adira's head to being able to be seen by everyone by the end of the season, and I'm always here for the show exploring more of their relationship.