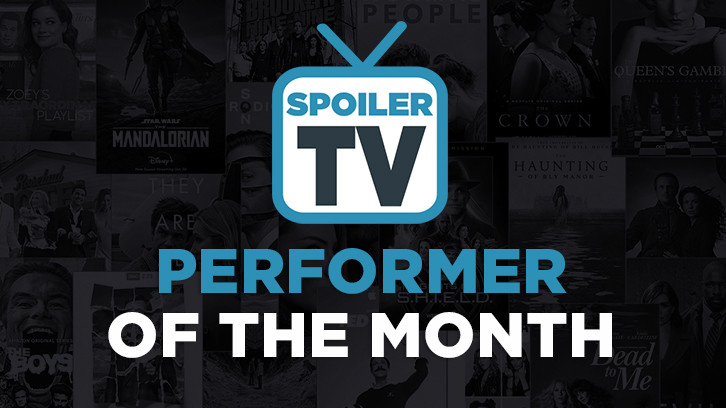 Results:
After a subdued (expectedly so) round of voting, we ended up with two amazing winners who just so happen to be representing the same show. Both shot out to the lead from the start and never lost their leads. The Haunting Of Bly Manor. While at first it appeared that Jamie was merely a supporting player in the show's traumatic events, the series finale The Beast In The Jungle (1x9) gave Eve the opportunity to tell us Jamie's full story. The episode spanned years, with Eve showing Jamie's evolution over time as an individual and as a loving partner to Dani Clayton (Victoria Pedretti). Eve made viewers feel the impact of life's most tender joys and most vicious cruelties, while simultaneously tying together the show's entire narrative and themes with her performance. It is a testament to Eve's artistic caliber that she accomplishes this feat without sacrificing the sincerity of her performance. The years that pass throughout the episode never translate into the episode feeling rushed or abbreviated, in large part thanks to the authenticity that Eve conveys. Audiences will not soon forget Bly Manor's residents or the rising stars that compose its cast. For bringing Jamie to life, for imbuing Jamie with a compassion and spirit so authentic that we, like Dani, feel that we have always known her, Amelia Eve is SpoilerTV's October Readers' Choice Performer of the Month. The Haunting Of Bly Manor will be remembered for the deeply affecting performances of its ensemble. T'Nia Miller, who plays loyal Bly housekeeper Hannah Gross gives one of the most emotionally devastating showcases of the acting craft. In The Altar of the Dead (1x5), the truth about Hannah is unspooled through a series of flashbacks playing on loop, each revelation more heartbreaking than the last. Miller delivers a performance that is by turns commanding and terrifying, tearing up the audience's emotions as we along with Hannah process a truth she will continue to deny. Miller's work brings with it an incredible chill, a veritable confetti of goosebumps. For all of these reasons and many more T'Nia Miller is SpoilerTV's October Staff Choice Performer of the Month.
Original:
This unusual month of TV has led to a rather unexpected list of nominees, but a very strong list. These performers all delivered strong performances and are all deserving of a win. It'll be fun to watch who will prevail.
Please remember that a performer can only win once in 2020. After that win, they will be ineligible to win again in 2020, but they will secure a spot in our year-end Performer of the Year contest.

Now comes the hard part where you can only vote for 1 performer. The poll will be live until Saturday, November 7th at 6 pm ET. After you vote be sure to make a pitch in the comments section for what the performer you voted for most deserves to win.