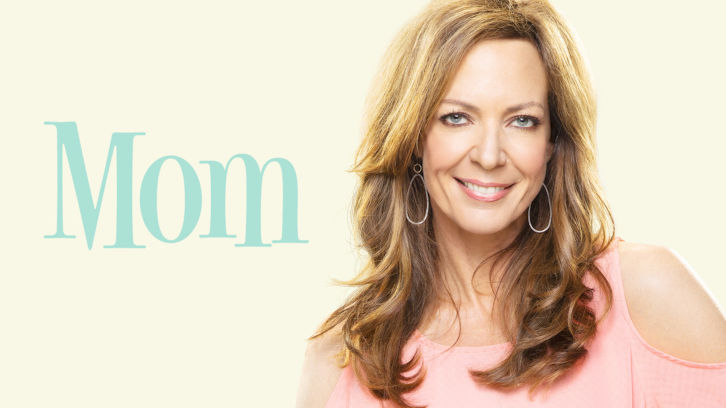 Where is Christy? At Georgetown, apparently. No really, Christy got a full scholarship to finish law school at Georgetown, and Mom Season 8 picks up with Bonnie and Adam having just dropped her off at the airport. They're taking it well. So well, in fact, that in-between their tears, they feel the need to go back to the airport and watch the plane take off!
A month later, Bonnie tells everyone at a meeting that she and Adam are doing well as empty-nesters, although they have figured out Christy did most of the cleaning in the apartment! When Tammy shares, she tells the group that's she's gotten a message from her estranged father (You know, the one that killed her mother...) Anyway, he's still in prison but has decided to call her for her birthday the next day. And understandably, Tammy would rather he not.
Hearing Tammy's dilemma, Bonnie sees an excellent opportunity to get her mind off Christy. She tells the rest of the girls that she wants to plan a surprise sleepover for Tammy because she always wanted one when they were kids. Wendy and Jill quickly over-rule Marjorie's plans for a surprise birthday dinner (Sleepovers are more fun!) and the party is on.
With Adam and Gus out for a fishing trip (meaning drinking in a cabin!), the girls gather at Bonnie's to surprise Tammy, who's thrilled when she finds out. Jill's got a list of classic sleepover games ready and waiting for the night. Unfortunately, Never-Have-I-Ever turns extremely dark when Wendy admits she feels like she killed someone. She'd had two patients needing to go to the ICU at work the previous week, but there was only one available bed. She advocated for one of them to get the available ICU bed, and the other ended up dying while waiting for another bed. The girls assure her that prioritizing the most severe patient is just part of her job as a medical professional, but she's concerned that since the patient she didn't advocate for (and who eventually died) was rude to her, maybe she subconsciously played God by getting the other patient the bed.
Wendy nixes the girls playing "Pass Out" (probably for the best!) and they move on to "Sex Bucket," where the player picks two men's names out of a bucket and decides which one she'd rather have sex with. This doesn't last very long either. (Side note, where are they getting these games!?!? Never-Have-I-Ever is the only one I'm familiar with.)

The girls then move on to Truth-or-Dare. This results in Bonnie walking into a store with her underwear on over her clothes, buying Slim Jim's and extra-small condoms, and singing "You Make Me Feel Like a Natural Woman" to a very confused clerk!
Back at home, the girls get into a pillow fight! It's all good old fashioned fun until Marjorie and Bonnie end up putting a little too much emphasis on the fighting part. Bonnie storms out and Marjorie ends up in tears in the back room. As Jill puts it, "It's not a slumber party till somebody cries!"
Tammy goes to comfort Bonnie and Wendy goes to comfort Marjorie, while Jill spies on both groups! Marjorie admits Bonnie makes her mad in a way no one else can. Bonnie's more than a little befuddled about what to do but decides to follow Jill's advice to proceed in a classic sleepover route. She'll go out and beg for Marjorie's forgiveness and then after she goes to sleep, Bonnie will stick her hand in hot water to make her pee herself!
Unfortunately for Bonnie, she finds Marjorie waiting for an Uber outside. She's decided she's done for the night. With Marjorie leaving, Tammy, Jill, and Wendy wonder if they should call it a night. But Bonnie's not having it. She goes outside to confront Marjorie about her "grouchy, grumpy, grocery store cake buying, sourpuss" behavior. And Marjorie admits she's just found out something's wrong with her heart.
She needs a stint put in. And to say everyone's terrified when they find out would be an understatement. So, Jill decides to use the notebooks she bought for Pictionary to make a new game called "Fear Bucket." Each of the girls writes down their biggest fear, read them aloud, and then burn them. Wendy's biggest fear is that she'll make a mistake at work and hurt someone. Tammy's is that she'll regret it if she doesn't take her dad's call and that she'll be betraying her mom if she does take it. Jill's afraid the reason she and Andy are having so much sex is that they "have nothing to talk about." Marjorie's scared she won't get to see Baby Sophia grow up. Bonnie's fear is that the rest of the girls don't know how much she loves them.
As the girls burn their fears, Tammy's phone rings with a call from her dad. She answers. With tears in her eyes, the two have a pleasant conversation. Apparently, her dad has gotten sober as well. She thanks him for remembering her birthday.
Later, as the girls get ready to sleep, Tammy declares it her best birthday ever. And Bonnie gets another 4 AM call from Christy, who's still got her time zones mixed up!
Random Thoughts:
-Best lines go to Bonnie when discussing Christy's inability to grasp time zone differences - "Well, my fault. I should have taken her to kindergarten once in a while. Yeah, she's in law school. She's fine," and Marjorie, when Wendy tells her she shouldn't be eating raw cookie dough - "Seriously? You're worried about cookie dough? I used to huff bug spray."
What do you think of a Christy-less Mom? Are you concerned about Marjorie's heart problem? Let me know below!