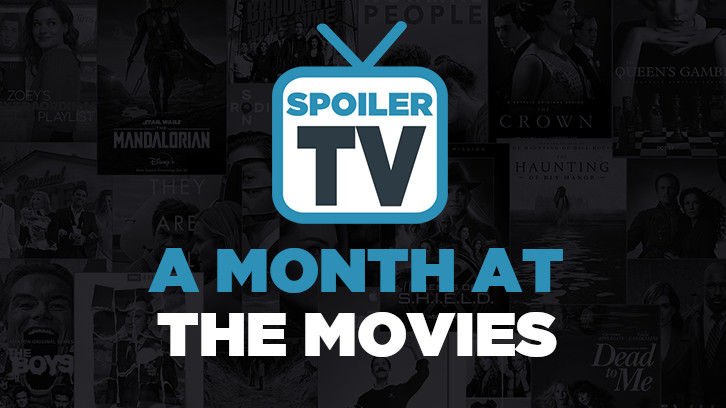 In a chaotic month, the London Film Festival held its first almost-all virtual experience that was a delight to partake in. This allowed for a uniquely communal experience, that when combined with the traditional horror binge-a-thon of October, allowed for a very hectic month with plenty of new favourites discovered over the course of the 31 days. As always, feel free to let me know what movies you saw and enjoyed over the past month - and what you thought of the films that I watched in October.
Author's note: Apologies for the delay getting this one posted, it was a bit of a hectic end to last month.
The Trial of the Chicago 7 (2020; Aaron Sorkin)
This is Aaron Sorkin's film in the same way that
The Post
is Steven Spielberg's, a snapshot of the era that it takes place in and used as a way to reflect the political struggles of the present day. The courtroom drama is aided by an all-star ensemble with each actor getting their chance to deliver a memorable speech in front of the camera, with the chant "the whole world is watching", never feeling more appropriate than it is today. Worth a watch for its all star cast alone, but the standouts include Sacha Baron Cohen and Yahya Abdul-Mateen II, constantly leaving the other actors behind them in the dust. A very, very good case could be made for the best supporting actor category compromising from this film alone for this year.
A
Stray (2020; Elizabeth Lo)
A short documentary that acts as a fly on the wall view into a dog's life on the streets of Instanbul, using the animals' journeys as a reflection on humanity and the world around them. Not much to say beyond that – it does what it sets out to do and doesn't bring much else to the table.
C+
Herself (2020; Phyllida Lloyd)
This movie is let down by its crowd-pleasing and out of place musical moments that rob
Herself
of its soul and the final act almost ruins the whole thing altogether, but the film – that follows Clare Dunne's lead character fighting to keep her children from her abusive ex and build a house for herself, boasts a timely and important feel that makes it sadly, an all-too relevant watch.
C
Siberia (2020; Abel Ferrera)
What did you think you were going to get when you paired Abel Ferrera with Willem Dafoe and Siberia? The answer is quite simple: exactly what you'd expect. A pure nonsensical odyssey of destruction, isolationism and redemption, maximising the usage of some amazing Terrence Malick-ian cinematography to cast a window into the soul that will likely be off-putting to some, based on its strong divisive reception already, but brilliant to others.
B+



Relic (2020; Natalie Erika James)

Unfortunately this takes too many notes from

Hereditary,

becoming increasingly less subtle as it goes on and doesn't go anywhere other than exactly where you'd expect it to go.

Relic

may have a strong start and a good, memorable final shot that feels incredibly bone-chilling, but it's not enough to salvage a messy and equally horrid middle act.

D




Farewell Amor (2020; Ekwa Msangi)

A tender and emotionally charged debut that feels utterly heartbreaking, looking at the struggle of an immigrant family in America who find themselves having to reconnect after a long time apart whilst their daughter peruses a dancing career that her parents aren't proud of initially, chasing her dreams over her a more sensible career. This would make a perfect double bill with

Miss Juneteenth

, which I watched last month – and like that film, its main strength shines in its intricate character study.

C+


I Am Samuel (2020; Peter Murimi)
A powerful documentary that portrays the life of a gay man in Kenya who balances his family duties with his hopes and dreams in a country where homosexuality is still, unfortunately, frowned upon. It's a brave telling of what it sets out to accomplish and although
I Am Samuel
doesn't quite add enough depth to the subject matter to succeed feeling rather light at times in terms of content (not story), even for 70 minutes it's still worth a watch
.
B
Mangrove (2020; Steve McQueen)
Is it a movie? Is it the first part of a TV series? BBC and Amazon aren't quite sure with their conflicting advertising promotion, but that doesn't make it any less brilliant – a powerful call to arms from the master, injecting a powerful courtroom drama that tells the story of the Mangrove 9, a little-known but important incident in UK history. Rousing and important – Mangrove pretty much demands audiences watch the rest of Small Axe when it arrives. A+
Kajillionaire (2020; Miranda July)
This took two watches to fully click with me not helped by some initial technical issues on the first watch, but the second one at the cinema left me falling in love with it. Although it tries a bit too hard in places and doesn't quite earn its
Shoplifters
comparisons,
Kajillionaire
is quirky, exciting and entertaining from start to finish, with Evan Rachel Wood and Gina Rodriguez both excelling in the lead roles.
B
+
Bloody Nose, Empty Pockets (2020; Turner Ross & Bill Ross IV)
With this screening starting waay too early for a film about pub regulars taking their last orders, Bloody Nose, Empty Pockets doesn't glamourise the lifestyle of barflies but neither does it criticise them. Those of you who have, like myself, worked in similar jobs to the ones depicted here, will find
Bloody Nose, Empty Pockets
instantly familiar. A fascinating experiment from the Ross Brothers.
C+
Shirley (2020; Josephine Decker)
It's rare that you get a biopic as creative, daring or risk taking as Josephine Decker's Shirley which confirms her auteur status on the back of the masterpiece Madeline's Madeline. Elizabeth Moss delivers the best performance of her career to date in the lead role, delivering a powerhouse of a performance as the horror author behind the original Haunting of Hill House novel. A subversive firecracker of a drama, Shirley pulls out all the stops to deliver a completely unique experience. A
Undine (2020; Christian Petzold)
Christian Petzold is one of the best directors currently working today and this magical urban realist fantasy updates the myth of Undine and mermaids to present day Berlin, in an attempt to give some mythology to the city and its lifestyle. Petzold delivered two of my favourite films of the 2010s, Phoenix and Transit, and now returns again with Paula Beer and Franz Rogowski for a romantic but never overly melodramatic tale that benefits greatly from the shared chemistry that the two actors have. The cinematography in this is impeccable, especially in the underwater set-pieces, and Undine succeeds in what it sets out to do, holding up really well on a rewatch when watched later in the month again at the Curzon Soho. A+
Supernova (2020; Harry MacQueen)
A tender and emotional road-trip drama that follows Stanley Tucci and Colin Firth on the road together in their RV visiting friends and family members. They're bickering from the start and their exchanges are always good to watch, with this film delivering a searing emotional impact on the audience by the end in a heartfelt, devastating way. B+
One Night in Miami… (2020; Regina King)
One Night in Miami...'s two hours didn't feel that long at all, it really sped by effortlessly. Regina King's direction shines and *that* cast is incredible. Between The Invisible Man, Clemency and this in an all-star of ensembles (both of actors and their characters) - Aldis Hodge is having a great year - and Kingsley Ben-Adir, Eli Goree & Leslie Odom Jr knock it out of the park. Its script does betray its origin on stage but it's incredibly captivating, feeling like a real actor's movie. A
Mogul Mowgli (2020; Bassam Tariq)
A personal passion project for Riz Ahmed and Bassam Tariq, Mogul Mowgli is one of the best British films of the year so far. Ahmed is completely compelling in the lead role as a rising star caught between his family and professional life, and this set-piece drama allows his voice to shine through for the audience to watch in a way that delivers a previously untold voice in a very impactful way. B+
Another Round (2020; Thomas Vinterberg)
Just another great Mads Mikkelsen/Thomas Vinterberg movie that I think I prefer to
The Hunt
. Between this and Bloody Nose, Empty Pockets showing so comparatively early I'm pretty sure LFF's main goal is to turn us all into alcoholics this year - but honestly, this was just a blast, and one of those movies where you just want to stick on and rewatch again as soon as it's over, quietly reflective and subversive at the same time in how it tackles alcohol addiction, hitting hard when it wants to especially in the final act.

A+
Rose: A Love Story (2020; Jennifer Sheridan)
Rose: A Love Story is a ponderous horror movie that is atmospheric and uses subtlety brilliantly but never establishes its own voice in the genre - but all the same, for what it lacks in originality it makes up in execution and I'd say on those grounds Jennifer Sheridan's debut is worth a watch, helped by the shared chemistry between Sophie Rundle and Matt Stokoe. C-
Stop Making Sense (1984; Jonathan Demme)
I watched this in preparation for American Utopia and had a great time with Stop Making Sense once again, but it shouldn't come as a surprise as I'm a massive Talking Heads fan. It's an all-time classic of a concert film that stands as one of my absolute favourite movies ever, with Jonathan Demme knocking it out of the park in his delivery as it works as a perfect showcase for just how talented Talking Heads frontman David Byrne really is. A+
David Byrne's American Utopia
(2020; Spike Lee)
One of the films that captures the concert experience perfectly and the closest I've come to a live performance since lockdown, experienced at the Prince Charles Cinema with a crowd full of Talking Heads fans. This was a fantastic dash of optimism that I absolutely needed, and full of great songs, performances and a passion that few other artists can rival, David Byrne's American Utopia proves that he's still this great. Few artists are lucky enough to have one all-time great concert film made about them, and now David Byrne has had two. As much as I loved Da 5 Bloods, David Byrne's American Utopia IS the film of the year. A
The Bird with the Crystal Plumage (1970; Dario Argento)
A masterpiece? Most definitely. Incredibly atmospheric, flat out insane Giallo horror at its finest that goes all out to deliver on the constant suspense and tension. I'll love anything with an Ennio Morricone score, but
The Bird with the Crystal Plumage
is fantastic in more ways than that, with the darkly lit-chase sequences set on the streets of Rome are instantly memorable and feel all the more real, and the horror at play in this film feels all the more believable because of it.

A+
Halloween II (1981; Rick Rosenthal)
This was... much better than I was expecting it to be? I was instantly surprised that it took me this long to get to the
Halloween
sequels having watched the original twice now. Granted, it doesn't do anything new with the genre and can feel like an imitation at times but there's some really memorable chase sequences in
Halloween II
, the atmosphere again is as excellent as the first one (helped by an all-time classic of a theme tune), and Jamie Lee Curtis knocks it out of the park once again as Laurie Strode.

B+
Halloweeen III: Season of the Witch (1982; Tommy Lee Wallace)
The first in the series without Michael Myers OR Laurie Strode, Season of the Witch made the bold decision of jettisoning the two iconic characters in favour of a new storyline in a new setting, and it... worked? The down-to-earth John Carpenter energy is present here in this movie with an entertaining conspiracy/mystery of a plot and an open ending that keeps it fresh and entertaining, and the film deals with its anti-capitalist and anti-corporate take on Halloween as a festival well, offering a break from the endless Michael Myers chase and repeat structure of the sequels. B+
Rebecca (2020; Ben Wheatley)
This feels like such an anti Ben-Wheatley film that you'd be wrong to expect it to come to the director at all, the adaption of Alfred Hitchcock's masterpiece (which isn't even Hitchcock's best film of 1940, to show you how good of a director he was), stars Lily James and Armie Hammer and makes the most out of impressive scenery and costumes, but can't get Armie Hammer to act well and Lily James can't save it on its own. The script lacks the heart or soul of the original and it also lacks the usual eccentricness that Wheatley brings to his films - it feels far too safe and I never got the same sense of dread and tension that the original executed so brilliantly. Hitchcock,
Rebecca
is not, but maybe it's one of those that I would have enjoyed more without being so invested in the original film as by all accounts that's seemed to happen with those who haven't seen it.
D
Halloween 4: The Return of Michael Myers (1988; Dwight H. Little)
Playing it as safe as possible after the risk-taking formula jettisoning of the third film, The Return of Michael Myers is a flat out disaster that's saved only by its suspenseful ending, it's a generic and incredibly lazy film that gets by on its tried and tested score that does a lot of the heavy lifting to the point where it can feel overused and loses its impact as a result. The characters' boxes are ticked with the thinnest of thin stereotypes, and everything that made Michael Myers scary once is completely lost in this film that feels completely flat. The only thing going for it is that the follow-up is somehow even worse. D
Halloween 5: The Revenge of Michael Myers (1989; Dominique Othenin-Girad)
Laughably awful and borderline unwatchable this film should have been the death of the franchise and killed any last respect that it had after The Return of Michael Myers, this film is just so terrible from start to finish that virtually nobody can offer up any meaningful defence of it and you'd be mad to even attempt to. F
Bruce Springsteen's Letter To You (2020; Thom Zimny)
Bruce Springsteen is getting older, but his magic as an artist still remains and this crowd-pleaser of a film is a perfect experience for fans who enjoyed Western Stars, it's less of a Springsteen-centric piece in favour of highlighting just how good the E-Street Band are, and the impressive black and white filmmaking adds an extra aura of coolness to it. It's effortlessly watchable and feels like a great hangout film - not really a concert film or a documentary, even less of a broad statement than Western Stars, but it was a great way to kill an afternoon for me. C+
On the Rocks (2020; Sofia Coppola)
Unfortunately, low-tier Sofia Coppola. Very safe in its storytelling approach as it opts for a familiar formula that goes exactly where you know it's going the moment the plot is introduced, but it's a light and breezy watch that doesn't require much overthinking. Bill Murray is fantastic as usual and Rashida Jones is great, the two make a perfect father-daughter pair in this film that still feels infectiously likeable despite all its flaws. C-
The Babysitter (2017; McG)
Possibly my favourite 'so bad it's good' watch of 2020. The film is terrible yet oddly enjoyable from start to finish - it's an 80s homage that plays out like
Home Alone
ramped up to eleven and gets its slasher movie tropes spot on. Samara Weaving is too good for these movies in the same way that Jennifer Lawrence was too good for the
X-Men
films, and for some reason Robbie Amell still keeps getting cast as teenagers despite being in his 30s(!), but it's Judah Lewis that keeps the whole thing together as the film knows its strengths and tropes and plays to them really well. It's fun, it's good to relax to and actually feels like a perfect turn-your-brain-off to enjoy movie that there hasn't been enough of this year.

C+
The Babysitter: Killer Queen (2020; McG)
Somehow worse but also somehow more enjoyable than its predecessor, Killer Queen moves away from Samara Weaving in favour of pairing Judah Lewis up with the fantastic Jenna Ortega for a similiar chase and repeat film that expands on its world and throws the protagonists into new situations that are different than before. Robbie Amell maintains that same chaotic energy, Bella Thorne remains consistently awful across the two films and the meta jokes don't always work, but as a sequel that doubles down on everything that was good about the first one it's hard not to like it. C+
The Craft (1996; Andrew Fleming)
The ending in this is awful and it's clearly not written by its target audience and that shows, but I had fun with it! The early sequences are fun and the story of a group of girls coming of age and learning their powers and experimenting with them is a welcome breather from the more high-stakes fantasy fare. Robin Tunney is good in the lead role and as a young adult movie it works, with the biggest surprise being ultimately that the film takes as long as it has done to get a remake as it feels like the perfect thing that the CW would have jumped at in 2009. C
An American Werewolf in London (1981; John Landis)
Werewolves haven't quite had their big vampire moment yet - but An American Werewolf in London is so good that it can't be topped. The monster transformations are fantastic and the POV shots are used so brilliantly they've spawned countless of imitations since. Letting a werewolf use in the middle of London's West End adds to about as much carnage as you'd expect, it's enjoyable and a glorious romp of a comedic horror that blends the perfect mix of scare factor and humour together that only a few directors like Edgar Wright have been able to replicate since. A
The Witches (1990; Nicolas Roeg)
This does not feel like a Nicholas Roeg film at all, in fact it feels more like a Jim Henson movie. This so-called family friendly film however is still terrifying and the creature effects are handled really well, with the horror elements benefiting this movie greatly whilst still maintaining a strong likeable factor to it that gets the most out of the kids not being hateable. C+
I never thought I'd be longing for the days of Juame Collet-Serra and The Commuter but this Liam Neeson crime thriller plays out like a James Patterson book, and one of those James Patterson books co-written by somebody else that he didn't even read before signing off on. This is exactly the same kind of standard Liam Neeson movie that you've come to expect from him, the kind that he's said he's left behind, and it feels incredibly bloated and workmanlike with no heart soul or surprise to it that lacks imagination and almost put me to sleep watching it. D
Pixie (2020; Barnaby Thompson)
Not even the energy of Olivia Cooke and Colm Meaney, or Alec Baldwin as a gun-toting Priest can save this film from feeling like a Quentin Tarantino or Guy Ritchie knockoff that doesn't capture the chaotic mayhem of either movie. It feels like a movie that tries so hard to have its poster end up on a student's dorm someday, and never really earns that - the big, scrambling cast never comes together, its two leads are bland and useless, and Cooke is trapped in the role of a manic pixie dream girl stereotype that she can't break away from. D
The Climb (2019; Michael Angelo Covino)
One of those pretentious arthouse movies that is tellingly directed, written by and starring the same person. The Climb reads as his apology for being a terrible friend, and the film feels incredibly self-indulgent without the usage of any likeable or enjoyable characters at all - sure, Kyle Marvin's Kyle is hard to hate, but the more he stays with his friend Mike, you can't help but hate him too for putting up with everything time and time again. The humour increasingly wore out its welcome (although I did like the Peaky Blinders joke), and the film being at its strongest in its opening act where it feels relatively fresh is no surprise as it quickly wears out its welcome. D-
The Secret Garden (2020; Marc Munden)
I made the decision to watch this at home rather than going to the cinemas to see it and I think I made the right call, it's a boring, unexciting family friendly film that will put its target audience to sleep and not do much for the adults either. The lead character is unlikeable and the film plays it safe at every turn - it is too heavily reliant on its montages to work and even Colin Firth knows that he's in a film that's not going to reach classic status any time soon, phoning it in in a safe, bland experience that doesn't take any risks. D-
Vampyr (1932; Carl Theodore Dreyer)
Carl Theodore Dreyer is one of my big cinematic blindspots as a director and I really liked this early take on the Vampire genre that was available on the BFI Player through Amazon Prime's Channel subscription. Short, creepy, unsettling and atmospheric, it makes the most out of a relatively weak storyline with a fantastic imagery and atmosphere that utilises the traditional structure of a vampire to great effect, subverting audiences' expectations in a way that Dreyer is so good at pulling off. I can't wait to watch more of the director's work.
A
.