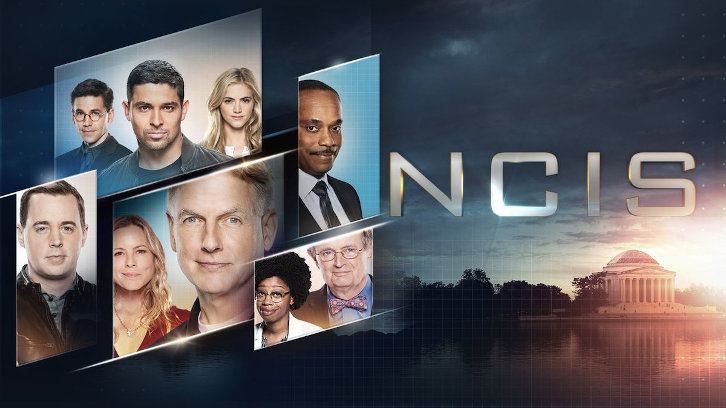 18.01 - "Sturgeon Season"
Written by Scott Williams
Directed by Michael Zinberg
Reviewed by KathM


Aaaaannndd we're back!
Previously on NCIS : Emily Fornell became addicted to what turned out to be counterfeit opioids and nearly lost her life. She recovered and headed to rehab, and when McGee gives Gibbs information about the people who may have been responsible for making and disturbing the drugs he tells McGee to give the information to the DEA. Fornell has "moved on", you see. He's not remotely interested in who developed and distributed the drugs that nearly killed his daughter. Right.

This episode was interesting if a bit disjointed. We're flashing backwards and forwards and I'm not sure it worked for the overall flow of the eopsode. We begin with a scene taking place in March 2020, where McGee is pursuing a corporate jet down a tarmac and, as he gets out of his car and approaches the plane to do whatever he's going to do (question someone, arrest someone maybe?), he is shot at repeatably by Sniper!Gibbs, who hits him twice in the leg and once in arm. I think this is a pretty obvious set-up, because even I could have killed McGee at the distance Gibbs was shooting from. And it has something to do with the drugs storyline based on the logo on the tail of the plane (we see how we know this at the end of the episode). Where in the storyline are they when this happems? No idea, but it looks like a potential ending. I guess we'll see.
We are then taken back to November 2019, during the "Musical Chairs" episode. Gibbs arrives late for the concert and sits down with Sloane sporting a black eye. He won't tell her where he got it, and this dovetails into the part of the story that Fornell hasn't quite "moved on" from. He wants to nail the dealers and the distributors who nearly killed his daughter, and he wants Gibbs to help him. Gibbs is ready to go, walking right out of the "Musical Chairs" case they're discussing in the bullpen and into the elevator. Emily has left rehab, he lies to Sloane, and he has to help Fornell. This is "not quite the truth" and "not quite a lie": Emily has left rehab because she'd finished, not because ran away as he implies. He makes a small joke about "sturgeon fishing" as his reason for leaving, but Sloane thinks it's all about Emily. Before Gibbs goes, however, he leaves his gun, badge, and wallet behind. Looks like he's doing a different kind of fishing entirely.
The scenes where Fornell and Gibbs are staking out the fake clinic where Emily got her drugs from is magic. It's fun to watch how comfortable they are with one another, sniping and chatting and quoting Butch Cassidy and the Sundance Kid. They have a long history, but very different from the history he had with Mike Franks. His relationship with Franks was based on the pain of his loss and the job; his history with Tobias is work-related in part, but also rooted in family because they shared an ex-wife and both adore Emily. As much as he loved Franks, I'm not sure Gibbs would have invited him up to the cabin. Tobias gets to go to the cabin.
Gibbs tries to keep things as "by the book" as he can so any case they make against the doctor who's prescribing the pills and ideally the makers and distributors will stick. Their goal initially is to wait until the doctor's "messenger" arrives, then tail him to see where he goes and hoping he leads them to a bigger fish (what with it being sturgeon season and all). But Tobias goes rogue and hit the clinic before Gibbs can catch him, posing as an old guy with a hip problem(believable) hoping nab the doctor as he prescribes a tainted dose. But his feelings for Emily seep out when he sees a girl about his daughter's age in the waiting room and become all stalkery and tries to find out why she's at the clinic and how he can help. He freaks out both the girl and the muscle-bound guard who seems to be running the reception desk. Gibbs arrives and pulls Tobias out of the clinic, claiming that Tobias is his "Uncle Ed" and that he has issues. Tobias decides to work with that and takes out his anger on Gibbs by hitting him, giving him the black eye he sports at the concert. Man, those sturgeon are unpredictable! Leaving after instructing Tobias to follow Gibbs's instructions ("Kid, the next time I say, 'Let's go someplace like Bolivia, let's go someplace like Bolivia!"), Fornell continues to observe the clinic while Gibbs heads back to meet Sloane at the concert. When Tobias sees the Messenger nearby this time he follows and eventually find him, all bloody and dead in his car in an alleyway. But when he calls Gibbs Fornell assures him that he's called the police, then grabs a key chain the Messenger had in his car and flees. He thinks it's a clue, and he's right: the logo on the key chain is the same one on the tail of the plane McGee is chasing in March 2020. "Check back with me in two weeks." Tobias tells Gibbs as he heads out, "Two weeks tops, that's all I need, and I promise everything's going to make sense." Even your horrifying hipster ponytail, Tobias? It all remains to be seen.
So because we almost always have two stories on NCIS, I had to watch the parts that I found sleep inducing. We're still in November 2019, and Jimmy finds that a body he'd brought in the night before is no longer in Autopsy. I can't remember the man's name, but he was obviously in the Navy or Marines, otherwise they wouldn't have brought him to the Navy Yard. The victim's location was called in by "Ronnie from the night shift" Perry, a very competent agent who tries to help Jimmy figure out where the body went. By the time Jimmy gets to the concert at the end of "Musical Chairs" he still hasn't found it, and after he tells Gibbs he walks toward his clunky old minivan, which explodes. Fortunately Jimmy is okay, and that is really all I care about in the secondary story.
The rest of the episode is about finding out that Ronnie stole the corpse so she could save her daughter, who had been kidnapped by the neighbor who killed the victim and wants his right hand as ransom. Which means some kind of safe that needs a hand print to open. Nobody seemed to think of that, despite the fact that the victim was a huge conspiracy theorist who had built a bunker under his driveway and withdrew every cent he had and it can't be traced. My dog knew that, BTW. So we had to sit through Jimmy providing Ronnie with a spare hand (it's like a garage sometimes, Autopsy. Spare parts galore!) so they can give the kidnapper what he wants, then follow him to Jasmine. But it all went horribly wrong and the kidnapper ran and Torres chased him and the kidnapper ran into the street and got hit by a van. Which happens entirely too much on television overall. They try to think of where Jasmine could be, eventually finding her in the well-stocked bunker under the victim's RV. She is fine and they find the vault in the bunker, too. So, case closed. Yawn.
The story was one that should have been the longer part of an episode. Cramming it together like they did and putting all of the pieces together in such short order made it completely uninteresting to me. There were a lot of places it could have gone, instead it was a rather lengthy tale told in about 15 minutes. Bad call, writers.

And now on to Ronnie, who it appears will not suffer any consequences for stealing the victim from Autopsy. There have been some rumors going around that she may take on a more permanent role on the team, and personally I hope that doesn't happen. I found the actress's performance very wooden and would be fine never seeing her again. However., I don't think that will be an option because now we know too much about her character for them to simply toss her aside. First and foremost: she is the widow of Vance's godson, so she is already involved with a major NCIS character who hasn't had a lot story-wise going on in a while. She's already an agent, and seems well-liked by the people who work with her (Jimmy and Kasie know and like her, so that's another point in her favor). And Gibbs has heard about her and tells Leon that's he fine if he moves Ronnie to days. Which, well, if Gibbs gives his blessing...oh, and she has a Tween daughter, Jasmine, who can fill the "kid when we need one" mini storylines.
I am 100% for new characters to bring fresh air into a long-running show, but I don't see Ronnie as an asset. Maybe if I have a chance to see her again in a longer story and she has more to do besides act worried and somewhat hysterical, I may like her better.
Altogether I missed my NCIS, but was disappointed by the way the shorter story interrupted the primary one. I would like to have seen more of Gibbs and Fornell OR have the secondary story be a primary story because I think there was a lot more story there than they used.
See you next week!