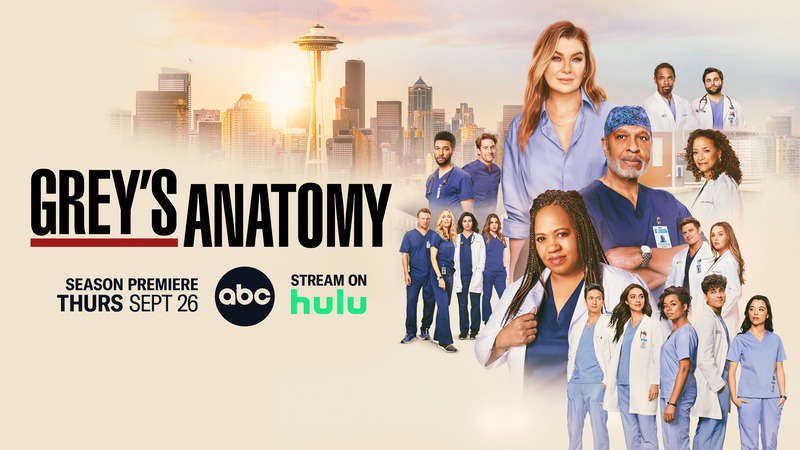 After last week`s breathtaking finale, Grey`s Anatomy returned this week with a heavy and emotional episode. Grey`s once again combined the hardship of real-life and the even harsher truth about life with Covid 19. The episode was directed by Grey`s very own Kevin McKidd and written by Meg Marinis.
4 days have passed since Mer passed away at the Parking lot and was doing pretty well since then. So well she insisted to be discharged into Hotel Quarantine. Things took a turn for the worse as she once again collapsed in her Room. The not so promising CT pics made the whole Hospital worry about Mer`s well being, so much that they´ve looked into her health directive. Alex was still the one in charge of what is going to happen to Mer in case she wasn`t able to decide and Mer had to choose someone more local. After being insecure about who to choose and postponing the decision for as long as possible Mer made her pick. Richard was the obvious choice, he was the real father figure in her life and the one whose life is somehow stable and settled. The moment between them was so pure. That little glimmer in Mer`s eyes full of love and gratitude towards Richard just made me gasp a little bit. I`m growing more and more fond of the possible relationship between Hayes and Meredith. The way they are building up their connection and make it feel profound in comparison with Mer`s liaison with DeLuca. Yes, MerLuca had its moments and had an interesting sizzle to it but Cormac sees Mer differently, he sees the woman behind the mother and surgeon, he sees the pain she covers with her fierce and bossy attitude. Throughout the episode Mer struggled with letting go, she saw how Covid works and how fast it can take a life.
But that allowed Mer to "daydream" about her McDreamy. I expected a bit more from the scenes between Mer and Derek but guess that I have to be a bit more patient for a big moment. The "Hereafter" where they met didn`t let the reunite as she wasn`t ready. It is unbelievable how they are still able to spark so much chemistry while being worlds apart. The way Ellen and Patrick`s faces lit up as they interacted made my heart melt. MerDer wasn`t a perfect couple but the road they`ve taken over 200 episodes had so much depth and love that it will forever have a special place in my heart. The only real message Derek could get to Mer was that the Sand isn`t real. Trying to suggest this wasn`t really, just an imagination of her mind, that the mushy feeling warm sand gives us isn`t real. He isn`t real.
After a minimalistic time in the season premiere, Kerry McCreary`s Maggie got a bit more screen time this week. Maggie was on the forefront of the fight against Covid and it took a turn on her little optimistic soul. Losing patients is one of the worst feelings you can experience and lose patients in a row must be just terrifying. Using Maggie for this story was a good choice. Maggie is a cutthroat surgeon with a soul out of candy. She isn`t used to failure in her perfect little life, so getting this beatdown is something new to her and the emotional toll it took on her didn`t let her take a breath. On top of that, Meredith`s deteriorating health was waving down on her as well. Teddy got the bad end out of all these piled up negative emotions. Yet, Teddy successfully calmed Maggie down and gave her some security telling her she got Mer. Think there will be some more drama unfolding.
On the non-Covid side of SGMH, Jo and Bailey faced an impressive case. An abdominal pregnancy with the Fetus attached to her liver. The little Luna successfully survived the surgery, while Miranda and Jo had to take out Val`s liver putting another nail in Val`s dark life. After an eight-year-old marriage filled with miscarriages failed, life gave Val a glimmer of hope by introducing Luna into her life. Miranda already mentioned that it will be tough to get a liver during Covid times and an interesting journey seems to be upon us. Definitely enjoyed Mackenzie Marsh as Val and am looking forward to seeing the story unfold.
A new bunch of Interns arrived at SGMH and if you asked me if I know the actors, I`ve got no clue. With the masks on they were even more forgettable than usual. Mama Ortiz dough left a sort of remembering/lasting impression. Her face to face with Tom made me like her quite a bit. Tom struggled with pulling the interns through their education so that he let them into Richard`s care quite fast. But struggling with the interns wasn`t the biggest blow Tom this episode, his "BFF" Owen let him know that he is Covid positive. This makes me think Tom might be on the receiving end of Covid and might not survive this fight. Krista announced that someone was supposed to die at the end of season 16.
Linc returned to work for a case he handled with Avery and Tarn. The sex therapist with the damaged hand had really good advice for our surgeons. Open communication and intimacy was the most important thing you could give your partner in these challenging times. Listen to them and make them feel heard. This resulted into a very sweet moment between my currently favorite Grey`s couple, Amelia and Linc. Losing yourself in these challenging times with the feeling of inability to help, do anything is a feeling very well known to me. I really reflected in Amelia`s words and Catherine`s performance was spot on. I was glad she and Linc could connect and release bit of the stress.
That`s a wrap guys. What are your thoughts on "My Happy Ending"? Is Grey`s tackling Covid too hard or not hard enough? Share your thoughts in the comment section below. We`ll read each other after Thanksgiving again when Grey`s returns with another return as the promo promised.