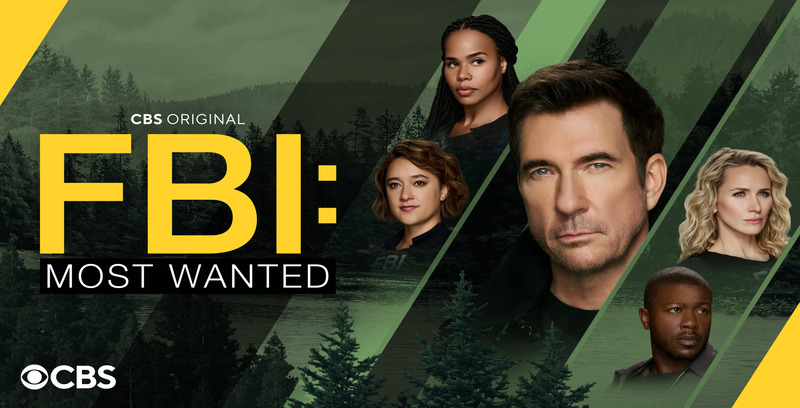 With the Season 2 premiere of FBI: Most Wanted tonight, let's do a recap of the show's Season 1 finale.

The episode effectively starts up as a pretty lady strikes up a conversation with Jess while he's waiting for his take out order. She's casually flirting and Jess seems oblivious (or consciously ignorant). So much so in fact that Tali is the one who has to point it out to him. Before he has a time to expertly evade any further questioning from his very insightful, invested and caring daughter, the call comes in and another case puts our team on the prowl.

The Fugitive of the Week is a twofer: a father-son bank robber duo. We see them escaping earlier in the episode's teaser, as they're being transferred to prison leaving the two guards of the transpo dead in their wake.

The Dad, Blake, is a hardened criminal recently out of prison, while the son, Stevie was floundering a bit to find his way. Jess deducts he was probably an "easy target" for Dad to exploit as an accomplice. The undertones of his own issues and baggae with his own father are loud and clear here. As the team dig deeper in search for connections and clues they focus on one of Dad's pen pals from prison, a young woman named Jeri who is revealed is indeed helping them to hide out. The team track our fugitives to Jeri's place of work, a catering company, where they find yet another stack of dead bodies.

As the death toll goes up there's some tension building between Blake and Stevie, while Jeri tries her best to keep everyone calm, even inviting her friend Bethany along to keep Stevie company. Things do not go as planned as the intrusion of the new arrival to the party puts Blake even more on edge, which ends up with him lashing out at Jeri and her friend talking dirt to Stevie about his dad.

The team do some more digging and deduct our fugitives are hiding in a fishing cabin. Alas they arrive too late. They just missed them... but they find Bethany's poorly concealed dead body. The sloppiness of the cover up makes Jess realise he's profiled the situation wrong.

Looking back at the case it now becomes clear that Stevie is the one on the killing spree, not Blake and that's what's causing the tension. Jess thinks that's maybe something they can exploit. After it is revealed that things have gotten so bad Blake is willing to even leave Stevie behind, it looks that the team might be on the right track with that.

Another sloppy bank job brings the team closer to our criminals, because Jeri's commitment seems to be floundering. They entrap her using Bethany's social media to get in touch which works. Jeri buckles pretty easily under the pressure of questioning and her intel helps the team to track down Blake and Stevie's next target.

The team interfere before the our fugitives have time to escape this time and the bank job turns into a hostage situation. Jess uses the tension between father and son and mainly Blake's survival instincts to get closer to Stevie and reveal Blake's plan get rid of him. This aggravates Stevie enough to lash out one more time, this time towards his father, who he shoots. Jess manages to connect to him and talk him down, at the very least sparing the kid from committing patricide.
The episode's closing scene find Jess and Clint in a bar having one of their patented brother-to-brother moment. Jess beats himself up for projecting his own issues onto the case. Clint lets him off the hook, reassuring him they're all human and in the end he still got the job done.
Clint leaves, and the episode bows out in a parallel moment with the beginning (also edged on by Clint earlier in the episode during some downtime) Jess makes an effort to "put himself out there and strikes up a sweet and innocently flirty conversation with a waitress clocking out.
One of the episodes strongest points was the misdirect, or more accurately Jess' original misreading of the situation because of how he identified with Stevie. It was a refreshing approach which allowed the case, story and character moments to unfold in a very interesting way. For all his composure and experience it was nice to see such a put together professional like Jess mess up in such a human way. It grounded him and made him even more relatable than usual. And for a character that had been fairly grounded and relatable all season that's saying something. By allowing our team's leader trauma come to the surface was a humanizing factor that was well needed, even if the audience wasn't aware it was until the moment came.
Even if the episode wasn't exactly the show's intended season finale, getting to delve into Jess, both on the "moving on" aspect as well as his backstory was a great way to cap of S1. He is the show's heart and soul and I'm looking forward for S2 to expand more on all those things that make him such an engaging character.
Tune in tonight for the S2 launch of FBI: Most Wanted, and lets see if that will indeed be the case!