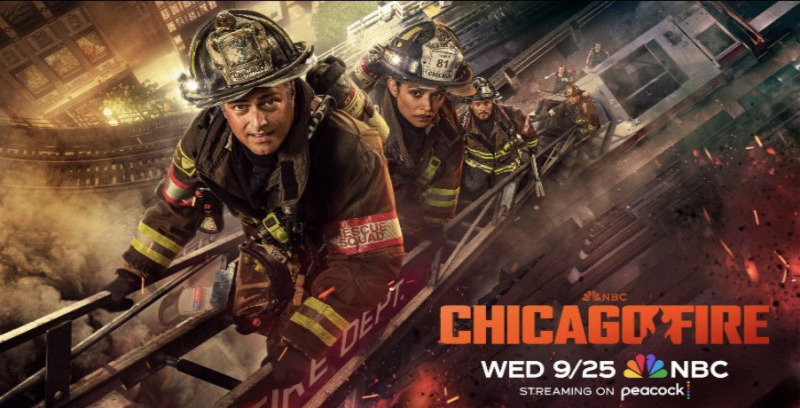 Chicago Fire is finally coming back to us this coming Wednesday and I could not be more excited to get back to 51 again! The world has been through A LOT since the last episode aired, so I for one am really excited to have the show back and give us a small infusion of normalcy. But first it is important to recap where we left off with episode 8x20 titled '51's Original Bell'

Abbreviated Season Finale:
We ended season 8 on a very quiet note with a 'finale' that was surely meant as filler to ramp up to the finale, but it did move some stories along. So to jog that memory, here is what happened. 51 responded to a call at a scrap yard where a chemical leak of chlorine gas filled the air. As Severide and Capp investigated, two chemicals mixed together and the explosion injured Capp's eyes. As the episode progressed it became obvious that Capp was not okay and had bailed on treatment after Will Halstead from
MED
advised he stay in the hospital for 24 hours for observation. In true 51 fashion, they showed up for their own and Casey and Severide got through to Capp when it came to getting treatment for his eyes. He ended the episode being cleared and ready to return to 51 in a few weeks time. Oh and that scrap yard? Severide once again smelled a rat and got it shut down for illegally storing dangerous chemicals.
Elsewhere, Stella was full steam ahead with
Girls on Fire
and was having a great turn out for the future female leadership of the CFD. One girl, Kylie, really exceled and showed a lot of interest in learning which pleased Stella. But when her next class came, Kylie was nowhere to be found. We end that storyline with Stella calling Kylie after a little nudge from Severide but the call went to voicemail.... hopefully they'll resolve this one early on in S9 if they are able. The show is also setting the stage for Stella to take on more leadership roles in the firehouse in season 9 and I am HERE FOR IT!
Finally, I am sure most of you have heard that the lovely
Annie Ilonzeh
will not be returning to
Chicago Fire
for season 9 as Emily Foster. The final episode of S8 did plant the seed for an out with Foster interviewing with Northwesteran, so they can easily say she got in and moved on. I just wish we could see a proper send off for a character that really fit in well at 51. This also opens up more loss for Brett who once again is losing a friend, roommate and partner. These things most likely explained her reaction when she found out Foster was pursuing medicine from Will and not Foster. It is another person walking away from Brett as we saw Julie's husband, Scott, break the news that he and Brett's baby sister
Amelia
would be returning to Rockford becuase they simply can't afford to stay in Chicago after Julie sadly passed away. So who is going to be Brett's person? I can think of one person.... but more on that in a few.
So that is the gist of what happened in the last episode, now let's look ahead at where things stand for our heroes as we move into another trip with 51.
Shipping Forcast
Stella and Severide had a relatively drama-free season 8 with them showing up to support eachother at every turn and finally cohabitating again. But, writers on shows seem to think solid couples make for boring TV, so I sense drama ahead. Stella wants to further her career after some nudging from Boden, and the obivous next step would be testing for liutenant. Could her ambition cause strife in her relationship? I really hope not! Severide has always supported Stella and never treated her with kid gloves while on a call. Then there is the obvious next step of an engagement which terrifies me even more given this entire this franchise's track record with main characters and getting down that aisle. Whatver happens with
Stellaride,
I hope they grow them together and not apart. Now onto another hot button issue of whether a certain Captain and a certain PIC should finally pull the trigger on their oh so slow burn.
New York Times,
but how long should someone deny their feelings to honor the ghosts of their pasts that left them behind? I think the show has put enough distance between the breakup of Dawsey (yes, I know what happened in
Best Friend Magic,
but neither party was willing to budge on leaving for the other, so let's say that was a farewell evening), and for sure has with the breakup of Brettonio. These two characters deserve some happy and I firmly believe they can find that in eachother. Casey was with Brett all the way as she navigated the Julie situation. I think their trepedation to really be close is grown from the past, but sometimes you have to take that leap. No matter where this falls, I hope these two continue to be there for eachother... and maybe be roommates because Brett can't afford that place now that Cruz is married and Foster has moved on. Feel free to debate this topic below, but keep it respectful please.
The Supporting Players
Ritter and Gallo are my favorite new duo on this show. I have said in the past that I think they are a young Sev and Casey in the making and with
Daniel Kyri
being made a regular for S9, I expect that dynamic to continue to get more awesome. The two young guns have a lot of potential and I hope for more fleshing out of both!
Herrmann, Cruz and Mouch continue to be the steady hands of this show. Now they are three ole' married guys who will sit at the bar and lament about the old ball and chains and honestly, I love that journey for them. Sometimes a show needs characters who you just know can add comfort and steadiness to the story and that is why I love them.
New Kid On The Block
With Foster moving on, Brett once again has a new partner. On Wednesday, we will finally meet new series regular
Adriyan Rae's
character
Gianna Mackey
. I am excited to once again see new blood come in and add to 51. Her dynamic with Brett will be the most crucial element, so I hope they hit it off quickly. Her description per
Deadline
when she was cast was
'a lovable troublemaker with a twinkle in her eye',
so that already sounds like she is spunky. Here is hoping Mackey becomes family and accepted into the 51 fold.
Well that is it for me! Tune in on Wednesday, November 11th for season 9. Hit the comments below on your hopes for this season as well!