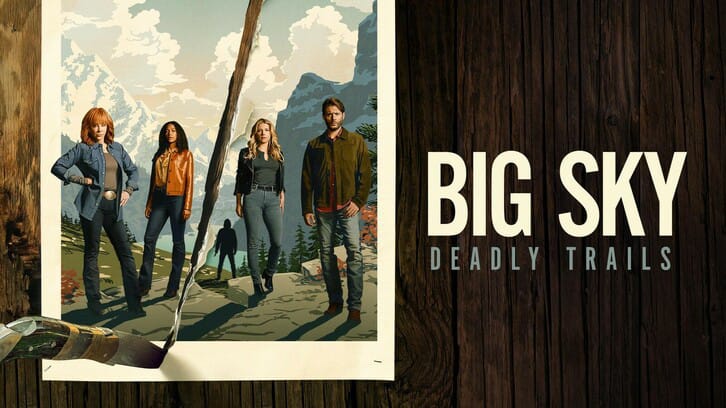 Based on "The Highway" book series by C.J. Box, Big Sky comes from the mind of David E. Kelly (creator of Big Little Lies), and tells the story of a remote area in Montana where beautiful landscapes hide terrible secrets. When a couple of teenagers goes missing, a team of privates detectives close to the case decide to find out what happened.

The show premiered on ABC last Tuesday and set up elements of its plot while presenting to the viewers a series of characters that all have to deal with their own share of problems. The interesting thing about this pilot though is that it misleads the viewers into thinking it's going in a certain direction before offering a twist that reshuffles our expectations.
On the surface,
Big Sky
seems to be your typical ABC drama. Some of the first characters we meet are Jenny Hoyt (
Katheryn Winnick
) and Cassie Dewll (
Kylie Bunbury
), and it turns out that Cassie has been sleeping with Cody (
Ryan Phillippe
), Jenny's husband from whom she is seperated. Can somebody say "DRAMA"? On top of that we meet Ronald Pergman (
Brian Geraghty
), a truck driver who lives with his controlling and disapproving mother Helen (
Valerie Mahaffey
). More drama. Then there is Grace (
Jade Pettyjohn
) and Danielle (
Natalie Alyn Lind
), two teenage girls who are en route to Montana to spend time with Justin (
Gage Marsh
), Jenny and Cody Hoyt's son and Danielle's boyfriend. Finally, we also meet Highway Trooper Rick Legarski (
John Carroll Lynch
), a man who from his very first scene appears to have an awkward way to have social interactions and likes sex analogies.
Based on all these initial encounters, the viewers starts piecing together elements of the story and have expectations: Ronald is obviously up to no good so when he kidnaps a hooker at a truck stop it doesn't come as a surprise. When Jenny and Cassie fight over Cody in a bar, it is not only unsurprising but also a bit cliché. And when Danielle gets angry at a truck driver for cutting her off on the road, it does not come as a surprise that this driver is Ronald and that things are quickly going to go south for the girls. But here is the thing with
Big Sky
: it plays on the obvious to better come up with its twist.
The amount of time spent with the sisters in this pilot leads us to think their characters are going to stick around for a little while, and Ronald will not kill them just yet. Since we know who's got the girls, it seems that the show might be more about saving them from their captors than anything else, à la
Silence of the Lambs
. This pilot presents a lot of characters who are troubled, whether in their personal lives or psychologically, and raises questions that become more and more interesting as the episode comes to an end. Who is Ronald and is he linked to this shady church that Cody starts looking into when he finds out several females have been disappearing in the area? What is going on with Trooper Legarski?
What starts off as your typical network drama sees its direction veer drastically when Legarski shoots Cody in the head right as the viewers was thinking these two were going to buddy up to solve this missing girls' case. Legarski did give off an odd vibe when we first met him, but not to the point that we saw coming the fact that he was on the wrong side of the law here. In the same way, killing off someone who seemed to be a central character right off the bat also comes as a surprise and changes the dynamic of the show. It's no longer going to deal with an overused love triangle amongst detectives who work together and the drama that comes with it, it's going to be about Jenny and Cassie teaming up to not only save the sisters but also avenge Cody. And that makes for a much more interesting show.
Just like the Montana area where it takes place, Big Sky wants you to know that things are not what they seem to be here. It's not as plain as it appears, and it still has tricks up its sleeve to surprise you. The only question now is how will it hold the viewers interest throughout the rest of the season. One can only wait and see.
What did you think of Big Sky's pilot?