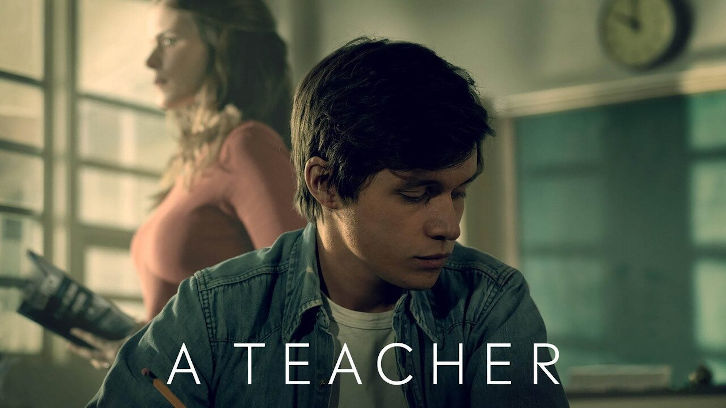 A Teacher drew my attention not for the plot, but because of the cast, which includes two talented leads in Kate Mara and Nick Robinson. The plot seemed as though it would be simple enough, a rebuke and condemnation of adults that prey on children. Instead it seems that A Teacher has decided to give this criminal relationship the slow burn treatment. Not a very slow burn considering all five episodes come in at under 30 minutes. It's a strange choice. It's a rare thing to see television explore sexual assault where the victim is a boy and the assailant a woman, so the decsion to even attempt to romanticize the relationship between Claire (Mara) and Eric (Robinson) feels like a wasted opportunity.
Claire Wilson has just started a new job. She's a high school English teacher. On the surface, everything seems normal until she shoplifts lipstick while grocery shopping. We get it. She's bored. She's restless. She needs a thrill. I'm sure we're supposed to connect the dots. We're supposed to know that her shoplifting is caused by some deep-seated dissatisfaction. Possibly her home life. Shortly after she meticulously applies her stolen lipstick, we get a glimpse into that home life. She's trying to have a baby, but honestly neither she nor her husband seem enthusiastic about the prospect. Baby making will have to wait because her husband is leaving for a business trip and packing is a priority.
The state of their relationship is encapsulated in two moments. A simple exchange, early in the episode, about her day. He wants to know about her new job and colleagues. It makes sense, but all she wants to talk about is stealing the lipstick. He thinks it's a strange thing. Same. The second moment comes near the episode's end when he refuses to kiss his wife because he's sweaty from a run. She's willing, but he is not.
On the first day of school, we meet Eric (Robinson) as he whispers with another student about the new Dylan Thomas reading AP English teacher, Claire. She starts with Thomas' "Do not go gentle into that good night" because she loves the idea of fighting inevitability. In this moment, it's hard to believe Claire actually loves Dylan Thomas considering the almost affectless reading. She could have been reading a word problem or fun facts off the back of a cereal box. It was an odd choice for a character we know loves a rush.
Back to Eric . . . He's a soccer player hoping to make captain his senior year. He's also hoping to apply for a scholarship geared toward high school students interested in pursuing majors and careers in the medical field. As he talks to the soccer coach or athletic director, we discover that Eric's SAT scores aren't where they need to be to apply for the scholarship. And here we have what will begin the inevitable collision between Eric and Claire.
Did I mention that Eric's friends are disgusting? There is no nuance to them. They are teenage boys with their privilege and lack of respect for women showing. We know Eric is better than his friends because when one of them insults a girl that cares about climate change by suggesting she "go to Canada" he becomes a silently disagreeing bystander. Robinson conveys Eric's disagreement and disappointment well enough, but I don't think the moment does what the writers or director thought it would do. It does not ingratiate Eric to the audience. And trust me, I get it, we have socioeconomic privilege at play. Eric's friends have employees that make them sandwiches, marble islands, and suffer from confusion over Eric's lack of a car even though he works at a diner. But the company we keep speaks volumes.
At the episode's turning point, it parallels Claire and Eric. Claire drinks wine and eats a frozen dinner alone while Eric gets high with his toxic friends before succumbing to the marijuana munchies. Eric and Claire collide at the diner when his hot for teacher friend saunters up to her. She invites the boys to join her, and they accept the invitation. Eric's friends eventually abandon him, and he's left alone with Claire. They bond over her alma mater, the University of Texas. Surprise! It's Eric's dream school.
His eyes light up at the very mention of UT and Austin. But those pesky SAT scores. Claire tells him that he's smart and conquering the SAT's is about figuring out the rules. Eric suggests she tutor him. The smile on his face tells us she went from the teacher that gives too much work to the coolest, best teacher ever. He's smitten and the way she stares at him tells us that the shoplifting rush is back.
Abandoned by his friends, Eric needs a ride. On the drive to Eric's house we learn that Claire's brother is a police officer. A throwaway line or something we'll revisit later? Some sexy, cool music plays—"Thinkin Bout You" by Frank Ocean—filling the awkward silence. They smile as Ocean's voice fills the car's cabin. When they arrive at Eric's house, he delivers a husky "thanks for the ride" before exiting, but I can't tell if it's a character choice or just Robinson's voice. I'm going with the later because I can't handle contemplating the former. Why are we setting this up like a teen romcom with shy bashful looks and giddy excitement at what might come next? Another questionable choice.
Later, the camera lingers on a picture of Claire and her husband. Her heavy breathing is the only noise. Panning to the bed we see Claire indulging in a little self pleasure. There she is with her hand in her underwear while Eric lies beside her. He starts to kiss her after she says he shouldn't be there. This is obviously a fantasy sequence. One that is unsettling and disturbing. Claire's husband wakes her from sleep, so she begs, cajoles, and convinces to indulge her in what amounts to maybe 90 seconds of perfunctory sex.
The next morning, Claire leaves home telling her husband that she's meeting a new teacher friend for brunch. Guess what? She goes to meet Eric at the diner for their first study session. With no space between the two, the episode ends.
The episode was a long 25 minutes. I expected more character development or at least an attempt to make the characters feel interesting or relatable, but truthfully, I was bored. By the episode's end I was no more invested in Claire and/or Eric than I was at the beginning. When you have what amounts to a little over two hours to tell a story, build characters, and engage your audience you better have a quick start out of the gate. Instead the entire episode felt like the personification of a Lana del Ray song or sitting on the bottom of a pool, languid and hazy. Mara and Robinson are talented and usually interesting to watch, so we'll see what the next episode brings.
Given the content of the show, the sexual assault and grooming of a child at the hands of an adult, the episode ends by offering help to those in need—www.a-teacher-resources.com
What did you think? Was it what you expected? Will you keep watching?