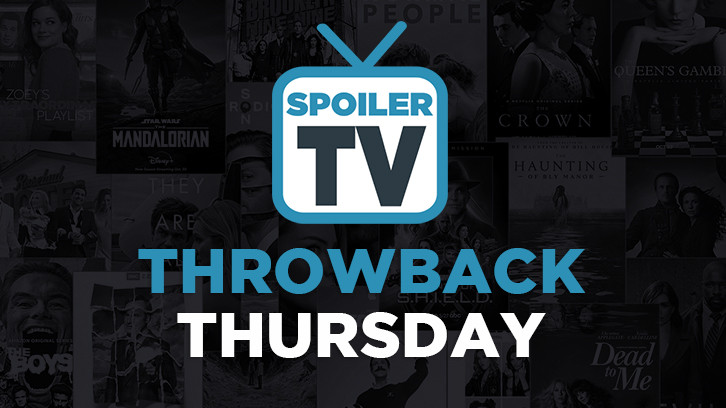 Throwback Thursday is a weekly article in which we look back at our favorite TV episodes from the past.
As the reviewer of record for MTV/VH1's "Scream" series (and who else is super pumped for the new film!), I wanted to tackle something in the same genre for this Throwback Thursday write-up. So I decided to check out a show I was recommended several times in my years at SpoilerTV, the 2016-2019 horror anthology "Slasher." Specifically, I chose the opener of the "Guilty Party" season, "Six Feet Under."
Why this episode? Well for starters, I'd heard anecdotally that the second and third seasons – distributed by Netflix versus Canadian network Super Channel and the now defunct Chiller – were the better installments. And reading the basic premise of both, I was intrigued by "Guilty Party" inverting standard slasher tropes by setting its story in the dead of winter versus summertime. Plus, the killer in this season wears a parka, just like in one of my favorite guilty pleasures, "Urban Legend."
"Six Feet Under" begins with a flashback to a group of camp counselors doing what camp counselors in slasher scenarios do best – heading into an off-limits part of the woods to drink, smoke, and party. But it turns out the outing is actually an opportunity to ambush one of their own, Talvinder (Melinda Shankar, "Degrassi: The Next Generation"), and call her out for being a "nasty bitch." The exact circumstances of what happens next unfold as the episode, nay the season, progresses, but it's no spoiler to say that Talvinder doesn't survive the night.
Five years later, the other counselors – awkward Andi (Rebecca Liddiard, "Alias Grace"), rich bitch Dawn (Paula Brancati, "Being Erica"), geeky Noah (Jim Watson, "Designated Survivor"), natural leader Peter (Lovell Adams-Gray, "Power Book II: Ghost"), and snotty Susan (Kaitlyn Leeb, "Shadowhunters") – are all clearly struggling to cope with their guilt, some better than others. They are forced to reunite when the land the now-closed camp sits on is sold to a developer planning to build a luxury resort, which could unearth Talvinder's remains. Pretending that they're having a nostalgic get-together, the group heads into the snowy wilderness to bunk at "We Live As One" – a hippy-dippy commune now occupying the old lodge – while planning to sneak off and dispose of the body. But when they make it to Talvinder's makeshift grave, it's gone.
"Someone knows," Andi later frets to Peter, "and they're gonna make us pay." And how right she is! The killer, clad in a rust-colored parka, kicks things off by gruesomely gutting a local outfitter with a chainsaw. And before the episode ends, one of the counselors is attacked in the woods and turned into a bloody snow angel.
Overall, "Six Feet Under" was a pretty strong start to "Guilty Party," which I ended up watching in full. Should you do the same? I'm a little mixed on it, to be honest. Positives first, as I mentioned, the winter setting of this season really appealed to me and the show delivered on that front. The cinematography, the locations, the score, they all skillfully captured how cold, how isolated, these campgrounds were a place to be trapped. Also, the episodes had "Lost"-style flashbacks focusing on a specific character and I found the ones involving the camp counselors – fleshing out their personalities and relationships, and examining and reexamining the events leading up to and on that fateful night five years ago – compelling. And having two distinct groups in the counselors and the commune members led to some interesting tension as their numbers started getting picked off.
On the flip side, the episodes exploring the backgrounds of the commune members were less interesting as they were both muddled and had nothing really to do with the main mystery (I was particularly bummed that the show didn't tie in more that one of them inherited the land from her parents after the camp went belly up following Talvinder's disappearance). The middle section spends too much time on a (rapey) red herring. And there was an eye-rolling twist in the back stretch that became blatant long before it was revealed on-screen.
Now that I've buried you in my thoughts on "Six Feet Under," it's your turn to share in the comments section. If you've never seen it before, did this Throwback Thursday review inspire you to slice into "Slasher?" And if you have, do you agree with my assessment of this episode and/or "Guilty Party" as a whole, and which season would you recommend to a new viewer?