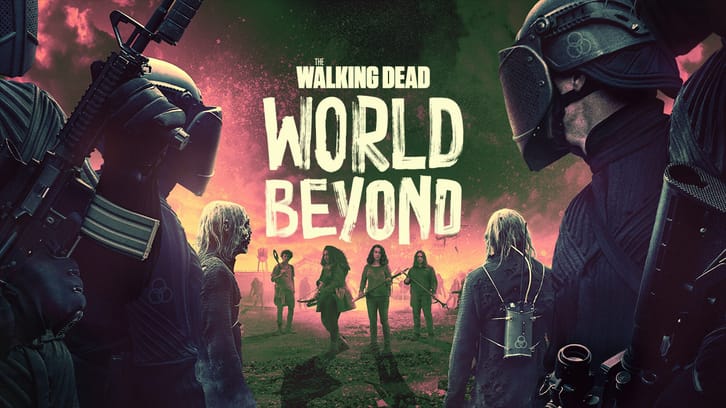 The newest horse in The Walking Dead stable premiered this week right after we finally got the finale of The Walking Dead. The first episode of The Walking Dead: World Beyond, "Brave," was written by Scott M Gimple and Matthew Negrete – showrunner/universe?runner and long-time writer. There's no doubt that both are steeped in the universe. The episode was directed by Magnus Martens, whose credits include Fear the Walking Dead, Agents of S.H.I.E.L.D., 12 Monkeys, and Banshee, so no stranger to horror and science fiction – and effects and action. You will, no doubt, have noticed that I don't review Fear the Walking Dead and that show never captured me because the cast fell utterly flat with me. Of course, actors have since joined the show who have almost made me want to watch…
But I'm here to talk about World Beyond. The acting was fine, but I'm not sure that I really want to watch a coming of age, teens-on-the-run show. I feel like I've been jetted over to the CW. The music didn't help on that "score." The title "Brave," which was hammered home by almost every character throughout the episode, just felt a bit too earnest for me. The conceit that these were kids who didn't know anything other than a world with "empties" seemed to take away from the sense of danger for me. Yes, they have a gigantic cemetery with a lot of sticks instead of headstones, but they all seem pretty blasé about the empties – they're studying their migration patterns! Clearly, the big bad here and the real danger is this Civic Republic. And of course, by the end of the episode we discover just how bad they are – why have they slaughtered everyone in the Campus Colony? And by the end of the episode, I suppose we can also consider that the kids safety net has also been ripped away – they no longer have a safe haven to go back to. And do no children have parents left?
Speaking of parents, the number of coincidences in those flashbacks was just a bit too far for me too. I mean they stumble on the triceratops horn he was bringing to his unborn sister? The sisters have never spoken about the night their mother died. Iris (Aliya Royale) is consumed with guilt over their mother's death. Apparently, Elton's (Nicolas Cantu) mother killed her only to then be killed by Hope (Alexa Mansour) who has been turned into the "troubled," "tough," "bad-girl" sister. And Hope? Really? In point of fact, I felt like each of the characters was checking a box. Felix (Nico Tortorella), the LGBQT guardian, the good girl, the bad girl, the nerdy kid, the mysterious kid – Silas (Hal Cumpston) – who will either turn out to be completely misunderstood or a psycho…
I know I'm being a bit harsh, so let me say a few words about what I did like. Royale delivers a terrific performance. While I found Mansour's character annoying, she also delivered a solid performance. Cantu is already my favorite character – but he does get the best lines. And I was really, really happy when he explained what was up with that crazy corduroy suit!
Julia Ormond as Lt Colonel Elizabeth Kublek of the CRM delivers a solid performance, but it's difficult to decide what we're actually supposed to think about her. The conversation she has with the sisters seems to be heartfelt enough – and she's glad that they aren't among the dead, but then, she just slaughtered her hosts. It really seems to make absolutely no sense whatsoever. The Campus Colony would seem to be a peaceful non-threatening brain trust – unless the CRM is actually protecting some force that engineered the virus in the first place? The whole thing seems like a gigantic plot hole.
What did you think of this first episode? Are you a die-hard Walking Dead fan? Do you watch the other two series? Did you tune in for a particular actor? Let me know in the comments why you checked out this first episode, what you thought about it, and whether you're going to keep watching!