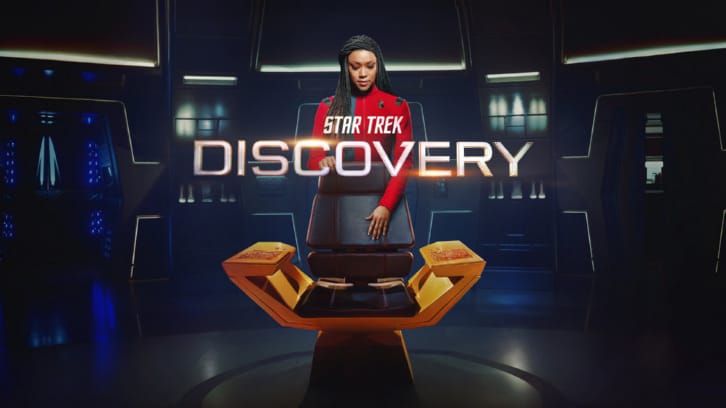 It's usually the third season of a Star Trek show where the show transforms into something different, something that most resembles what the show sets out to be and represents a massive improvement in the status quo.

And if that's the case for Star Trek: Discovery and it's about to improve again, then given how good Season 2 was, we're in for something really special this season, which The Hope Is You has really showed with its season premiere that is arguably the strongest opening hour that the show has given us so far, a solo-focus on Michael Burnham, who has found herself thrust further into the future than any Trek show before it, long after Star Trek: Picard. This is Discovery's take on Doctor Who's Utopia from Season 3, an inside look into life at the end of the universe, after a mysterious event wiped out the Federation and annihilated the harmony and utopia of Earth. It's a bold new frontier for Discovery, and without a ship, and without a crew, Michael is forced to survive on her own and adapt to the wilderness in a way unlike she has before.

The first person she meets, and the main new introduction this season, is Cleveland "Book" Booker, and his cat Grudge, a scavenger taking odd jobs around the universe in his ship in a way not unlike Han Solo. This is Star Trek oddly, at its most Star Wars, living up to the J.J. Abrams-esque aesthetics of The Force Awakens with an opening act that felt very similar to watching Finn and Rey get to know each other in the wasteland of Jakku whilst escaping from Stormtroopers. The special effects budget has helped Discovery shine massively in its ambition making it look better than most other shows of the genre (The Mandalorian has nothing on this), utilising on-location shooting in Iceland to bring authenticity and a sense of realism to its exotic locations. For all its Force Awakens comparisons, Discovery is never content with reusing the same locations over and over again: its mission statement is completely new. It's almost unrecognisable from the season before it, Sonequa Martin-Green is allowed to show more emotion than ever before, and she pours her heart and soul into Burnham's character – and she revels in the opportunity to give this side to Burnham that we haven't seen before. Her scenes where she was high on truth serum gas were hilarious, and the whole episode maintained a light-hearted fun that was very much needed.

The relief that she felt of learning that there are life signs in the far future was passionate and palpable, and based on this it's going to be an emotional reunion between her and the crew of Discovery after everything they've been through – to survive Control and the Mirrorverse is no easy feat, and you have to wonder, with how much storyline Discovery gets through each season, what the big bad will be for the crew to face this time out. It's still relatively early days but it's going to be as entertaining as hell, one way or the other.

One thing that Discovery has nailed pretty much through the entirety of the series has been its casting, and we've seen that with both Jason Isaacs and Anson Mount, the latter of whom being popular enough to get his own spinoff. David Ajala proves he's a more than welcome addition to that line-up of stellar talent, commanding the screen from the get go. His chemistry with Martin-Green is pretty great, and it gives the show a feeling of a clean-slate that leans into the optimism that the franchise represents. Of course, Book betrays her first, but then it's the easy way out for him – Michael will always stick with the hard way, but what she believes to be the right way. Unlike her, He's still at the beginning of his journey – just like Han Solo when Luke first meets him in A New Hope. He's more in line with Tom Paris than Janeway, and Book's character adds a fascinating dynamic to the group that makes it just as unpredictable as before.

It's going to be interesting to look at the state of the Federation as the show explores its revival and reconstruction of what it means to the galaxy. Picard took the Federation to a dark place; representing it as an organisation that even Jean-Luc himself would walk out of, and I'm assuming that Discovery has plans to address that status change as it progresses, because remember, Discovery is jumping from a time before all of this. The events of The Next Generation and Deep Space Nine aren't familiar to the main characters, and neither have the original series for that matter. Michael has no idea as to just how old-fashioned her crew really is.

And that ultimately brings us to the ending. Adil Hussain got a great scene in there where he informed Michael about the status of the Federation and her role to reunite it. And I got chills witnessing them unveil the flag together – it was such a powerful moment and instantly a highlight for me in an already strong series. Aditya Sahil has been waiting for 40 years to work for an organisation he's never earned a right to work with, but in a show centred around hope, he brings some of that to the table in spades, allowing Michael to see a reflection of her optimism in him.

As mentioned before in previous reviews, Trek regular Jonathan Frakes has long-billed Discovery as a series that sets out to get more and more optimistic each season. With Michael going into the future to ensure that there was a future worth fighting for in the present, the show has been able to find and capture that spirit of hope and optimism that is desperately needed right now. Despite the dystopian-esque nature of the premiere that has been laid down with the Federation in ruins, Discovery is all about rebuilding to meet that goal and getting it back on the correct path to where it was meant to be, and that mission objective fits in nicely with the more optimistic and hopeful distractions of David Byrne's American Utopia and Bill & Ted Face the Music, two excellent movies that have brought the same degree of energy and joyfulness to the table this year. Long may Discovery continue to deliver on its promise of hope.