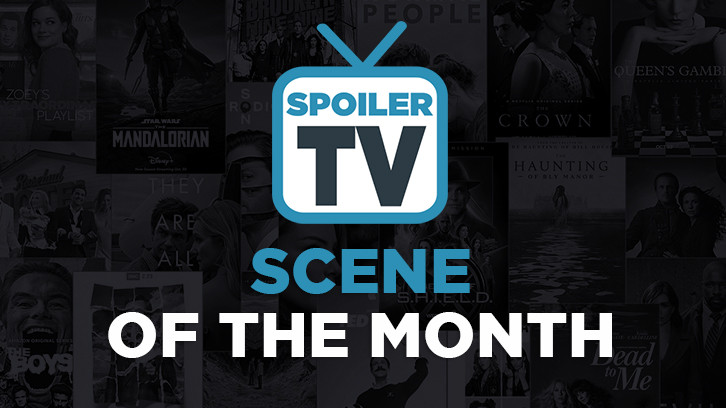 A monthly feature in which we're trying to find the most compelling, best acted, written, directed and just generally great, memorable scenes that we've seen in the past month on TV.
AWAY, "Go" & "Half the Sky", September 4, 2020, Actors: Hilary Swank, Josh Charles, Vivian Wu and more, The Scenes: Emma talks to her husband and daughter in the hospital & Lu and Mei's last secret conversationDJRiter:
The first episode of this excellent space drama on Netflix was gripping and intense, but perhaps its one of the most emotional moments came when Swank's Emma, calls her husband's hospital room where he is recovering from brain surgery after having a stroke to tell them she is abandoning the mission and coming home and her husband and daughter convince her to continue on toward her dream of going to Mars. Exceptional work from all three actors.
Abby:
The pining between these two in their scene when they have a last, secret conversation is heartbreaking. Their plans to meet sometime in the future is bittersweet since no one knows whether Lu will make is back to Earth alive.
FARGO, "The Land of Taking and Killing", September 27, 2020, Actors: Jessie Buckley, E'myri Crutchfield and more, The Scene: The final scene
Laura:
Oraetta Mayflower leaves a pie by the door and the Smutney house is raided. I haven't watched that much "current" TV during the pandemic, but Fargo felt like a must for me, especially since it ironically seems more relevant now than the time it was written and filmed, given the kind of immigrant American gangster ensemble story it so far is. I chose this scene, because it's unclear where everything stands, but also because it seems like a the perfect climax to a lengthy introduction to a whole lot of interwoven characters, especially with the likes of two female characters pulled into the fray with Oraetta and Ethelrida in particular!
FILTHY RICH, "Pilot" & "John 3:3", September 21 & 28, 2020, Actors: Kim Cattrall, Melia Kreiling, Steve Harris and more, The Scenes: Ginger is baptized & Margaret meets her husband's illegitimate childrenPrpleight:
Ginger is baptized. A lot of the focus of the first couple of episodes has been the battle of wills between Margaret and Ginger. When Reverend Paul tells Margaret that the best way to save the new online show is to bring Ginger into the fold, to baptize her, Margaret and Paul believe they'd duped Ginger, I mean (they seem to think) she's a call girl, how smart could she really be? As Ginger rises from her baptismal pool, the first thing we hear is Becky's comment on the fact that you could see her areolae. Then Ginger reveals the link to her sex website written on her baptism robe. She manages to get her plug out before the feed was cut. That was not where I thought the scene was headed. I thought, as Margaret did, that she had won, especially since it was juxtaposed with Eugene's baptism. Rarely do shows surprise me. This was a hilarious surprise and the guffaw was much needed.
DJRiter:
While this is the first time we see all of the illegitimate Monreaux heirs together meeting Margaret Monreaux, it is the interaction between Margaret and Ginger that commands your attention. I expected Kim Cattrall to be at her scenery chewing best in the role of Margaret, it was such great fun watching Melia Kreiling match her barb for barb. I'm not surprised by Kreiling who was a standout in my much missed, Salvation, but she is having the time of her life with the role of Ginger and watching these two go toe to toe is going to make this season fun!
LOVECRAFT COUNTRY, "Meet Me in Daegu", September 20, 2020, Actors: Jonathan Majors, Jamie Chung, The Scene: Ji-Ah confronts Atticus with the truth Justyna:
This show absolutely excels at changing its format with each new episode. It feels so different than anything I've ever seen and I applaud the creators for all their great work on the series so far. I loved the focus on Ji-Ah's character in this hour. Someone we've only heard of, but never met in any of the previous episodes. And here we are, watching the world from her perspective and slowly understanding the many complicated parts of her life, until one day she crosses paths with the show's protagonist, Atticus. The circumstances of their first meeting shed a new light on Tic and have the audience wonder who's the real monster in this story? As Ji-Ah and Atticus get to know each other there finally comes a moment when she reveals exactly how well aware of his war crimes she truly is. An act that most could consider unforgiveable becomes a turning point for these two broken people. "You murdered my best friend and then you... you saved me, I think." Confronted with the painful reality they agree that the fact they've both done monstrous things does not make them monsters. Instead they could aim to be the people they see in each other, if they only choose to. Both actors, Jonathan Majors and Jamie Chung, are incredible in the scene. Powerful, emotional performances. A moment to remember.
LUCIFER, "Spoiler Alert", August 21, 2020, Actors: Dennis Haysbert, Tom Ellis, D.B. Woodside, The Scene: The endingLuana:
God shows up - So much has been about God on this show and I'm really excited to see what they're going to do with everyone's interactions with him next season. Those will be interesting conversations for sure.
RAISED BY WOLVES, "Raised by Wolves", September 3, 2020, Actors: Amanda Collin and more, The Scene: Mother takes down the Arc
Folie-lex:
The climax of Mother, in the face of losing Campion, tapping into her full necromancer power and taking down the arc was easily the pilot's biggest selling point, finally properly upping up the stakes for the episode and subsequently the show. Amanda Collin got to truly showcase her range and Mother's depth as a character for the first time. As the horrors of her actions hit you hard you can still see this is just a parent trying to provide for and keep her family safe the only way she seems to know how.
RATCHED, "Pilot", September 18, 2020, Actors: Sarah Paulson, Daniel Di Tomasso
The Scene: Mildred Ratched convinces a patient to kill himself
Luana:
This scene was a great introduction to Nurse Ratched's character and a brilliant performance by both.
TED LASSO, "The Diamond Dogs", September 18, 2020, Actors: Jason Sudeikis, Anthony Head and more, The Scene: Ted's speech during darts
Folie-lex:
Ted's "be curious, not judgemental" speech during darts. In an act of chivalry towards wanting to stand up for Rebecca, Ted challenges Rupert to a game of darts. While it doesn't seem to be going in Ted's favour and Rupert is all too happy to point that out at any giving turn, Ted manages to win the game whilst delivering a poignant speech about people underestimating him his whole life by chosing to be judgemental and petty instead of curious and courteous. The show has spent the better part of its time establishing its protagonist as this eternally optimistic, hopeful and kind person. To watch him take down with such class and dignity the essential antithesis of him (Rupert... Ugh!) was a delight. Jason nails every moment, sentence and sentiment of the speech delivering one of the show's greatest moments of the season (and goodness knows that's a high bar to clear).
THE 100, "The Last War", September 30, 2020, Actors: Eliza Taylor, Alycia Debnam-Carey and more, The Scenes: Clarke meets the Judge & The endingJamie:
Clarke sees Judge!Lexa - I know it wasn't really her but Clarke's initial response to seeing her brought me right back to 4 seasons ago. Even her expression during the hug was the exact same as in 3x16. Despite how pissed off I am that they gave us Lexa without acutally giving us Lexa, this scene still stood out to me, mostly due to the incredible acting performances given here.
Luana:
The bar was so low for me, and though the finale was as good as it could be given the turn the story had taken (to me it's clear they'd backed themselves into a corner). But seeing these two actresses together on screen again was definitely a highlight.
Jimmy:
The gang back together on Earth. Though The 100's final season has been rather forgettable, at least it ended on a positive note. Clarke looked set to be left alone on Earth with only the dog for company but it turned out that her friends decided to forego transcending and return to Earth to live out their mortal days. This was probably the best ending many fans could have hoped for, and I was really pleased to see it play out.
Chris:
The final scene with Clarke going back to Earth, seeing Lexa one more time, and reuniting with her friends. U2's "Bad" was the perfect song choice!
THE BOYS, "Nothing Like It in the World" & "The Bloody Doors Off", September 25, 2020, Actors: Karl Urban, Tomer Capon, Karen Fukuhara, Shantel VanSanten, The Scenes: Butcher and Becca reunite & Frenchie apologizes to KimikoJustyna:
There were so many memorable moments in these first six episodes of the season. I could easily highlight a dozen in this article. In the end, I decided to choose the reunion between Butcher and Becca. In between all the scenes with the insane action, plot twists and sudden reveals this was a quiet, emotional moment, wonderfully portrayed by both actors. For a second Butcher almost felt like a different person, finally finding the one he has spent years searching for and even mourning. The source of his love and his pain took away his anger for a little while and for a minute they were almost happy, together again after all this time. No happiness lasts on this show, so of course even this reunion eventually falls aparts, when the topic of Ryan puts Butcher and Becca at odds with each other. Still, a moment of genuine love and joy on "The Boys" is such a rare view that it would be a shame not to highlight it. Becca's confession about the reason why Homelander left Butcher alive after the events of season 1 finale also spoke volumes about her character and their relationship. Brave, brutal, honest. Can't wait to see where this story goes next.
Folie-lex:
Frenchie apologises to Kimiko and tells her he'll leave her alone - Since the moment they met, Frenchie has gone out of his way to protect and shelter Kimiko. The unbearable trauma of losing her brother was what signaled her stopping him with keeping up this pattern. Something which has resulted in some tension between the two throughout S2. Finally Frenchie coming face to face with his past throughout episode 2.06 (while the audience gets insight into his backstory), he also realises all the genuine care and affection he does have for Kimiko aside, he has also been unfairly projecting his own issues on her. He apologises and "lets her go". While Kimiko's devastated face after this declaration shows that she in turn realises she may have pushed him a little too far away in the process.
UTOPIA, "Life Begins", September 25, 2020, Actors: Calum Worthy, Maya Kazan
The Scene: Utopia is found
Luana:
Ethan and Olivia had no idea what they had set in motion and there's always something exciting about the beginning of a crazy ride.
WOKE, "Prayers for Kubby", September 9, 2020, Actors: Lamorne Morris and more
The Scene: Keef has a breakdown over Kubby
Luana:
I love how quirky this show is but that scene was perfect, after struggling with his newfound "wokeness", Keef is fed up and yells at the people that seem to be more concerned about a koala than they would ever be about a black man.