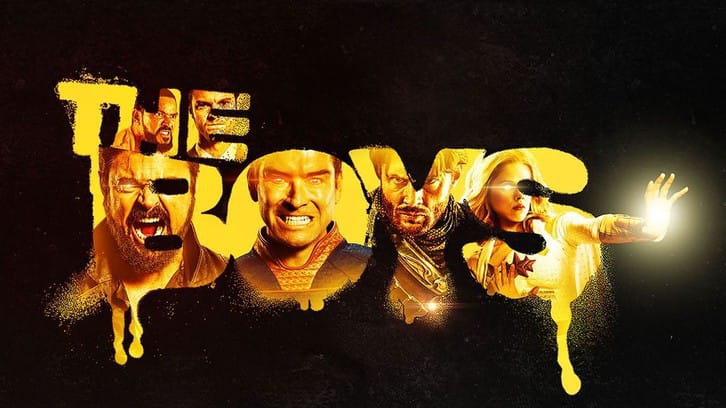 The Boys
are back for a bloody, brawling season two! The new season dropped this past Friday with three new episodes that set in motion some really intriguing storylines and some terrific character developments. "The Big Ride" was written by showrunner Eric Kripke and was directed by long time Kripke collaborator Phil Sgriccia. "Proper Preparation and Planning" was written by Rebecca Sonnenshine (who wrote for season one and also wrote for the comic to tv
Outcast
) and was directed by Liz Friedlander, whose other credits include
Jessica Jones
,
The Gifted
, and
American Horror Story
. "Over the Hill with the Swords of a Thousand Men" was written by Craig Rosenberg (another alum from season one, who also wrote for the comic to tv
Preacher
) and was directed by another long time Kripke collaborator, Steve Boyum.
Rather than try to do a re-cap/review of three action packed episodes, I'm going to concentrate on just hitting the highlights of what I loved about the new season. I didn't love that we got no Butcher (Karl Urban) in the first episode, but I am loving the new dynamic between Butcher and Hughie (Jack Quaid). As a fan of the comic, I'm curious as to whether the show will ultimately follow the same path (no outright spoilers here!). Regardless, both Urban and especially Quaid deliver terrific performances in these first three episodes.
Hughie is so conflicted about what he's doing – there's no doubt that he's truly identifying with the kid in the Billy Joel video. And how much is Kripke absolutely loving his music choices? I loved Hughie watching the original video on his phone – such a great juxtaposition. We may not exactly have compound V in reality, but there's no denying how far we've come since that video was made! Also? Loving all the concert/band t-shirts we're seeing. Hughie sees himself as a good guy and is clearly confused and upset about where he finds himself. But that's kind of the point of the series. Hughie is a nobody – but he's the real hero – not the Supes – and he's also Butcher's conscience. I loved the other members finally seeing his worth by the end of the third episode.
We get a lot more of Karen Fukahara as Kimiko in these episodes. I love the dynamic between her and Tomer Capon (Frenchie) and how their relationship is gradually bringing her out of her trauma. Getting more of her background and her relationship with her brother Kenji (Abraham Lim) really helped to add dimension to the character and give a chance for Fukahara's more nuanced performance.
Kimiko is the only real female member of the Boys, but the show is loading up the female Supes – and I know a lot of fans were dismayed that Stormfront is being played by a woman, but it adds so much to the dynamic! I already hate Aya Cash as Stormfront! On the other hand, she's definitely giving Starlight/Annie (Erin Moriarty) some new ideas that aren't all bad. I wonder if she'll also be able to "inspire" Queen Maeve (Dominique McElligott). We get to see a bit more of Queen Maeve and her continued descent into disenchantment. Will she find the courage to stand up to Homelander (Antony Starr) and actually go after the love of her life? I think that Annie is already 75% of the way to forgiving Hughie, and I'm looking forward to seeing them back on the same page.
And speaking of Homelander – kudos to Starr for bringing enough nuance to actually generate some sympathy for Homelander! Yes. He's a terrible human being – a child-man suffering from destructive tantrums, but then, he's had that horrible childhood. How would he ever have learned to behave better? Him trying to reach out to Ryan (Cameron Crovetti) is heartbreaking – but maybe more for Ryan and Becca (Shantel VanSanten) – because who pushes their kid off a roof? Even if you think they can fly?!?!?! Clearly, the monsters who helped create Homelander have realized that a stable childhood might produce a more super Supe…
Kripke has gathered a bevy of actors he's worked with before. Giancarlo Esposito as Mr Edgar delivers his usual terrific performance – there's always that underlying threat. And of course, here's another favorite of Kripke from
Revolution
. We also see Claudia Doumit as Victoria from
Timeless
, so I'm hoping we'll get more of her going forward. And Jim Beaver is back as Secretary of Defense – ROBERT A SINGER! For
Supernatural
fans, this is hilarious…. Beaver played Bobby Singer on that show who was named after co-showrunner and frequent director Robert Singer.
Homelander seems to have cowed Edgar into compliance and taken over the Seven and their management – I mean, Ashley (Colby Minifie) was never any threat – who thought she could exert any control over him?? As much as Edgar is clearly not a good guy, having Homelander in charge is clearly a very bad idea. But then he's defeated by Stormfront! Or at least up-staged big time. She's clearly not playing by anybody's rules – or really any rules at all. What is her end game? What does she really want? And why? I already hate her – in the best possible way! – but I'm intrigued to see where this is going.
A quick word about the rest of the Seven. It seems we're going to be getting more of Black Noir (Nathan Mitchell) this season. I loved him picking up that stuffed animal after brutally killing the kid's whole family in the opening sequence! Love the juxtaposition of horror/violence/humor in this show – and though Black Noir doesn't speak – I adore the language! A-Train (Jessie T Usher) is clearly not well, and I loved Annie finally getting the upper hand with him! Is he going to actually have a heart attack or is this just stress?
Finally, I've saved my favorite storyline until the end. Chase Crawford (The Deep/Kevin) is simply delivering another truly great performance. He could easily just be a source of humor – and omg, he IS funny! But it's often closer to pathos that outright funny. I love the nuance of him slowly diving into his real emotions. It's bloody brilliant to have Eagle the Archer (Langston Kerman) and Carol (Jessica Hecht) of the Church of The Collective which is a very thinly veiled stand in for Scientology. And what's with the cans of Fresca?? What's IN that?? However, it's hard not to see how the Deep has been body shamed his whole life and that a lot of his behavior comes from a place of deep trauma (yes, all those puns ARE deliberate).
This is, of course, underscored by Homelander telling him that his gills are disgusting. And let's not forget that those gills were the site of the Deep's sexual assault last season. I love how the show is mixing up our male/female expectations. I wonder if Annie will be able to forgive the Deep? Should she? His apology felt sincere to me – but is that enough? And how many sea animals will he get killed before they turn on him??? It's great stuff!
I love that The Boys isn't just a comicbook show. It's not just about the over-the-top violence and dialogue and great soundtrack. This show is chock full of terrific acting and writing. I'm actually enjoying the writing of the show even more than the comic. The storylines intersect in really interesting ways. I'm loving it so far – what about you? Let me know your thoughts in the comments below!