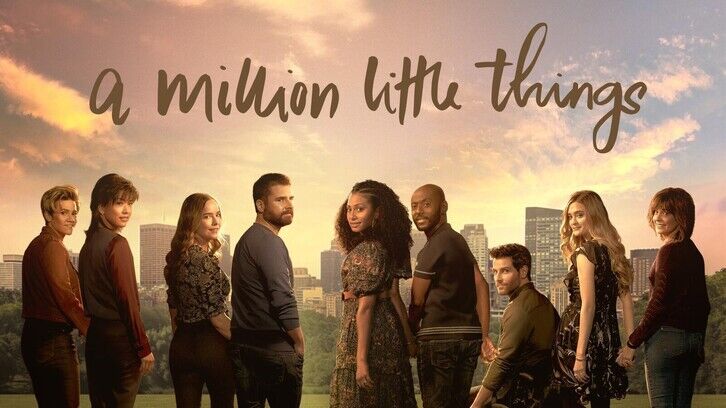 ---
Season Premieres Thursday, Nov. 19, 2020
Friendship isn't a big thing. It's a million little things. Our gang ended last season with many challenges in front of them. In season three, we'll see our group of friends once again lean on each other in ways that are both moving and aspirational—something we could all use right now.
When we last saw Rome and Regina, they were about to adopt their son, only to have Eve, the birth mother they had come to know and love, change her mind. With that, Regina finally broke, leaving Rome at a loss as she heartbreakingly admitted: "You made me want this." Rome and Regina must now face the challenge of moving forward—but how can they move forward from the loss of a child? Especially when that child is still alive, being loved by someone else.
As for Delilah, while she has been having fun with Miles, she begins to question if "having fun" is enough. While Sophie embarks on a journey to pursue her music and Danny discovers his confidence at school, Delilah sees her older children growing into young adults, even after losing their dad. And when Delilah realizes that her time with her own father is limited, she makes a life-changing decision.
When we left Gary, he had just made the difficult choice to pursue his new relationship with Darcy and leave his romance with Maggie in the past. As Gary begins to navigate dating Darcy, he encounters an unexpected challenge when he finds himself becoming an instant father figure to kids of his own. But the process of stepping into these fatherly shoes causes Gary to reflect on the way he himself was raised and make a life-altering decision.
Meanwhile, on the heels of confessing her feelings for Gary, Maggie arrives in Oxford. But her conviction to find out who she is without cancer is renewed when her new roommate Jamie encourages her to create a podcast, chronicling her experiences at Oxford and finding her voice. Maggie's British alter ego allows her to take chances and live outside her comfort zone—while she's literally living outside her comfort zone. But when unforeseen circumstances throw a wrench into her plans, we see Maggie finally bloom into the person she's always wanted to be.
As for the Savilles, we left last season with a big cliff hanger. Is Eddie dead or alive? While the premiere will answer that question, what we'll see this season is that Katherine and Theo will never be the same. They must tap into their strength and redefine their lives, leaning on each other like never before. Through their story, we will follow two mysteries: Who hit Eddie that night? And was this accident really an accident?
And just when the friends seem to find their new normal, their lives are upended when, like ours, COVID-19 rocks their world. We'll see the topics our show depicts—depression, breast cancer, chemical dependency, domestic violence, friendship, family and love—and how all of them are heightened by the challenges our world is facing right now. And we'll rediscover what our gang has always known in their hearts: With the love and support of your friends, you can get through anything.
"A Million Little Things" stars David Giuntoli as Eddie Saville, Romany Malco as Rome Howard, Allison Miller as Maggie Bloom, Christina Moses as Regina Howard, Grace Park as Katherine Saville, James Roday Rodrigues as Gary Mendez, Stephanie Szostak as Delilah Dixon, Floriana Lima as Darcy Cooper, Tristan Byon as Theo Saville, Lizzy Greene as Sophie Dixon and Chance Hurstfield as Danny Dixon.
DJ Nash is the creator and executive producer; Aaron Kaplan, Dana Honor and David Marshall Grant are executive producers; Nina Lopez-Corrado, Terrence Coli and Geoffrey Nauffts serve as co-executive producers on the series, from ABC Signature/Kapital Entertainment. ABC Signature is a part of Disney Television Studios, alongside 20th Television and Touchstone Television.
---
---