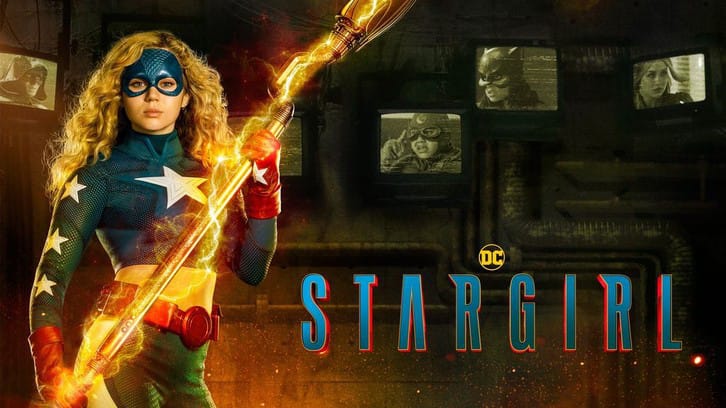 Well, we've reached the end of Stargirl's first season. And wow, what a fantastic debut season it's been! The characters, story, special effects, action sequences, music, and pretty much everything else have been superb, so big shoutout to the cast and crew for what they've accomplished here. I look forward to many more seasons as the show transfers over to The CW permanently. But enough about that, let's talk about how AWESOME that finale was!
This episode picks up right where Part One left off, with the ISA's plan gone into full motion. All the adults are frozen, and it's up to the kids to save the day. With a little help from Chuck, Beth's able to figure out how to break Pat free of Brainwave's influence, before he has a chance to clobber Courtney. Courtney then has another great moment with Pat, which is always welcomed.
After that, the episode puts the foot on the gas and doesn't let up until the end. The JSA and ISA finally have the huge faceoff we've all been waiting to see, and it was absolutely incredible. I've said it so many times these past few months, but the show truly delivers on the action sequence front, that's paired with the amazing visual effects work. In this fight, I especially loved how each participant had their own challenge to overcome. Stargirl fought Shiv one-on-one, Wildcat had to face up against a mindless horde on her own, and Hourman finally went toe-to-toe with Solomon Grundy. The fight was truly worth all the buildup.
What surprised me the most about this episode, is how many members ended up dead. Shiv killed her own father, Wildcat ended up killing Brainwave (the most shocking moment here by far to me), and Mike ran over Jordan and shattered him to bits (that one was a little cliche but in an old fashioned superhero show you gotta have a few here and there). Now only a handful of members remain. Solomon Grundy was spared by Rick, Sportsmaster and Tigress are kind out there somewhere, and the Gambler left very suspiciously with a flash drive, no doubt planning to return again in the future.
After Courtney destroys the ISA's machine and deals with Jordan (with the help of Mike), the team regroup and say goodbye to Shining Knight as he goes off to find his old team. We fast forward to Christmas time, where Courtney gives Pat the present she planned to give her father all those years ago. The relationship between these two has undoubtedly been the strongest developed one so far, and this "greatest dad" moment was the culmination of that.
The episode ended with a few big teases for next season. For one, it seems like The Shade is going to be the main "big bad", and quite possibly will work with The Gambler at some point. Also, Shiv found what I assume to be the "Heart Of Darkness", the black diamond that houses the evil spirit Eclipso (really excited for that one!). And perhaps most surprising of all, the OG Starman is alive and looking for Pat! It looks like season two has plenty of stuff to get excited about!
Well, what do you guys think of the season finale and the season as a whole? Post in the comments!